Nation
Cupich: Deaths of mother, four daughters in fire have touched 'many hearts'
CHICAGO | When Cardinal Blase J. Cupich of Chicago presided at the funeral Mass for five members of the Espinosa family at the Shrine of Our Lady of Guadalupe in the Chicago suburb of Des Plaines Feb. 10, gestures of comfort came from as far away as the Vatican. Pope Francis sent rosaries for family members who were mourning the loss of Nancy Cithlaly Zamudio, 25, and her daughters, Renata P. Espinosa, 6; Genesis Espinosa, 5; Allison Espinosa, 3; and Grace Espinosa, 2. All of them died in a house fire Jan. 27 in Des Plaines. The children's father was at work when the 104-year-old wood-frame duplex in Des Plaines caught fire, neighbors told media outlets. Investigators believe the fire was started by a space heater. Cardinal Cupich said the pope gave him the rosaries when the cardinal was in Rome two weeks ago. "He said he would like me to make sure that the family receives them as a way of showing his closeness to you," Cardinal Cupich said. "He would ask that you pray for him, because he also takes on himself the sufferings of the world, your suffering."
Biden reestablishes White House faith-based partnership office
WASHINGTON | President Joe Biden signed an executive order Feb. 14 reestablishing the White House Office of Faith-Based and Neighborhood Partnerships as a means to work with religious and secular organizations to help with COVID-19 and economic recovery and confront systemic racism. The office was established 20 years ago by President George W. Bush, who said the government can and should welcome religious and community organizations as partners. The Obama administration continued this initiative with work on preventing foreclosures, increasing the amount of summer meals served to children in need and helping communities with disaster recovery. Under the Trump administration, this office was vacant. President Donald Trump instead created the Center for Faith and Opportunity Initiatives, led by the Pentecostal preacher Paula White. The group, according to its website, was a liaison for grassroots organizations, faith-based groups and the Department of Health and Human Services with a focus on "religious liberty in all HHS programs and initiatives." Melissa Rogers, who was executive director of the Office of Faith-Based and Neighborhood Partnerships during President Barack Obama's second term, from 2013 to 2017, will again take the helm as its executive director along with her role as senior director for faith and public policy in the White House Domestic Policy Council. Josh Dickson, White House senior adviser for public engagement, will serve as the office's deputy director.
Judge stops pandemic capacity limits placed on New York synagogues
BROOKLYN, N.Y. | A federal judge in Brooklyn Feb. 9 permanently blocked New York state capacity limits for worship at Orthodox synagogues in areas with high rates of COVID-19 infections. The permanent injunction applies to all of the houses of worship in these areas in the state and is one of the first in the country to stop percentage-of-occupancy limits on worship attendance. Last year, New York Gov. Andrew Cuomo placed restrictions on indoor worship services in areas with high COVID-19 rates to 10 people in the most affected areas and 25 people in slightly less affected areas. In her five-page order, U.S. District Judge Kiyo Matsumoto reversed a decision she made last October when she rejected the lawsuit filed by Jewish leaders who claimed the congregation size limits were unconstitutional. In her ruling, she cited a Feb. 5 Supreme Court decision that ordered California to allow indoor worship services to resume during the pandemic. Eric Rassbach, vice president and senior counsel at Becket, a religious liberty law firm, said in a Feb. 9 statement that Matsumoto's order is "good news for the synagogues, churches and other houses of worship of New York."
World
Vatican City law abolishes 'in absentia' trials
VATICAN CITY | Pope Francis approved a number of changes to Vatican City State's penal code and criminal justice proceedings, including the possibilities of reduced sentences, rehabilitation programs and community service sentencing, as well as no longer allowing trials "in absentia." The changes, announced by the Vatican Feb. 16, were made because the field of criminal justice requires "constant attention" so that norms and procedures can keep up with changing needs, particularly when old solutions are now "outdated," the papal document said. "For these reasons, following the process of an ongoing update dictated by changing awareness" over time, the pope approved changes to the Vatican City State penal code with several new articles. One allows for a sentence reduction of 45 to 120 days for each year already served by the convicted person when he or she "has behaved in such a way as to presume repentance and has successfully taken part in a treatment and rehabilitation program."
Myanmar nuns show solidarity with anti-coup protesters
YANGON, Myanmar | Catholic nuns, priests and laypeople have joined protests in Buddhist-majority Myanmar following the Feb. 1 coup. Ucanews.com reported that hundreds of Catholics, including dozens of nuns, marched on the streets of Yangon Feb. 14 and recited prayers and the rosary. Youths held placards reading "Free Aung San Suu Kyi" and "We support CDM," the latter referring to the civil disobedience movement. Nuns from various congregations have shown solidarity with the people of Myanmar by marching on the streets, saying prayers at convents and offering snacks to protesters in Yangon and elsewhere, ucanews.com reported. In the Christian stronghold of Kachin state, nuns stood at the entrance of a church compound while holding placards that read "No to dictatorship" and "Listen to the voices of people," while protesters swarmed the streets of Myitkyina, the state's capital city, Feb. 14. Nationwide anti-coup protests have intensified for nine consecutive days in Yangon, Mandalay, villages and the ethnic regions of Kachin and Chin states, ucanews.com reported.
Pope marks anniversary of Christians martyred in Libya
VATICAN CITY | Marking the sixth anniversary of the beheading of 21 Christians on a beach in Libya, Pope Francis said they gave witness to Christ through their martyrdom. In a video message released Feb. 15 for an online event commemorating the "Day of Contemporary Martyrs," the pope said that while their brutal murder was a tragedy, it was also true that "from their simplicity, from their simple but consistent faith, they received the greatest gift a Christian can receive: bearing witness to Jesus Christ to the point of giving their life. They had gone to work abroad to support their families: ordinary men, fathers of families, men with the desire to have children; men with the dignity of workers, who not only seek to bring home bread, but to bring it home with the dignity of work," he said. "And these men bore witness to Jesus Christ. Their throats slit by the brutality of ISIS, they died saying: 'Lord Jesus!' -- confessing the name of Jesus." The martyred Christians -- 20 Egyptian Copts and one Christian migrant from Ghana -- were beheaded in 2015 on a Libyan beach by the Islamic State group, which later released a gruesome video that sparked worldwide outrage.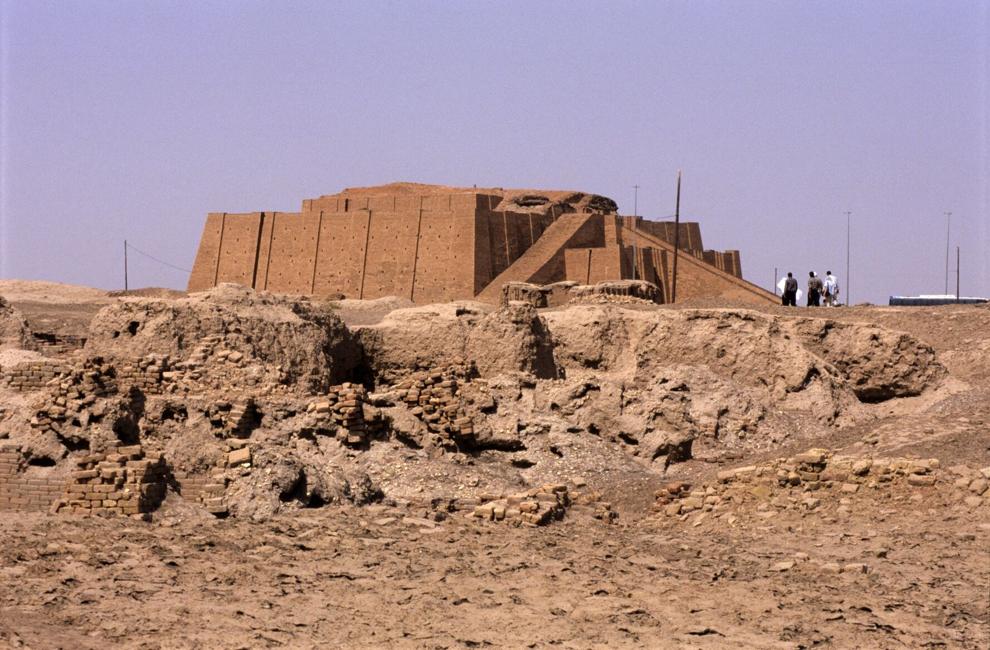 Catholics in Qaraqosh, Iraq, call it 'miracle' that pope will visit
BEIRUT | The largest Syriac Catholic congregation in the world is preparing physically and spiritually for Pope Francis' upcoming visit to Qaraqosh, Iraq. "Words can't describe how happy we are," Syriac Catholic Father Roni Momeka told Catholic News Service. "The people feel that it's a miracle that the pope will come here," Father Momeka said. "They are happy not only for the visit, but they are happy that Pope Francis is thinking about those people who are in pain, those people who lost everything, but who never lost their faith." Father Momeka said Qaraqosh is bustling with activity, the streets already awash with papal flags and banners in preparation for the pope's March 7 visit, part of his March 5-8 visit to Iraq. Parishioners have been busy cleaning and painting the interior of the Church of the Immaculate Conception, transforming the blackened interior to its original radiance for the pope's visit. The church, built by parishioners in the 1930s, had seating for 2,200 people. It was vandalized, desecrated and burned by the Islamic State. Pope Francis is scheduled to pray the Angelus there.