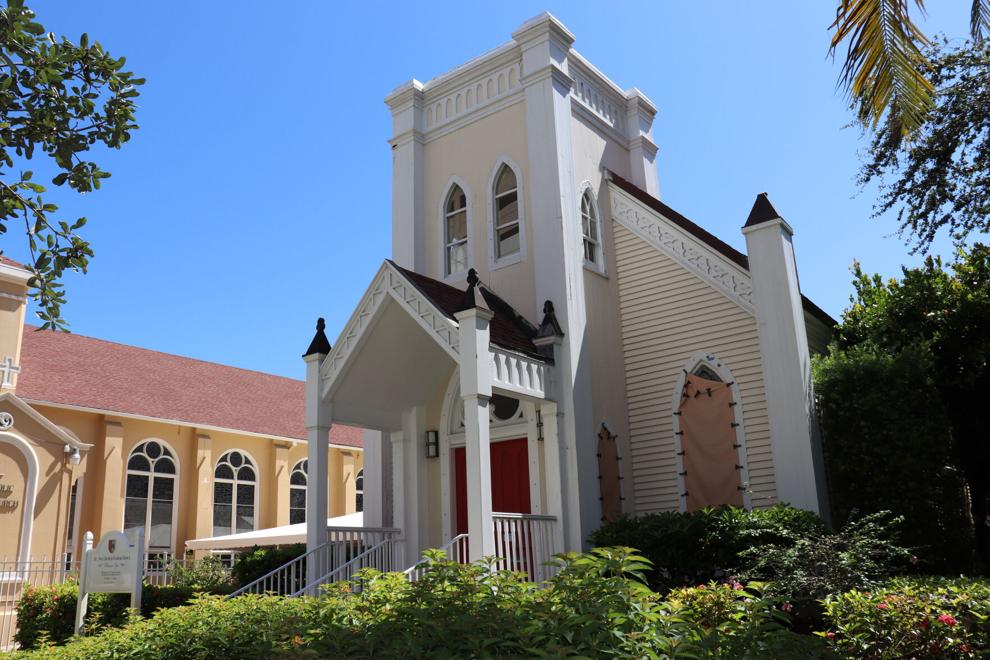 ORLANDO | The Catholic faith in the Diocese of Palm Beach continues to shine bright at St. Ann Parish. Just a stone's throw away from marinas filled with million-dollar yachts, pelicans scooping fish from the Atlantic Ocean, and packed five-star restaurants with seafood delicacies, the landmark parish provides a legacy special to the area. While speaking with Father Nestor Rodriguez about the important history of his church and what he hopes the future will bring, he allowed the Florida Catholic to tour the gorgeous property to see why the church is more than just the oldest one in the Diocese of Palm Beach. See video, https://youtu.be/sIqV2deTwXg
The Saint and Her Church
Sitting in a marble chair on the elegant white altar, an intricately carved replication of Leonardo DaVinci's "The Last Supper" in the background, Father Rodriguez elaborated on his church's beginnings. The current church where worshippers now physically attend Mass was dedicated to the area in 1913 with the office building next door being the original church established in 1895.
"The Jesuit priests were here for over 100 years and the Adrian Dominican Sisters, and the office building next to us was also the first parochial school in the Diocese of Palm Beach. In fact, St. Ann is the mother church of the diocese."
Father Rodriguez discussed the importance of St. Ann, the person. Although "St. Ann is not mentioned in the Scriptures. She is mentioned in a second century book called 'Proto Evangelium of James.' That is where she is mentioned with her husband Joachim," he said. They were unable to bear children until she promised the Lord "to dedicate her child to God's service." As a reward for her dedication, "she gave birth to Mary, Our Blessed Mother."  
Not all church properties are granted the honor of being officially stamped as a local landmark. St. Ann has been awarded that honor. "In 2003, (the church) was designated as a historical site" and "earlier this year the church was allowed for a landmark designation," he said. "The city recognized the historical nature of this church and the contribution of St. Ann Catholic community for many, many years. We are trying to keep (the buildings) renovated, beautify them, and keep them to their original conditions."
Along with preserving the wonderful history and architecture of the grounds, Father Rodriguez's main goal is to satisfy his parishioners by exemplifying Christ's teachings to include everyone in his area with God's love.
"As the congregation continues to grow, my vision for the Catholic community of downtown is to continue to be a parish that is open, compassionate, loving. Where people of all backgrounds can come and find a home. We have a diverse group of people from poor people to middle class to wealthier people that come from Palm Beach…but we also have a diverse group of Anglo's, Hispanics, Haitians and my goal is to continue to bring these communities together so that we can profess one faith, one baptism, and one Lord."
From the grand statue of Jesus welcoming his parishioners to the colorful stained-glass windows, the interior of St. Ann Church is a sight to behold.
 "The stained-glass originally came from Germany. Each stained-glass has a story to share with us. There is a special stained-glass (near the altar) in the sanctuary dedicated to Henry Flagler," Father Rodriguez said. Flagler was a railroad tycoon in Florida "and was the one that donated this land." Flagler's contribution is a just a portion of St. Ann's impressive history. However, it's the upcoming years that Father Rodriguez looks forward to as he continues to provide a place of worship for his Catholic flock.
Photo Slideshow for St. Ann Church
A Promising Future
As with the welcoming altar statue of Christ, Father Rodriguez applies the same perspective when accommodating his diverse parishioners. "When I arrived here in 2011, we did not have a Spanish Mass. We did have a thriving Haitian community. We also have a Haitian center (not on the grounds)…and that serves the Haitian community from all different parts of this county to come and to feel welcomed to worship and praise the Lord."
"The Hispanic community arrived here in 2012," commencing St. Ann's first Spanish Mass. "During this pandemic we've had to add another Spanish Mass to accommodate the growing number of Hispanics that come primarily from Guatemala, Columbia, Mexico, Puerto Rico, Dominican Republic and from other parts of Latin America. It is a thriving and very dedicated community who help me a lot ministering to the people of God in this area."
Of the several Catholics churches in the Diocese of Palm Beach, Father Rodriguez's parish is one of a kind, because of its moniker as the "mother church of the diocese." Also, the parish's patron saint.
"I am sure that some thought went into the naming of this church because St. Ann, being the mother of our Blessed Mother," represents the strong devotion of the Catholic faith taught to her daughter.
Just a short drive from the church is a homeless shelter, St. Ann's Place. It was a work of love by the community that was inspired by longtime pastor, the late Father Seamus Murtagh.
"They are given breakfast and lunch, showers, fresh clothing, services every day because we believe that every man and every woman is created in the image and likeness of God," he said. "So, we want to give them that dignity to have a daily shower, to have a meal. On this property we have a little garage, a pantry and there we serve the struggling families who need a bag of groceries."
With the never-ending repairs required to maintain the old buildings, Father Rodriguez stays hopeful that with the help of his congregations and with the Lord's help, his church will continue as always and help the Palm Beach communities.
"At St. Ann's there is a lot of history. As pastor, I see that my primary role is to bring the Gospel of Jesus Christ to everybody but also to preserve these beautiful treasures that has been given to us."