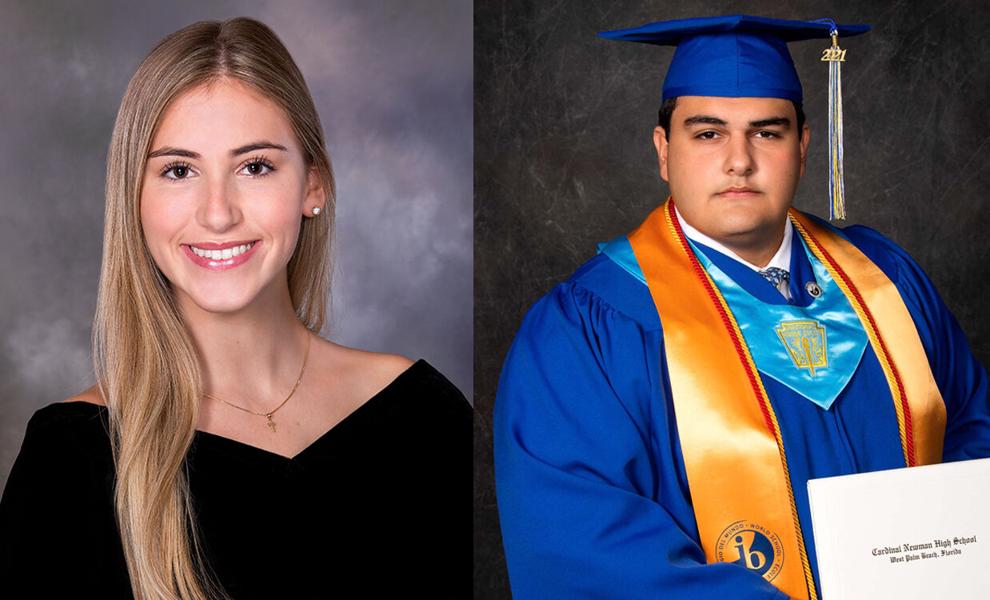 BOYNTON BEACH  |  Isabella Florentino turned 18 May 18, 2021. The following day, she celebrated her graduation from Cardinal Newman High School with her classmates at the Raymond F. Kravis Center of the Performing Arts in West Palm Beach. 
A post by school leaders on Facebook said, "Congratulations to the class of 2021! You've worked hard and played hard excelling in academics, sports, and the arts. We can't wait to see all of the amazing things you will accomplish!"
During an interview with the Florida Catholic, Isabella said she has mixed emotions about graduating. "It is bittersweet. I will miss my friends and the teachers. I have gone to school with some of these kids for the past 15 years." 
Isabella began kindergarten at Rosarian Academy in West Palm Beach. After graduating, she joined the Cardinal Newman High School family where she spent her teen years. 
"I will miss my teachers. They have always been supportive. Over the years, I have become close to them. I will keep in contact with students and the teachers," she said. 
Isabella is a good student and has excelled in the classroom, but when asked to talk about the greatest thing that she learned and has impacted her the most that she will take with her through life, she talked about the heart and soul of the schools she attended and the honesty, integrity and reliability of the people she met along the way.
"Both schools have a strong family atmosphere," she said in a phone interview. "I learned about being a team player, about working with others. You work with each other rather than against each other."
As far as future plans, Isabella will be attending Wake Forest University, a private research university in Winston-Salem, North Carolina, which has been given a high ranking according to performance and excellence. Her career plans are not firm, but she is leaning towards business and environmental studies and a career in business linked to environmental endeavors.  
Isabella credits her science teachers, Caitlin Bobsein and Christine Granados, for her growing interests in science and the environment. Isabella received recognitions at the end of the year winning the highest achievement award in science.
"They were helpful in getting me involved in the Green Club. I joined the Green Club when I was a junior, and this year, I was president," she said about Cardinal Newman's student-run organization designed to get students involved in increasing science and environmental awareness on school grounds. 
"This year, I organized a ton of events. We had some beach clean ups," she said about the group's special activities and events to promote awareness about the environment and get students involved and engaged. Throughout the year the group cleaned the beaches and school campus. Members also maintained a school garden.
The graduate is excited about starting her college years and meeting new friends. "It is going to be a big change. The college is a long way from home. I have never been away from home except for attending some sleep-away camps in North Carolina. We went hiking. We had swimming activities."  
Isabella is a parishioner of St. Ann Parish in West Palm Beach and she explained that she developed a close, personal relationship with God during her high school years.
"What I liked about Cardinal Newman is that we would have our Masses. We had our chapel for private prayer. The students were never forced to attend Masses or pray in the chapel. Cardinal Newman had a very nurturing environment that helped me grow in my faith." 
Isabella enjoys performing service work and likes to encourage others to get involved.  "I organized a clothes drive this year," she said explaining that the drive benefitted Place of Hope, a non-profit in West Palm Beach dedicated to abused, neglected and homeless children. 
Will she continue to attend Mass when she leaves home and is out in the world making choices on her own? "Yes," she said. 
She shared that she has leaned on God and her Catholic faith to help get through the pandemic year. "It was a tough time. "It was crazy. It was stressful. We were going through COVID, and it was our senior year. My faith helped me stay grounded. I had to focus on college applications and finishing the year."
What about handling all the restrictions including the wearing of masks, social distancing and distance learning? "When we all started last year, we were online. The start date was pushed back," she said about the time of online classes before the Diocese of Palm Beach gave the okay for students to come back on campus.
"We were away from friends and teachers. It is hard to have a relationship with your teachers and with the students when you are online. I was quarantined two or three times. One time the whole school was sent home. You never knew what would happen from day to day. It was stressful, and it was our senior year. We got through it, and we finished on time."
What will Isabella do this summer? "My family has a couple of trips planned. We are going to Nantucket and the Bahamas. I want to take it easy." 
Nicolas Panozzo is a 2021 graduate of Cardinal Newman High School. Through an email exchange, he was asked to share his thoughts about his growing-up years and high school days. He offered some honest and sincere answers. He was asked, "What is something that stands out as having changed you for the better, and how will you use that one thing in your future? 
"The one thing that has changed me for the better is the sense of family at Newman," he wrote. "The Newman family has supported me and shaped me into the young man I am today. I plan to continue to be a part of this family and encourage individuals to be the best versions of themselves."
Nicolas is attending the University of Central Florida in Orlando to pursue a career in business. He was asked if a certain class or teacher influenced him when it came to making a career decision.
"My desire to become an influential man in the business world comes from my appreciation for Louis V. Gerstner, a philanthropist and generous supporter of Catholic education in our diocese and from many extraordinary teachers in the math, history, and English departments," he said. 
Nicolas shared that his school and members of the school family have also impacted his spiritual journey helping him grow in faith. "Newman has provided a faith family in which I feel comfortable speaking about my relationship with God. My faith has been the foundation of my perseverance."
Were there any moments when he leaned on his Catholic faith to help him get through difficult times? 
"There were many times in which I felt God carry me through my troubles. I have the pleasure to say that Mr. Steven Reep, Deacon Serge Dube and my best friend Donald have guided me through many hardships. The most recent was the passing of my history teacher, mentor, and friend Mr. Scott Powell."
During this tough, final high school year, how did the pandemic and distance learning challenge Nicolas?
"The pandemic and distance learning were major bumps in the road for all seniors this year. From the multiple quarantines to my personal struggle with COVID, my senior year has been a rollercoaster of emotions. Thankfully, my family, teachers, and friends supported me and did their best to keep me motivated." 
When asked about what he will miss the most about Cardinal Newman High School he talked about the heart of what the Catholic school is all about, helping youngsters be the person God intended them to be. "I will miss the atmosphere of Cardinal Newman. There is something special about walking through the halls, seeing your friends and favorite teachers, knowing that you are surrounded by individuals who want the very best for you and will help you achieve your goals not just in school, but in life."