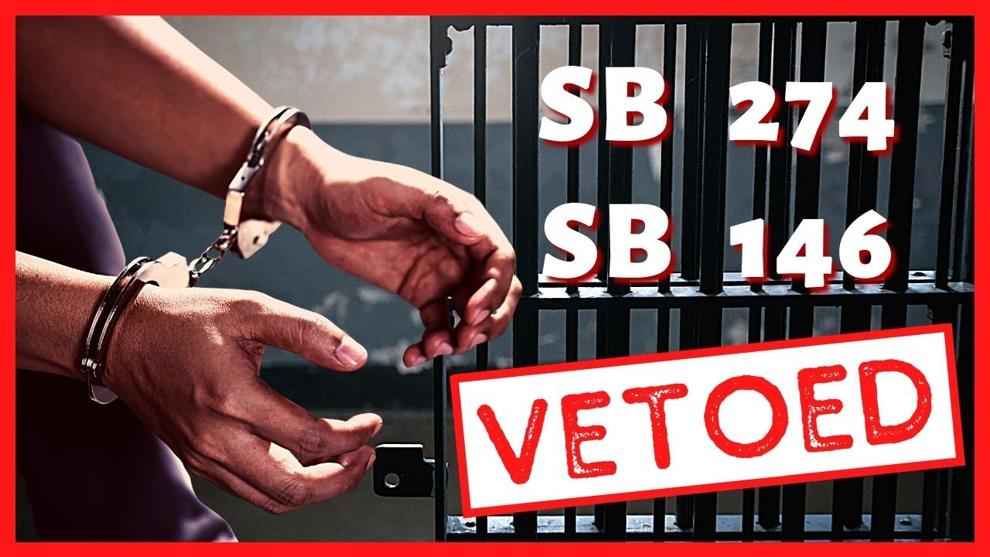 ORLANDO  |  Keeping in tune with his conservative track record, Florida Gov. Ron DeSantis struck down legislative bills that would have given juvenile offenders a second chance at a clean slate (SB 274) and would have given high school students the opportunity to partake in classes about learning government practices (SB 146).
Both bills had unanimous support in the Florida House and Senate with zero "nays" at the time to vote.
The governor vetoed SB 274, an expungement bill that would have rid juvenile criminals of nonjudicial arrests for any offense (including felonies) if a diversion program had been finished. In his veto letter, Gov. DeSantis wrote, "I have concerns that the unfettered ability to expunge serious felonies, including sexual battery, from a juvenile's record may have negative impacts on public safety."
In a News Service of Florida report, Florida Sen. Keith Perry (R-08 in Gainesville) disagreed with the governor's veto. "To have the opportunity or ability to have juveniles who commit serious crimes have their records automatically expunged, it's a legitimate concern." He added "My goal was to, if we found that that was starting to happen, we could always file legislation to correct that. We're going to re-file it with (DeSantis') concerns in place."
In an interview with the Florida Catholic, Robert Aranda of the Aranda Law Firm in Polk County described how diversion programs keep the offender from repeating crime. A young girl was arrested on marijuana charges and had contacted his office to represent her. "One of the best things that occurred was how easy it was to get her in the pre-trial diversion program that the 10th judicial circuit had in place," Aranda said. "This was a good kid who made a mistake. She was able to go through that pre-trial diversion program, follow the requirements needed, and now this has not been put on her record and now she is going to college. I've seen first-hand how it has helped this particular young person."
Pinellas County resident Judy McGinity relayed a positive account of how her now adult son benefited from a civil citation. "At age 14, my son was arrested for graffitiing buildings. At that time, we were offered a civil citation diversion program, which involved community service, behavior modification classes, and full restitution to the landlord," she said. "Every Saturday morning that child was out there repainting those buildings. Because of this, my son was never charged with an arrest. This has allowed him to pass Level 2 background checks and private security firm checks that come up and has allowed him to have a completely successful career. I am very grateful that this was offered to him. And I am very happy to report that he has never been in trouble with the law again."
Ensuring these youths have every opportunity to obtain jobs and be productive members of society is the primary reason for SB 274. "Obviously, this is incredibly disappointing to see this veto, both disappointing and unexpected," said Christian Minor, executive director of the Florida Juvenile Justice Association, to News Service of Florida. "I would say, outside of the fact that this is great second-chance legislation, this is perhaps one of the greatest pieces of workforce development legislation that we've seen in the last 10 years."
Felony records can be destructive to a youth's potential when "they're 17 and 18 and they're applying to colleges, they're applying to the military, they're applying for student housing." The barrier a felony can create is forever, limiting hope.
In a statement to the Florida Catholic, the Florida Conference of Catholic Bishops said it supported SB 274 because it "recognizes that minors have the ability to reform and transform their lives with the appropriate interventions."
"We look forward to supporting similar legislation next session that addresses the governor's concerns," the statement contined.
The other bill vetoed by the governor was coined by the House and Senate as the "civic literacy education" bill. Sponsored by Florida Sen. Jeff Brandes (R-24 of St. Petersburg), SB 146 would have instructed students how to participate in "society, government and the political system." The Florida Conference of Catholic Bishops did not have a stance on that bill.
"Our goal was to create, essentially, the Eagle Scouts of civics," Brandes said in a News Service of Florida story. "To allow people to take what they learned in theory and put it into practice." The bill would have given the chance for students to learn how Florida government works by allowing them "an opportunity to be civically engaged," as well as government internships and viewing citizenship naturalization services. Participating interns would produce scholarly papers on those experiences, highlighting what they learned and how they can use that information in their futures.
The University of South Florida also was involved in SB 146, as it would have partaken in a "Citizen Scholar Program" to provide college credit to high school students who completed the YMCA's Youth and Government program.
Christina Pushaw, Gov. DeSantis spokeswoman, said to News Service of Florida that the governor vetoed bill "because the legislation did not contain protections against politicized 'action civics' — and therefore, there was a risk it could be used to bring political indoctrination and activism into public school classrooms."
Gov. DeSantis did sign bill HB 259, legislation that allows people with concealed weapon permits to legally carry firearms while in schools that share property with religious organizations. The Florida Conference of Catholic Bishops opposed HB 259, preferring the limits on conveying weapons on school grounds in statute, rather than through school policies.