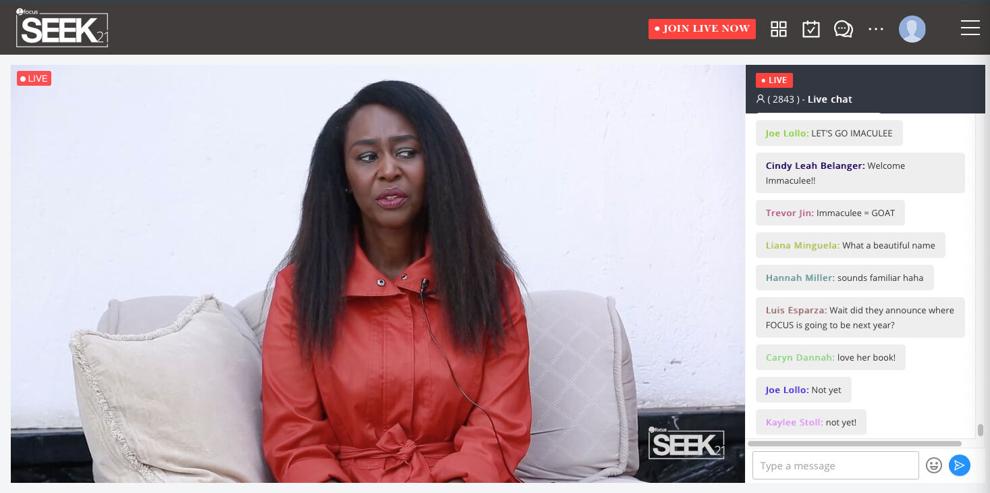 ORLANDO  |  Two dynamic speakers urged young people to examine and experience forgiveness, a path that might not be easy to follow, but a path that brings joy and freedom.
FOCUS (Fellowship of Catholic University Students) hosted Seek21, a four-day virtual conference Feb. 4-7, that gathered some 26,000 participants across the world to "encounter the heart of the Gospel." FOCUS groups and its more than 800 missionaries are active in 180 locations, including on the campus of Florida Atlantic University in Boca Raton.
On the second day, forgiveness was the primary focus for the two evening keynoters. Edward Sri, who was a founding leader of FOCUS, offered his presentation "What Wondrous Love is This: The Cross" at  Immaculate Conception Parish in Dardenne Prairie, Missouri, where the first FOCUS missionaries served full time at a parish. He likened the small gathering at that parish where he spoke and the hundreds of small gatherings around the country watching virtually to the "power of the early church as it celebrated in vibrant settings like this."
Sri explained how when thinking of the Passion of Christ, know that "paso in Latin is the suffering." But where should you go from that? Should Christians view God as a father who sent his only son to bear the wrath of our sins and suffer on the cross?
Sri said "no," and borrowed the words of St. Catherine of Siena to explain how to view the suffering of the cross from a different angle: "The nails could not have kept Jesus on the cross if love had not held him there first." Sri said the cross does not reveal God's wrath; it reveals God's "amazing love."
When humans hurt someone they love, they want to express sorrow for the lack of love and offer a gift of love. That is what God did for his children on earth; offer the ultimate gift of infinite love.
"There is an Infinite gap between us and God because of our sins. But God loves us so much... he sought us out even though we turned away from him. He came down and began one of us in Jesus Christ. He took on our humanity and as a true member of the human family he could offer a gift of love on our behalf. He can represent all of all us and offer his gift of love to the the father," Sri said. "But his gift of love, because he is also divine, his gift has infinite value. This  is how the cross works. The focus on the cross is not how much blood was shed but how much love was shared."
He offered the example of the scene of Jesus in the garden of Gethsemane as an example of that "amazing love." Even as Jesus lay prostrate in prayer, knowing he was on the brink of suffering and death, those were not the thoughts in Jesus' mind. To describe Jesus's thoughts, Sri recalled Sirach chapter 37: "Every friend declares friendship, but there are friends who are friends in name only. Is it not a sorrow unto death when your other self becomes your enemy?"
While Jesus surely was thinking about facing the nails, Sri said "at the forefront of his mind he wasn't thinking of himself, he was thinking about his friend who was coming to the garden to betray. The friend who is about turn to an enemy. Judas." He called Judas "friend," just as he calls us friend.
"You see how much God loves us?" Sri continued. "Our God is not pointing his hand to accuse; he's reaching out to call us friend. … He just wants us to come by and say, 'I'm sorry,' to confess our sins. … The power of the cross — whatever has been weighing you down, Jesus justs wants to liberate you from that. He calls you by name and calls you friend. That is the amazing love of God."
The agony in the garden also reveals Jesus as a model for humans. Because he was human, the thoughts of suffering no doubt brought thoughts of fear and grief. Yet, Jesus did not run away or delay. Instead, "Jesus looks suffering square in the eye and he embraces it" out of love for us.
"Jesus models for us when we have to do hard things," Sri said. "Jesus didn't procrastinate. He saw the hard thing God wanted him to do and he embraced it. What is God asking you to do? Are you willing to do the hard? Are you willing to be like Jesus?"
And Sri continued that this idea of forgiveness of sins is "only half of the Gospel." God wants to transform hearts and unite us "heart to heart." Discover what God wants us to be.
"Jesus wants to do so much more in your heart than just forgive you of our sins," Sri said. "He doesn't' just want to pardon you like a judge; he wants to heal you like a physician. He wants to heal weaknesses and wounds. He wants to adopt us as his children so we can become part of his supernatural family."
The second speaker revealed an extraordinary journey towards forgiveness through a genocide. Holding her father's rosary in her left hand, Immaculée Ilibagiza shared her story of suffering and how she discovered forgiveness of her sins could set her free and forgiving the crimes of others could also lift pain from her heart.
Today, Ilibagiza is an international speaker who previously worked for the United Nations. But in 1994, she was a student who lived in a small village in Rwanda. On April 6, 1994, dictator and president of Rwanda Juvénal Habyarimana was assassinated, which put militant Hutus in charge of the government. In the 100 days that followed, 800,000 to over a million Rwandans — Tutsis and some moderate Hutus — were slaughtered by their countrymen and, in some cases, their next-door-neighbors.
The slaughter was a nightmare many Rwandans had predicted. When Ilibagiza's brother told her the news of the president's death, he said, "They are going to kill us."
"We knew it was coming. Hatred had spread among the two tribes on the radio. That radio was hired by the government to spread hatred among people," said Ilibagiza, a member of the Tutsi tribe who was raised Catholic.
The entire village feared the days ahead and many arrived at Ilibagiza's home, where her parents were highly respected and loved. The government had already forced a shutdown and borders had been closed. People were being killed family by family, including 18 families in a two-hour period of time.
"By the second day, we had 10,000 people around our house," Ilibagiza explained and while the people might have gathered for words of hope, her father spoke realistically about impending death. "He said they should use the time to ask for forgiveness. He said, 'Let's repent and ask forgiveness so we can go to heaven.' People were listening and praying."
Before bloodshed arrived to her village, Ilibagiza's father gave her his rosary and told her to seek shelter at a neighbor's house. He was a Hutu and was willing to shelter her and seven other women. They were kept in a three-foot by four foot bathroom. The women literally sat on one another and were told not to make a noise. They stayed there for 91 days.
Silence and starved, by the end of the first week Ilibagiza asked the Hutu man if he could put on the radio so they could hear what was happening in her country.
"I couldn't believe it. The leaders in the country was asking to kill anyone of my tribe," she said, adding she recognized one of the voices of the officials calling for the genocide. "He was a man who earned a PhD in France. And he was saying, 'Don't forget the children. A snake is a snake. We must cleanse the country.' That was a big lesson for me. … It was a moment that I realized you can educate your mind, but if you don't have love in heart, it is meaningless. It is the first time I truly understood that faith means so much more than what we learn in school."
In those days of silence, Ilibagiza examined her own faith and relationship with God. She described her fear and anxiety as "a thousand needles through her body" and a voice in her head told her to open the door of the bathroom and end the suffering.
But another voice told her, "Remember, ask God to help you. God is almighty. He can do anything." She mentally battled with that voice and said how could God be there in the middle of a genocide? That is when she challenged herself: Did she really believe in God? Was her faith truly strong?
"There was no more doubts in me. If I almost lost my faith, that means it was not strong," she recalled, adding she needed to know what God is so she asked the man who sheltered her for a Bible. "Ask God questions. He will speak to you. … It is hard to work for a place you don't know anything about. Learn about heaven."
She believes God spoke to her and told her "I created you because I love you. I gave you guidance; I gave you the commandments." Ilibagiza read Scripture, but when she stumbled upon "Love your enemies," she had to close the page.
"I realized that I was in trouble. I might not go to that nice place of heaven because I did not forgive. How can you when everyone who looks like you is killed?"
She didn't  like the idea of forgiveness, but because she knew her faith was in trouble, she started praying the the rosary dozens of times a day. It brought her peace, even as she would be consumed with anger, sweating from that deadly amotion, the rosary brought her peace. "Fear was killing me as much as anger. And impatience," she recalled. "I ended up saying the rosary all day. … But when I came to the part of the Our Father to forgive those who trespass against us, my voice would say, 'You don't mean it. You are lying to God. You know you are not saying the truth. You risk losing him.'"
So she would skipped that part of the prayer, until she realized she didn't have to skip it.
"For the first time in my life I learned how to surrender. You don't have to figure out everything," she said. "God said, 'Give it to me,' so I gave it to God, realizing I still didn't know how to forgive."
Offering the hand God gave her did not offer her judgment, instead it gave her more peace. And in that peaceful moments of prayer the words of Jesus on the cross echoed to her: "Forgive them father. They don't know what they do."
"He was handing me a formula. (Those performing the genocide) don't get it. They don't understand the consequences. They don't get the pain they are causing you. … And you being like them doesn't change anything," she said. "The world was divided two parts — love and hate. My plan was one of revenge, but the side of love offers peace. They forgive. They defend the truth and love. They defend peace. These are people I wanted to be with. … I knew I would spend my life praying for people on side of hate. Pray for them so that the grace of God would touch their heart. So, they too could change."
But reality still tested her resolve and faith. When she exited the bathroom after three months, she was 65 pounds and she discovered among the million of dead were her family.
"Everywhere there was dead bodies. I couldn't feel what I used to feel (in that bathroom). How do I feel peace now?" she asked. "I put rosary down and cried. Then it was as if I felt a giant hand of God. His voice said, 'Hey the journey of loved ones are done, but your journey is not over yet."
Her choice was love or hate. She heard God tell her, "If you choose love or kindness, I will be with you. Whatever you need, I will give it to you."
"For first time felt I felt the breeze on my face, and the warmth of sun. All those things I took for granted, but had never been thankful for. I felt free to talk," she recalled, regarding all those blessings in the midst of the genocidal aftermath. While in the refugee camp, she turned to care for others. Even though she looked like a skeleton, she showed mercy, love and forgiveness.
"Take every moment as a gift. To this day, I take it as a gift. A day for new prayers, new intentions," she said. "I have to be that loving person every day. I fall many times, and every time I do, I go to confession or get on my knees, confess and start again. … Hold on to God, no matter what is coming. Focus on prayer. Read the Bible and go to Mass. If I can forgive, anyone can forgive. I know the pain and damage of unforgiveness. There is so much joy. So much freedom in forgiveness."