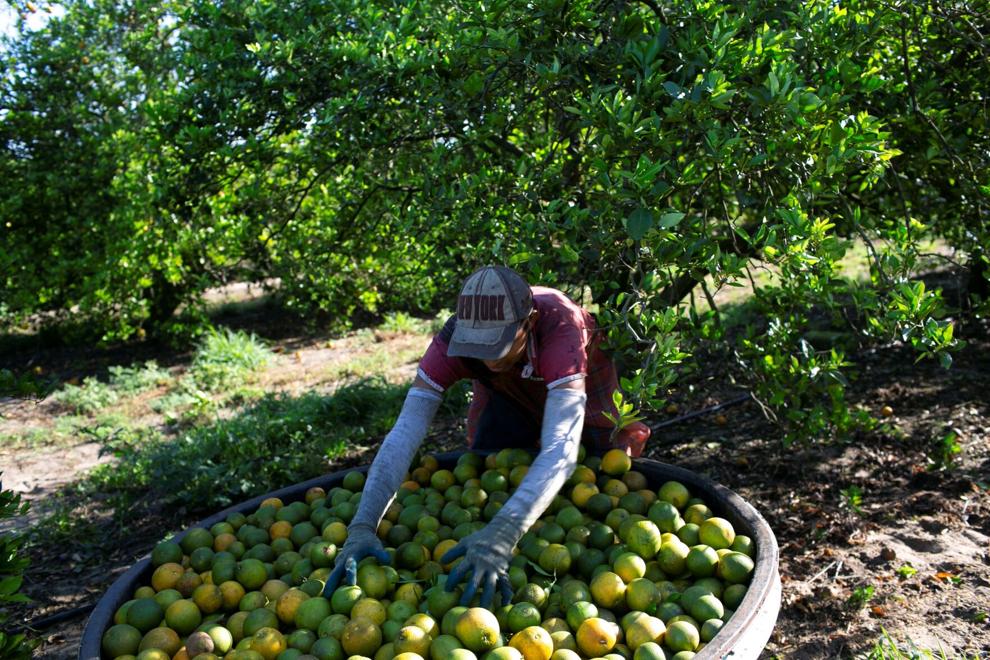 ORLANDO  |  COVID-19 might have plummeted many American's lives in crises of financial, physical and mental ways, but it did not slow efforts of support and advocacy at the Farmworker Association of Florida.
Last March and April, when the pandemic started to take a hold of the country, farmworkers saw the same fate as many other workers in America — job loss and hours cut. But because many of those workers are not U.S. citizens — such as workers with temporary status or working towards citizenship, or an H2a worker — they do not qualify for any stimulus assistance.
That made the work of support agencies even more critical, organizations such as the Farmworker Association of Florida. Nezahualcoyotl "Neza" Xiuhtecutli grew up in North Carolina and has been in Florida for 10 years, where he has worked with the association. Recently, he was named general coordinator of the Farmworker Association of Florida, with its central office in Apopka. The association also has offices in Fellsmere, Pierson, Immokalee and Homestead.
The association includes some 10,000 members, Xiuhtecutli said, adding about 90 percent of the membership is Hispanic, most from Mexico but others from Guatemala, El Salvador and Honduras. While the number of African American workers have declined, there are rising number of members who are Haitian. Members pay for membership, and receive a ID card.  
"With that membership comes responsibilities," Xiuhtecutli said. "They are asked to be involved in the association, be involved in drives and participate in studies, working in cooperation with other organizations."
Last summer, one of those surveys asked about working conditions and wages. It spoke about how wages had been lost and hours had been greatly reduced. Xiuhtecutli said there are generally three settings for farmworkers — working in fields on crop farms, nursery workers who deal with ornamental vegetation (potted plants and flowers for arrangements) and fern cutters.  While later in 2020, crop workers might have resumed to work, but Xiuhtecutli said fern cutters and nursery workers went from five or six days a week, seven or eight hours a days, to a few hours just a couple days a week.
Along with financial crises, farmworkers had an increased health risk in terms of COVID-19. Surveys among workers expose how high blood pressure and diabetes are common in the community, which compromises the immune and respiratory systems. Working in the fields and among vegetation, workers are exposed to dust and chemicals. Sun exposure and heat stress are cause physical harm.
According to 2015-2016 National Agricultural Workers Survey by the Department of Labor, 47 percent report having health coverage, compared to 91.5 percent of the general population. The farmworker community also has little to no paid sick leave, which means there is fear of losing wages or a job to take time off to see a doctor when they are ill.
Xiuhtecutli know those statistics to be a reality with the people they serve. And it is one of the reasons the association, along with other advocacy organizations including the Guatemala Maya Center in Lake Worth, sent a letter to Florida Gov. Ron DeSantis stating that farmworkers are essential workers and deserve to be vaccinated as soon as possible.
"The governor was saying that essential workers were not going to be a priority because they are young and healthy," Xiuhtecutli said. "That may be his idea, but the essential workers we know have worked their lives without health insurance. They have underlying conditions. Even if they are healthy, they probably will not have the means to seek healthcare."
Along with working to gain access for the vaccine for essential workers, especially farmworkers, the association is also working with the community to educate them about the vaccine, its safety and safety during COVID. "Beyond COVID-19, healthcare in general needs to be highlighted," Xiuhtecutli added. "There is a lack of access to healthcare by people in the system. We need more traction on that issue. We need there to be access to affordable healthcare for everyone.
There are also ongoing issues that the association continues to advocate, such as workplace protections and heat stress legislations. The coordinator said the role of the association is to bring up to elected representatives, whether they be local representatives such as city councils, mayors or commissions, state legislators, and to congressional representatives, as well.
Immigration has also been an ongoing issue for the association. When asked about the feelings regarding the reinstatement of DACA — Deferred Action for Childhood Arrivals —  Xiuhtecutli said while he was glad President Joseph Biden reinstated the policy, that was created by President Barack Obama and then struck down by President Donald Trump, he explained because all three of those actions were executive orders, the program is at the whim of the president in charge. Xiuhtecutli said it is important to have legislation behind the program, just like an other immigration program, and have that legislation create a path to citizenship.