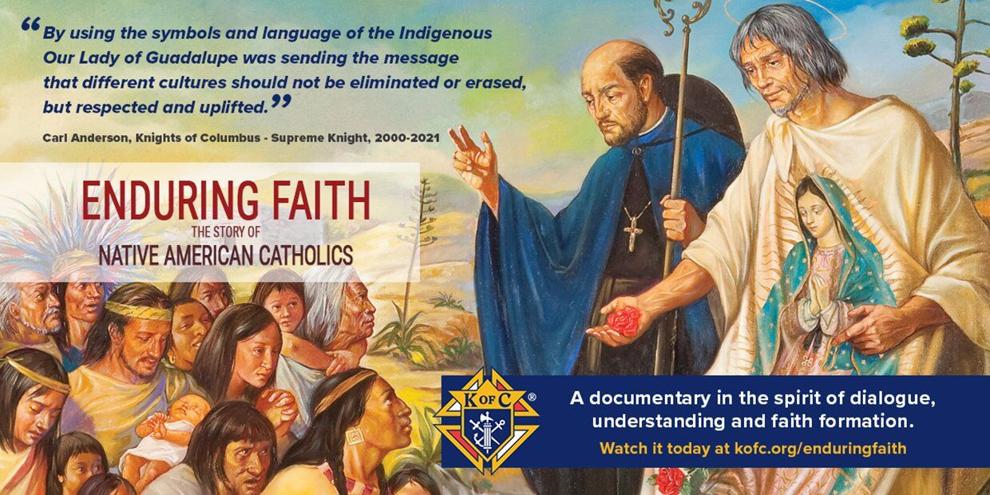 ORLANDO  |  It's nothing new that marginalized voices in America don't reach as far as others. Many times, that suppressed voice is of the Native American community.
Their legendary history is filled with horrible prejudices, deadly injustices and little resources for change. Helping them overcome this seemingly never-ending dilemma is the presence and diligence of the Catholic Church, providing many of these Indigenous tribes with not only a platform to articulate their voices but with the focused strength to express themselves with their Catholic faith.
The hour-long documentary "Enduring Faith: The Story of Native American Catholics" provides a wealth of detailed information from Native American voices who credit their Catholic faith for their persistence through many of their difficult times. The Florida Catholic spoke with Patrick Mason, secretary of the Knights of Columbus Supreme Council, to discuss the importance of the Catholic Church in the daily lives of Native Americans, how supporters of Indigenous tribes can help, and why making this documentary is so significant.
A proud member of the Osage Nation, a Midwestern Native American tribe of the Great Plains, Mason hopes the documentary is a missing piece of the puzzle that will help others see how Native Americans continue to thrive with the help of the Lord.
"Enduring Faith offers viewers a deeper appreciation for the spiritual and cultural gifts of Native American Catholics, a greater awareness of the wrongs inflicted upon them by the unjust policies of the past, and a sense of hope at how Native American Catholics continue to live out their faith today," Mason said. "It also offers a beautiful example of how Christ reveals himself through the uniqueness of every culture."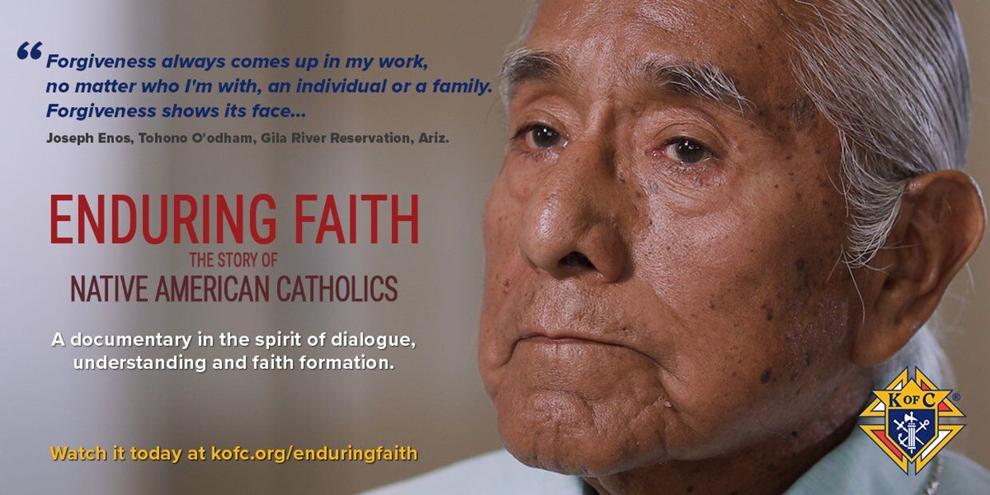 CULTURE AND FAITH
Mason always found it easy to connect both his Catholic faith and his Native American heritage, likely due to his upbringing. "Where I grew up the population is 80% Native American and it's just the reality of the people around you and what you are used to," he said. "I've always had a very positive experience. There were a lot of Native traditions that complemented the Catholic traditions very well. It's a rich cultural tradition both on the Native side and on the Catholic side."
Mason credited his Catholic faith for helping him through tough moments. "Whenever I have faced the most difficult times in my life, it helps me to remember the suffering of Christ for my sins and those of the whole world. It really helps put things in perspective," he said. "Most important to me though has been a strong devotion to Christ's truly present body, blood, soul, and divinity in the Eucharist. No matter how difficult times are, I always remember that God's ways are not our ways, and what Peter says in the Gospel of John, 'Master, to whom shall we go? You have the words of eternal life.'"
The ability to bridge both traditions is a factor Mason wants others to build upon, as well. Supporters of the many Native American struggles "need to first start by seeking unity with our own Catholic communities," Mason said. "We must unite in solidarity with our Native brothers and sisters, remember that they are our equals and build trust with each other."
Once the bond has reconnected within Indigenous communities, they can begin "building relationships, and there is no better way to build relationships than by joining together in the Sacrament of the Eucharist."
THE DOCUMENTARY
The creation of this documentary is the next logical step. "As we were going on and building relationships with all these Native Catholics, we realized we needed to tell this story to a larger audience and that's sort of how that documentary came about," Mason said.
David Naglieri is a seasoned director whose work in documentaries brings global advocacy and Catholicism together. With a lifelong career in the movie business, the social awareness topics of his past films "cemented my passion for documentary filmmaking as a means to present an alternate vision than that proposed by the secular media," Naglieri said of his ambition to tell of the Native American and Catholic history.            
 "Enduring Faith" highlights Catholic values while exposing Native American struggles. It is an uncommon mixture rarely, if ever, mentioned in media or in film. Naglieri wanted his viewers to ask themselves, "What does it mean to be a Catholic in America?" because he knows that the good teachings of Christ also apply to the Indigenous histories that have "too often been missing from our own understanding…and the contributions that native peoples have made."
AWARENESS AND RECONCILIATION
But the documentary is more than just a talking point. It is about the power to change lives for the better. Naglieri said it is "a step forward in this process of healing and reconciliation," as it represents atonement for sin with the Native American community. "This need (for amends) is hidden from many Americans by the fact that so many Native communities are isolated on reservations, which are often quite far away from metropolitan city centers."
"Documentaries are the perfect medium to provide a voice for critical ideas and stories unlikely to gain traction in a world where decisions are oftentimes made with the bottom line in mind," Naglieri said. "I think this is true in the case of 'Enduring Faith' where we seek to highlight the voices of Native American Catholics who have not been afforded the opportunity to share their story."
Mason is gratified with the final product, having included "a pretty wide range" of experts from the Native world. "We consulted with Father Maurice Henry Sans (executive director of the Black and Indian Mission Office), some Laguna, some Sioux, Dakota, and Navajo" authorities to lend their voice on what it means to be Catholic and Native American.  
The feedback has been nothing short of exceptional, with praise across the board. "We streamed the documentary at the Tekakwitha conference (in July 2021), and I did about an hour-long question and answer afterwards," Mason said. "It was very well received by all the thousands of members at the Tekakwitha conference. We streamed it at Yale. It's amazingly well-received. The one complaint I've heard about it from Native people is they wished it was longer because there are so much more stories that can be told."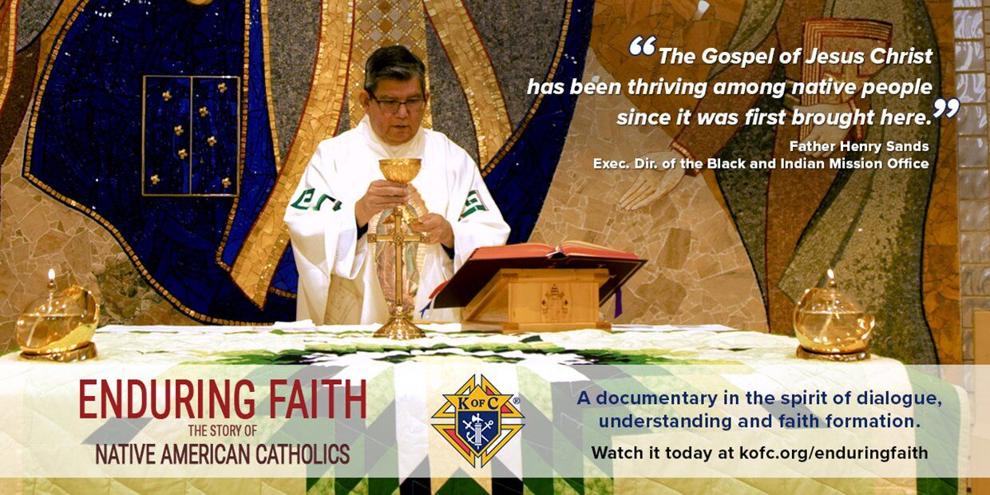 THE FUTURE
The future is hopeful because Naglieri views it from a Catholic perspective. "We have been handed a great heritage of faith, and we have a responsibility to pass this on to the next generation. I view my vocation as a Catholic filmmaker to both inform and to inspire. My hope is that the films I have been privileged to produce will increase in viewers the knowledge and understanding of our Catholic faith and history, while at the same time inspiring a resurgent faith."
Mason wants his supporters to know of the grand history of Catholicism and the Indigenous tribes in North America, which dates back hundreds of years. "The Native American Catholics may not be the largest ethnic group within the Catholic Church in the United States but they're one of the oldest. I have friends who their families have been Catholics for 400 years. My parents are converts. My family have been Catholics about 40 years. But how many people can say their family has been Catholic for 400 years? That's an important part of the story."
Clearing up a misconception about Native people's introduction into the Catholic Church is important for Mason. Although "Europeans brought Christianity to the people of the New World, the start of Catholicism in the United States was not that event. What started it was Mary appearing as an Indigenous woman in the form of Guadalupe to an Indigenous man speaking his Indigenous language. So, actually it was an Indigenous person that really started the expansion of faith in the New World. And I think that if we don't remember that and if we don't remember all the good and the suffering and everything else that came after that we're not going to be able to know ours story as Catholics her in the New World." n
To watch the documentary in full, visit https://www.kofc.org/en/news-room/enduring-faith/index.html.