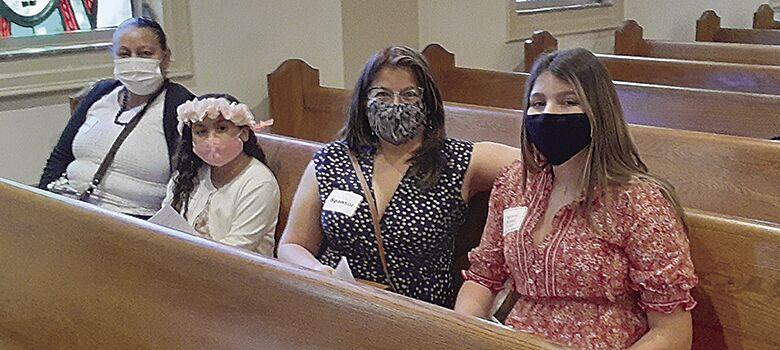 Isabella Vasallo is one of 245 catechumens who will join the Church at Easter Vigil
MIAMI BEACH  |  Isabella Vasallo is a typical 8-year-old. She is spunky and loves dancing and gymnastics, but this ordinary little girl has an extraordinary eagerness to become a full-fledged Catholic and meet the Lord through the sacraments.   
"She is so excited to be getting baptized," said Gipsy Lodos, director of religious education at St. Joseph Parish in Miami Beach. "She has been counting down the weeks and telling everyone about her big day that is coming."
Isabella, a second grader at Mater Beach Academy, will be welcomed into the Church and receive the sacraments of initiation at the Easter Vigil April 3, 2021. Mater Beach Academy took over the space vacated when St. Joseph School closed at the end of the 2009-10 school year.
She is the youngest of the six catechumens participating in Rite of Christian Initiation for Adults classes at St. Joseph Parish, and among the youngest of the 245 catechumens being welcomed into the Church this year throughout the Archdiocese of Miami.
Catechumens have never been baptized in any Christian faith. They will receive the three important sacraments that initiate them into the Church family — baptism, confirmation and Communion — during the Easter Vigil in their parishes.
Many have been attending RCIA formation classes for at least a year, and some for much longer. Although geared toward adults who want to be in full communion with the Church, the RCIA is also the method by which children over the age of 7 — the age of reason — receive the sacraments of initiation.
Also in formation are people called candidates. They don't attend the Rite of Election because they have already been baptized into the Catholic Church or another Christian faith. Their process of formation is completed with the reception of the sacraments of confirmation and Communion.
"In the past we have also celebrated the Rite of Reception at the cathedral, usually in May," explained Rosemarie Banich, director of the Office of Evangelization and Parish Life. "That is where the candidates come to complete their sacraments of initiation, either first Communion and/or confirmation. This year the archbishop has decided that we will not hold that at the cathedral, but instead, he will delegate authority to each pastor to celebrate those sacraments at the parish."
Isabella is a refreshing story in today's world, when many parents struggle to get children interested in church services and in getting to know God and his teachings. "I see such a joy in her," said Lodos. "She loves classes and responds with questions and answers."
The entire Vasallo family will be at the Easter Vigil.
"We are excited," said Mia Vasallo, Isabella's mom. "We did not baptize her when she was a baby because we were waiting to find the right sponsor. We wanted someone who was going to be there for her. We chose my mother-in-law. She is always there. It is the right choice. She loves her and taught her how to pray."
Nancy Mowa, Isabella's grandmother and sponsor, has been helping her and praying for her from the start. "I will spiritually guide her until my last breath," she said.  
In fact, among St. Joseph's catechumens this year is only one adult. The others are youngsters ages 10 to 13.
Father Juan Sosa, pastor of St. Joseph, celebrated the Rite of Sending with all of them during Mass Feb. 21, the first Sunday of Lent. The day before the Mass, Isabella celebrated her birthday.
Father Sosa prayed over the catechumens and assured them that the people of the parish are "with them" and praying for them. "We have to be a support for them on their journey," he said.
That same afternoon, the catechumens attended one of four Rite of Election ceremonies celebrated in the archdiocese: two at St. Mary Cathedral with Archbishop Thomas Wenski, and two more with Auxiliary Bishop Enrique Delgado at St. Bonaventure Church in Davie. The names of the catechumens were written in the Book of the Elect during the ceremonies.
Isabella slowly, carefully, and clearly wrote her long, formal name in the official Church book pledging her commitment and discipleship.
"Isabella wanted her whole name written in the book," said Lodos. "She was taking a long time."
Parents Mia and Ramon Vasallo formally named their little girl Isabella Miracle De La Caridad Vasallo — a tiny girl with a big name that means so much. Isabella carries the name of Our Lady of Charity, also known as Nuestra Señora de la Caridad or la Vírgen de la Caridad, patroness of Cuba and linked to many miracles.
Mia has a great devotion to her. "When I was five months pregnant, I found out I was carrying Isabella," said Mia, who was 33 at the time and the mother of three energetic and active boys ages 3, 12 and 17. Mia was completely shocked by the pregnancy test indicating she would have the little girl she had been praying for.
"She is our little miracle. She is our princess. We are all excited for her," said Mia.
Isabella may be only 8, but her knowledge about the Lord and God's gift of grace through the sacraments that she will receive at Easter is way beyond her young years.  
"I am excited about the Easter Vigil," said Isabella. "It will be amazing. I want Jesus to forgive my sins. I want to be blessed by God. I want to be protected."