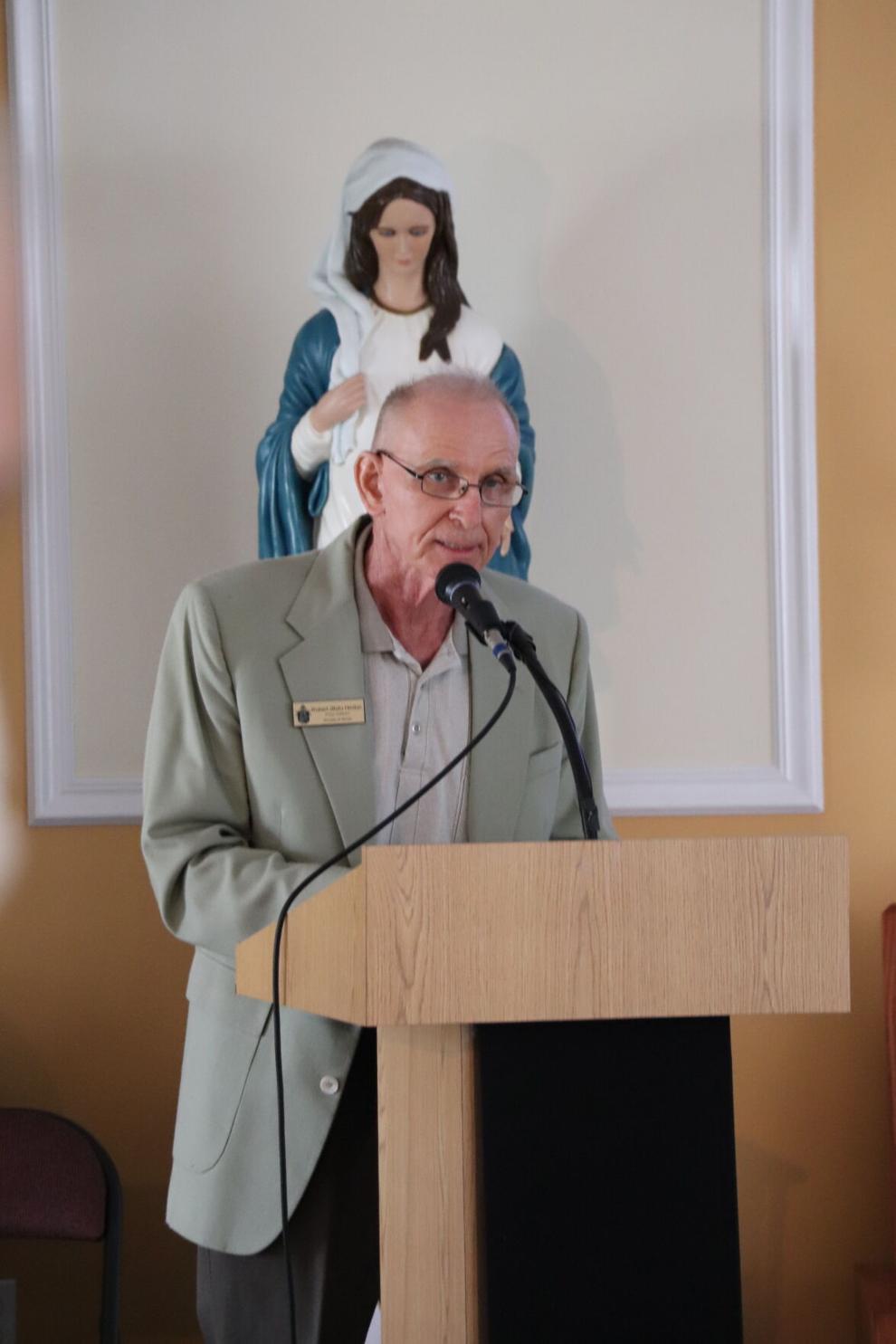 ARCADIA  |  Robert Hiniker remembers his first trip to prison walking through barbed-wire fences and then, behind steel doors that slammed shut behind him. 
"It was an uneasy feeling the first time I went inside," Hiniker confessed reflecting back 25 years ago when he visited Charlotte Correctional Institution in Punta Gorda as part of an interfaith prison ministry initiative by non-profit Kairos.
Once inside, the participants delivered encouragement to the inmates, said prayers and witnessed faith obviously turning hardened hearts.
Fast forward to today, and Hiniker serves as a coordinator in the Diocese of Venice Prison Outreach Ministry. That day inside the institute, he was also touched and hooked. Prison ministry continues to be part of his journey over the decades.
After speaking to him, one clearly realizes that prison outreach is not just a job for him, but a true vocation, which he is called and well suited, even though it came late in his life and in God's own time and terms. 
"When you are called by the Lord and respond, it is a joy," Hiniker said. "It is not a sacrifice. You feel like you get much more out of it than you give."
Hiniker is a native of Mankato, Minnesota, located about 80 miles southwest of Minneapolis in the Diocese of Winona.
A cradle Catholic, Hiniker was born into a model Catholic family. "The quality I remember most about my father was the love he showed to his wife, my mother," said Hiniker sharing fond memories.
The Hinikers had 14 children — seven girls and seven boys. "I remember sharing a bedroom with five brothers," Hiniker recalled. "The six of us brothers slept in two regular beds and one bunk bed."
The family was active in parish life at Jesuit-run St. Peter and Paul. Hiniker's father was a Knight of Columbus. His mother made sure the children attended the elementary and high school run by the priests and School Sisters of Notre Dame.
"My parents were very good role models," Hiniker said. "We prayed the rosary together as a family daily after the evening meal."
College studies followed high school graduation. Hiniker earned degrees in accounting and finance and entered the business world. Never marrying, life went on. Time passed. In the early 1990s, he left his 9 to 5 job for early retirement.
Moving to the Sunshine State, he took up residence in Englewood to begin the next chapter of life taking it easy.
"I was retired, but God had other plans for me," he said.
That visit to the Charlotte prison in 1996 as part of Kairos Prison Ministry's program launched him on a path to help souls in other Florida prisons and jails. He began ministering inside the Charlotte prison every week, but he kept feeling called to do more.
In 2001, he moved to Arcadia and became involved with prison ministry there even taking on the role of volunteer chaplain and awarded "Chaplain of the Year" recognitions by DeSoto Correctional Institution officials the following year.
"I started volunteering at DeSoto Correctional Institution and the Florida Civil Commitment Center both located in rural DeSoto County," he said. "I felt that was where God wanted me to be. I really felt his love inside the prison."
Louie Faustino was in charge of the diocese's Prison Outreach program when Hiniker began ministry. Faustino died Nov. 25, 2016, at age 84 after serving 20 years.
Hiniker stepped up and took on the role as a coordinator of the diocesan outreach teaming up with coordinator Deacon Sam Puleo, a retired attorney. The two men worked together to carry on Faustino's legacy of continuing to develop the program to serve inmates in 23 jails and state prisons in the 10-county Diocese of Venice.
"Louie was willing to listen and hear everyone out," Hiniker told the Florida Catholic during an interview after Mr. Faustino's death. "That takes someone special."
Deacon Puleo passed away three years later after serving the ministry faithfully. Joe Mallof, a former chief executive officer, took on the co-coordinator position helping Hiniker move forward.
Working together as a team, the men continue to build up the ministry with new programs and carry on established services and outreach including Bible studies and making the Mass, eucharistic services and Sacrament of Reconciliation available to inmates.
Prison and jail services have been temporary limited or put on hold since the pandemic. Hiniker commends Mallof for spearheading efforts making the diocese's televised Mass available to inmates, who have access to mini-tablets. A growing number of states are allowing inmates to either purchase or use technology devices for spiritual, enrichment and educational programs.
Hiniker also acknowledges Bishop Frank J. Dewane for his ongoing support of the ministry. He pointed out that pre-COVID Bishop Dewane made annual visits to inmates bringing the sacraments and giving them hope through his presence. "We are blessed to have his support," he said.
Hiniker was allowed back inside a prison for the first time in nearly a year in February. "All of us took the precautions," he said excited about being able to return to the place where he finds joy.
The inmates he visits expressed their delight to see the man of faith who they have grown to trust and know. "One of the guys I see said,  'Bob it is good to see you coming through the gate. Why didn't you communicate with us?"
Hiniker has learned just how alone many of the inmates feel. Suddenly in prison, their living environment is drastically changed. Their relationships are with unknown people, who have done bad things. Some are angry and violent. 
"You get to know the people in the prisons," said Hiniker. "You get to know those serving life terms. Many of them have strong faith. It is inspiring. We keep each other lifted up."  
Hiniker keeps a letter written to him by Marty Puccio, an inmate serving a life sentence for murder.
In the letter, Puccio writes, "Volunteers are making more of an impact than they might ever know. They have shown love and compassion to people who may have come to the conclusion that they have nothing to offer this world and nobody cares for them. You who visit us have shown us that there are people who care."
Hiniker continues to follow God's call and walk his life journey that takes him behind bars where some dare to go. "I get joy from what I do because I responded to God's call," he said.