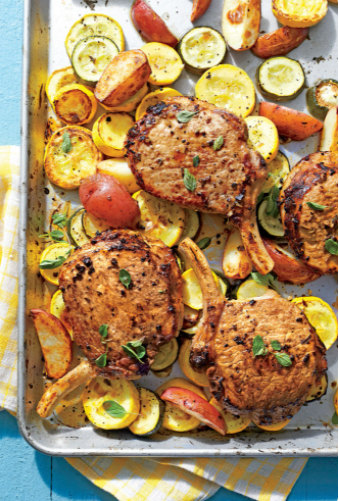 One sheet and dinner is done, thanks to juicy Greek Pork Chops, squash and potatoes. Serve with a green salad with red onions, tomatoes and feta cheese for a healthy Mediterranean meal.
Prep time: 20 mins
Cook time: 1 hour, 20 mins minutes
Total time: 1 hour, 40 mins
Yield: 4 servings (1 pork chop and 1 cup of vegetables)
---
Ingredients 
Directions
1. Place pork chops in a 13- x 9-inch baking dish. Whisk lemon juice, oil, garlic, oregano, pepper, and 2 1/2 teaspoons salt; reserve 2 tablespoons marinade. Pour remaining marinade over pork, turning to coat. Chill 1 to 8 hours.
2, Preheat oven to 425°F. Combine squash, zucchini, potatoes, and reserved marinade. Spread squash mixture in an even layer on a heavy-duty aluminum foil-lined rimmed sheet pan.
3. Remove pork from marinade, discarding marinade. Pat dry with paper towels, and place on top of squash mixture.
4. Bake 25 minutes. Increase temperature to broil, and broil until a meat thermometer inserted into thickest portion registers 140°F, about 5 minutes. Transfer pork to a serving platter, and cover with foil. Return pan to oven, and broil squash mixture until slightly charred, 3 to 4 minutes. Transfer squash mixture to a serving bowl; toss with remaining 1/2 teaspoon salt, and serve with pork.
---
Recipe courtesy of Southern Living.