Do you want something other than cheese pizza, pasta or fish for your Friday meals during Lent? Check out our meatless recipes curated from some of the best chefs from around the globe. This easy recipe is courtesy of the Food Network.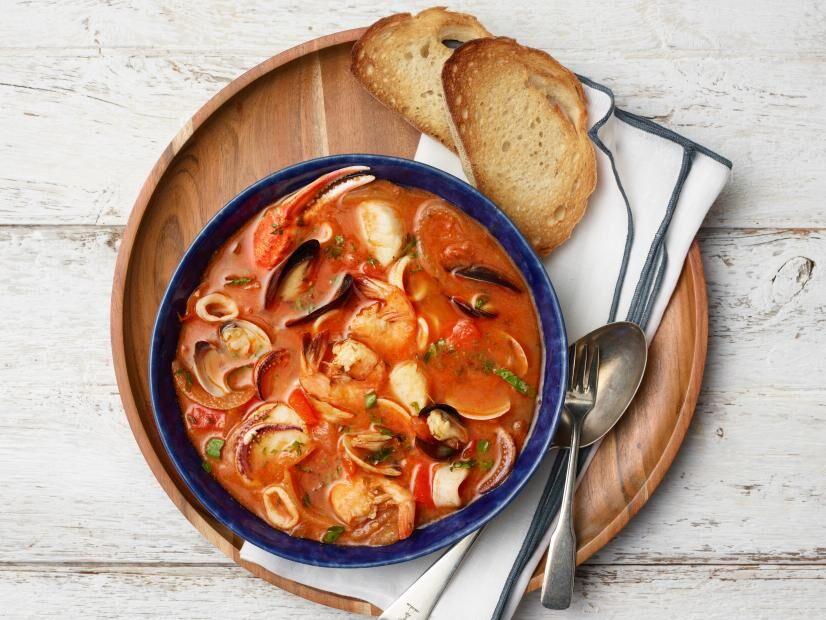 Cioppino (pronounced cho-pee-no) is a fish stew originating in San Francisco, California. It is an Italian-American dish and is related to various regional fish soups and stews of Italian cuisine. Recipe courtesy of Giada del Laurentiis at the Food Network, serve this wonderful seafood stew with a loaf of warm, crusty bread for sopping up the delicious broth - and don't forget a second bowl for shells and plenty of napkins. 
Prep time: 30 mins
Cook time: 60 mins
Total time: 90 mins
Yield: 6 servings
---
Ingredients 
3 tablespoons olive oil
1 large fennel bulb, thinly sliced
1 onion, chopped
3 large shallots, chopped
2 teaspoons salt
4 large garlic cloves, finely chopped
3/4 teaspoon dried crushed red pepper flakes, plus more to taste
1/4 cup tomato paste
1 (28-ounce) can diced tomatoes in juice
1-1/2 cups dry white wine
5 cups fish stock
1 bay leaf
1 pound longneck clams, scrubbed
1 pound mussels, scrubbed and debearded
1 pound uncooked large shrimp, peeled and deveined
1-1/2 pounds assorted firm-fleshed fish fillets such as halibut or salmon, cut into 2-inch chunks 
---
Directions
1. Heat the oil in a very large pot over medium heat. Add the fennel, onion, shallots, and salt and saute until the onion is translucent, about 10 minutes. Add the garlic and 3/4 teaspoon of red pepper flakes, and saute 2 minutes. Stir in the tomato paste. Add tomatoes with their juices, wine, fish stock and bay leaf. Cover and bring to a simmer. Reduce the heat to medium-low. Cover and simmer until the flavors blend, about 30 minutes. 
2. Add the clams and mussels to the cooking liquid. Cover and cook until the clams and mussels begin to open, about 5 minutes. Add the shrimp and fish. Simmer gently until the fish and shrimp are just cooked through, and the clams are completely open, stirring gently, about 5 minutes longer (discard any clams and mussels that do not open). Season the soup, to taste, with more salt and red pepper flakes.
3. Ladle the soup into bowls and serve. 
Recipe courtesy of Giada del Laurentiis at the Food Network.