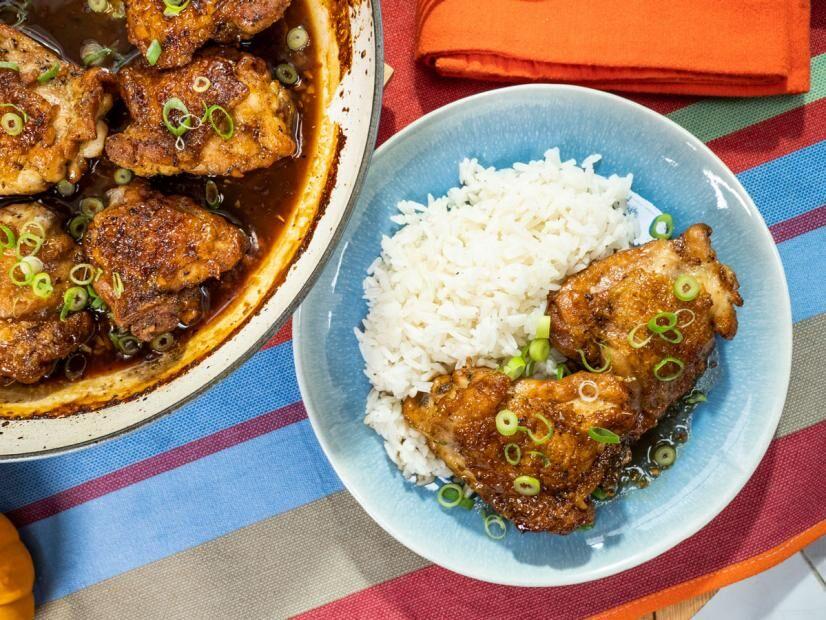 How do I even begin to describe this meal? The sauce. Oh my goodness. It is a sweet caramelly teriyaki glaze. A perfect blend of savory and sweet. Recipe courtesy of Katie Lee Biegel and the Food Network Kitchen.
---
Prep: 20 minutes
Cook: 35 minutes
Total: 55 minutes
Servings: 4
---
Ingredients:
• 2 tablespoons unsalted butter
• 1/2 cup dark brown sugar 
• 8 cloves garlic, finely minced 
<• One 2-inch piece ginger, finely minced 
• 1/3 cup rice vinegar 
• 1/4 cup fish sauce 
• 1/4 cup low-sodium soy sauce 
• 8 skin-on, bone-in chicken thighs 
<• Kosher salt and freshly ground black pepper 
• 1 tablespoon coconut or vegetable oil 
• White rice, for serving
---
Directions:
1. Preheat the oven to 400 degrees F.
2. Melt the butter in a small saucepan over medium-high heat. Add the brown sugar and cook, stirring constantly, until it begins to melt, 2 to 3 minutes. Add the garlic and ginger and cook, continuing to stir, for another 1 to 2 minutes. Stir in the vinegar, fish sauce and soy sauce. Bring to a low simmer and let cook for about 5 minutes. Remove from the heat.
3. Use a paper towel to thoroughly pat dry the chicken. Sprinkle both sides with salt and pepper.
4. Heat a large ovenproof skillet over high heat until very hot. Add the oil. Place the chicken in the skillet skin-side down and let brown without moving it for about 4 minutes. Remove the chicken to a plate and raise the heat to medium-high. Add the brown sugar mixture and use a wooden spoon to scrape up any browned bits. Return the chicken to the skillet skin-side up. Transfer the skillet to the oven and bake, basting the chicken with the sauce midway through cooking, until cooked through, about 20 minutes. For extra-crispy skin, transfer the skillet to the broiler for about 2 minutes. Serve over white rice with sauce. Enjoy!
---
Florida Catholic Media is supported by its audience. This means that, at no additional cost to you, Florida Catholic Media will earn a small commission if you click through and purchase linked products. Learn more.