Do you want something other than cheese pizza, pasta or fish for your Friday meals during Lent? Check out our meatless recipes curated from some of the best chefs from around the globe. This recipe is courtesy of Bon Appétit Magazine.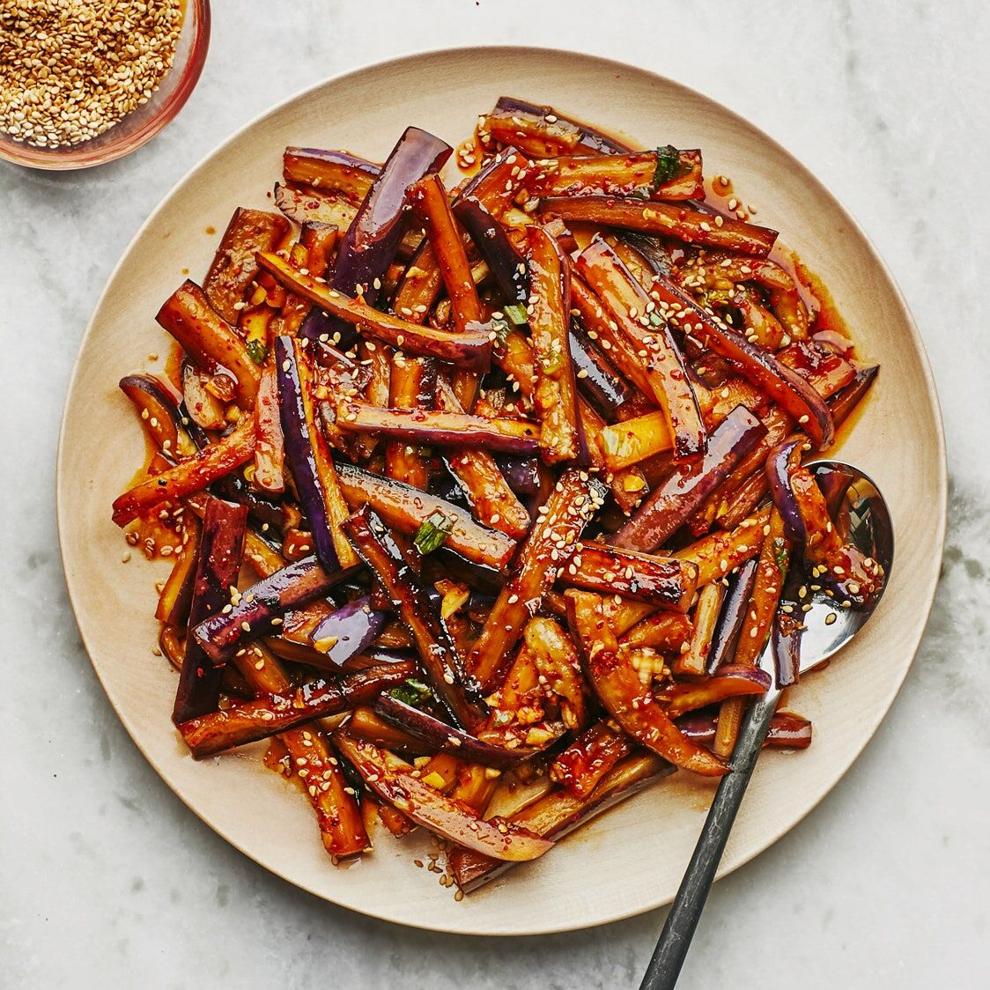 This recipe is one of Bon Appétit's favorites from Maangchi's Big Book of Korean Cooking. We like to think of this sweet and salty dish as a sort of vegetarian bulgogi. Marinating and pan-frying eggplant keeps it firm, flavorful, and chewy—almost meaty. The marinade glazes it as it cooks, so it glistens. Prepared this way, the eggplant looks very special, even though the recipe is easy. It's a versatile dish that makes a great side for rice and many other preparations. The eggplant tastes wonderful right off the stove, but it's even better after a few hours, when all the flavors have had time to mingle and deepen. Seek out Korean eggplants, if possible, which are sold in Korean markets. They are thinner than ordinary eggplants and the skin is more tender. But regular eggplants work, too.
Excerpted from Maangchi's Big Book of Korean Cooking: From Everyday Meals to Celebration Cuisine ©️ 2019 by Maangchi. Photography ©️ 2019 by Maangchi. Reproduced by permission of Houghton Mifflin Harcourt. All rights reserved.
---
Ingredients
¼ medium onion, finely chopped (about ⅓ cup)
3 garlic cloves, finely chopped
1 scallion, chopped
¼ cup rice syrup or 2 Tbsp. sugar
1 Tbsp. soy sauce
2 tsp. Gochugaru (coarse Korean hot pepper flakes)
1 tsp. toasted sesame oil
1 Tbsp. plus ½ tsp. kosher salt
1 lb. eggplants (preferably Korean)
1 Tbsp. vegetable oil
1 tsp. toasted sesame seeds
---
Preparation
1. Mix onion, garlic, scallion, rice syrup, soy sauce, gochugaru, sesame oil, and ½ tsp. salt in a medium bowl until well combined.
2. Cut eggplants crosswise at 3"–4" intervals, then slice pieces ½" wide by ¼" thick.
3. Put eggplant strips in a large bowl and add 1 Tbsp. salt. Toss well by hand until all eggplant is salted. Let sit, tossing every 5 minutes, for 20 minutes.
4. Drain eggplant; discard liquid. Take up handfuls of eggplant and squeeze tightly to remove excess liquid, then return to large bowl. Add marinade to bowl with eggplant and mix together well. Cover and chill 30 minutes.
5. Heat oil in a large heavy skillet over medium-high and swirl to coat pan evenly. Add marinated eggplant and spread evenly in skillet. Leave to sear for a few minutes, until bottom is lightly colored. Turn with a spatula or tongs and cook until other side is lightly browned, 2–3 minutes. Reduce heat to medium and continue to cook, pressing eggplant into pan and turning from time to time, until eggplant is cooked through and glazed and any excess marinade has evaporated, 5–6 minutes.
6. Transfer eggplant to a plate. Sprinkle with sesame seeds. Serve hot or cold.
Eggplant can be made 3 days ahead. Store in an airtight container and chill.
---
Recipe courtesy of Bon Appétit Magazine.