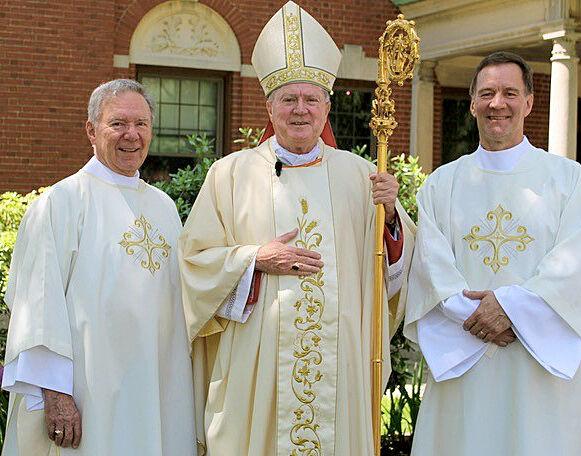 Diocesan Deacon's son ordained Deacon
Deacon John Ladroga, the son of retired Deacon Bill and Lu Ladroga of St. Martha Parish in Sarasota, was ordained a Permanent Deacon by Bishop Robert J. McManus, center, for the Diocese of Worcester, Massachusetts, June 5, 2021, at St. Paul Cathedral in Worcester . The ordination took place where the elder Ladroga was ordained in 1978. He offered a reading at his son's ordination Mass and vested his son. The Ladroga father-son deacons are a pair of only two other father-son deacons of the nearly 19,000 permanent deacons in the United States. Deacons assist in the celebration of Mass as ordinary ministers of Holy Communion, and by proclaiming the Gospel and preaching. They can assist at marriages and preside over funerals and are dedicated to works of charity.
Tele-Mental Health Counseling Services
Catholic Charities, Diocese of Venice Inc. is offering Mental Health Counseling for adults and children provided by licensed mental health therapists. If you or someone you know is feeling stressed, anxious, overwhelmed, depressed, or helpless, Catholic Charities can help. For information, call 239-455-2655. There is no charge for this service.
Ave Maria annual youth conference
All high school age youth from incoming freshman to outgoing seniors are invited to join us for the 12th Annual Ave Maria University youth conference "FEARLESS" July 9-11. 
This weekend will be full of faith, fellowship, music and great speakers. Cost is $130 per person and includes lodging, meals, conference fee and a T-shirt.
Call or email 239-348-4725 or aveconferences@gmail.com or visit us at www.aveconferences.com for information.
Retired priest dies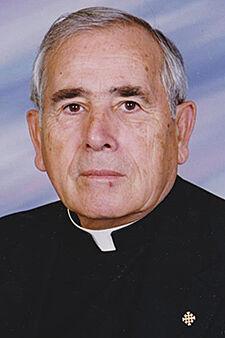 Father Ireneo Lopez-Tovar, who retired to the Diocese of Venice in 1999 and assisted at Parishes in the Eastern Deanery, died May 31, 2021. He was 96. Father Lopez-Tovar was ordained June 3, 1950, in Burzos, Spain ,and served as a missionary to Africa for 22 years. He then served for more than 20 years with the Diocese of Camden, New Jersey, before retiring in 1999. Within the Diocese of Venice, he assisted at St. James Parish and Santiago Mission in Lake Placid, as well as St. Catherine Parish and Camp San Jose in Sebring.  A Mass of Christian Burial was celebrated by Bishop Frank J. Dewane on June 7, 2021, at St. Catherine Parish. Please pray for the repose of the soul of Father Lopez-Tovar.
Religious Freedom Week coming soon
Solidarity in Freedom takes place from June 22 to 29. The week begins with the feast of Sts. John Fisher and Thomas More, ends with the solemnity of Ss. Peter and Paul and includes fhe Feast of the Nativity of St John the Baptist. During the week, Catholics are encouraged to pray and act each day for religious freedom. 
The U.S. Conference of Catholic Bishops' Pray-Reflect-Act Series aims to help Catholics build solidarity with people of faith who are persecuted and find strength to carry out the mission of the U.S. Church. For resources and reflections each day of this week, visit https://www.usccb.org/committees/religious-liberty/religious-freedom-week.
CORPUS CHRISTI PROCESSION