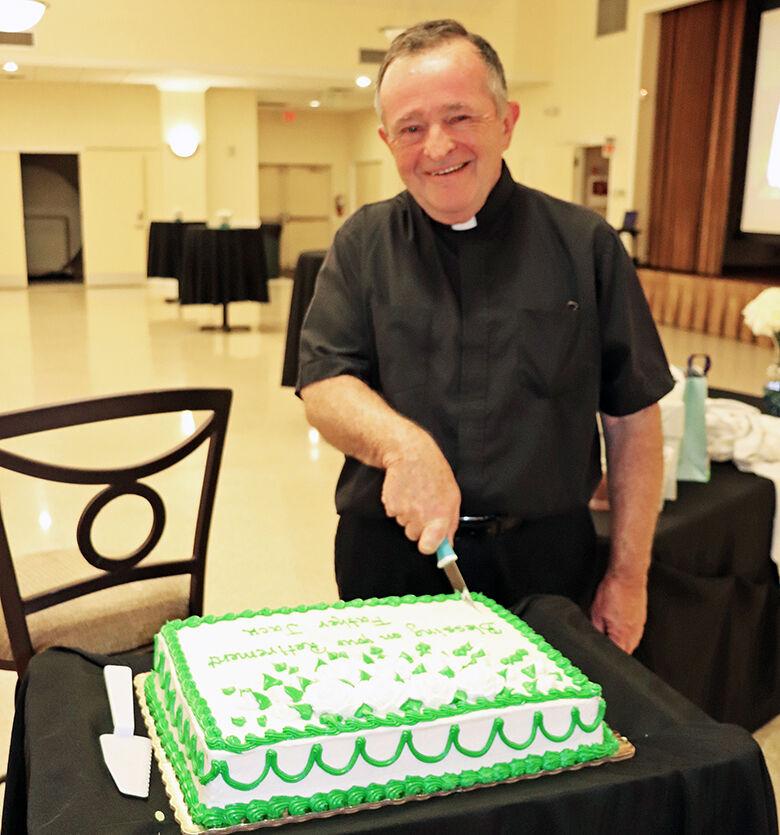 Venice  |  Father John "Jack" Costello has spent his entire life serving the Lord and retires having encouraged the faithful to be the presence of Christ in the world through their words and actions.
His last official day as Rector of Epiphany Cathedral in Venice was May 31, 2021, but Father Costello agreed to stay to celebrate Mass and say goodbye. He addressed the faithful during each of the June 5-6 Masses at Epiphany where he has been the Rector since 2008. 
"Over the past 13 years we have grown in being the Lord's presence in the world today," Father Costello said. "Thank you for answering that challenge through Mass, novenas, rosaries, Adoration, Bible study and more. We have all continued to grow in the Catholic Faith...we have been a Parish that lives stewardship as a way of life."
During those Masses Father Costello shared his message of thanks and of love to the Parish community for being so welcoming and allowing him to be a part of their spiritual lives. Each Mass included a presentation of gifts of appreciation and a standing ovation. Many of the gifts and notes were Disney-themed as Father is a well-known frequenter of the theme parks in Orlando.
Receptions were held following the June 5-6 Masses when the faithful from Epiphany Cathedral and St. Joseph Parish in Bradenton, his previous assignment, had the opportunity to express their gratitude for the ministerial work he has done and to wish him well in his retirement. 
"We have been blessed to have Father Jack with us for so long," said Martha Gimble. "He is truly a holy man."
While Rector of the Cathedral, Father Costello oversaw the renovation of the Parish Hall, restoration of the stained-glass windows, the installation of an Adoration Chapel, upgrades to Epiphany Cathedral Catholic School, hosted countless Diocesan events including serving as one of two focal points during the "Year of Mercy," and much more. 
Of particular joy for Father has been the expansion of the Parish outreach and service to the community, growing from 40 to 110 actives programs. "This has continued to grow as we try our best to empower each other," he said. "We have given the opportunity so that everyone does something specifically that shows God to the world."
Msgr. Patrick DuBois, the new Rector of the Cathedral, explained how it would be impossible to share all that Father Costello has meant to the faithful of Epiphany Cathedral and the Diocese. "Thank you, Father Jack, from the bottom of our hearts, for all of your years of dedicated and unwavering and faithful service to each and everyone here at Epiphany Cathedral."
A Christian Brother for 25 years, he served as a teacher in the Miami area before deciding that entering the priesthood was the next logical step in his dedication to Christ. 
"I wanted to be involved with people on a spiritual level, and I couldn't do that as a teacher," he said in an interview before his Ordination to the Priesthood at Epiphany Cathedral on Oct. 25, 1996. "I wanted to be involved in a service that was geared to spirituality, to the preparation of the sacraments and in counseling."
Speaking as a silver jubilarian recognized at the April 1, 2021, Chrism Mass, Father Costello expressed his deep appreciation for having the opportunity to serve the Lord in so many ways. He noted how he will cherish the close friendships he has developed through the years and prayed that his counseling was done with compassion and love, reflecting the Lord in all that he did.
Born in 1950 in Boston, he attended Iona College in New Rochelle, New York., St. Michael's College in Burlington, Vermont, and later St. Vincent de Paul Seminary in Boynton Beach. For the Diocese of Venice, Father Costello served as Parochial Vicar at St. William Parish in Naples, then as Pastor of St. Joseph Parish in Bradenton before being appointed Rector of Epiphany Cathedral in 2008 by Bishop Frank J. Dewane. He also served on the Diocesan Pastor Peer Review Committee and on the Advisory Board for Our Lady of Perpetual Help Retreat Center.
As for his future, Father Costello plans to relax at home on Fort Myers Beach while also continuing to frequent Disney World as often as is possible.