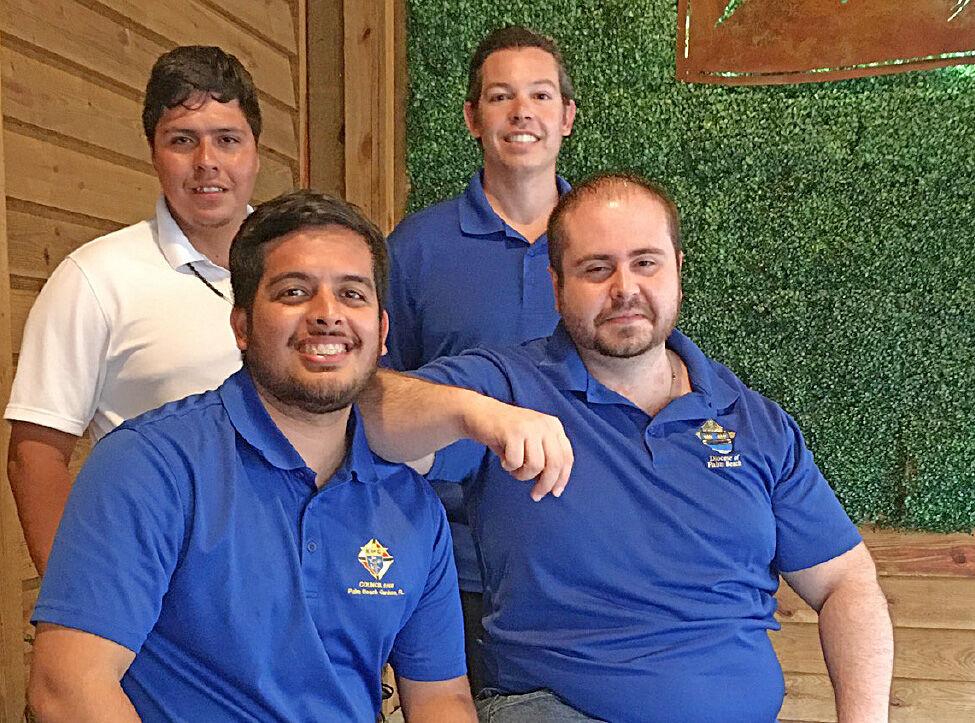 FORT PIERCE  |  Under the tutelage of Father Daniel Daza-Jaller, director of vocations and seminarians for the Diocese of Palm Beach, four young men are actively training in ministerial outreach, walking in the shoes of a priest and learning to love God more each day.
Father Daza-Jaller oversees the seminarians at their residential house behind Our Lady Queen of Peace parish in Delray Beach until the end of July. His job is to help them grow as brothers in community and be familiarized with the diocese, taking trips and being active in ministries. Three priests are spending a week each with them: Father Frank D'Amato of St. Jude Parish in Tequesta, Father Michael Cairnes of St. Anastasia Parish in Fort Pierce, and Father Nick Zrallack of St. Helen Parish in Vero Beach.
Saul Guerrero, 20, Joshua Martin, 24, Joseph Zarcone, 29, and Marc Gustinelli, 36, are at different levels in their vocation journeys. Of the quartet, Guerrero is fluid in Spanish, and the others have varying degrees of proficiency in the Spanish. Gustinelli is multilingual in French as well.
The foursome helped with a vocation summer camp for teen boys in Miami who were open to the priesthood. At month's end, they are putting together a retreat at the St. Vincent de Paul Regional Seminary in Boynton Beach.
The 2021 summer session ends Aug. 1. Their responsibilities have included visiting prisons and elderly priests in retirement, being introduced to area pro-life ministries, including Catholic Charities Birthline/Lifeline in West Palm Beach and Mary's Home in Stuart. They have also assisted with St. Helen vacation Bible school for middle school-age and younger children. They also serve at St. Ann's Place, an outreach center in downtown West Palm Beach that provides a host of services for up to 200 homeless women and men daily.
St. Ann's mission is to witness Gospel principles by providing a clean, comfortable and safe place where people are helped in a dignified and respectful manner regardless of their circumstances. "There are basic needs met: laundry, mailbox, showers, breakfast and lunch weekly," Father Daza-Jaller explained.
From a lay perspective, seminary life is similar to college, where God is at the core of the curricula, with the goal of entering the priesthood in a holy and worthy manner. Living the call that God places in each of their hearts, a seminarian candidate forms his mindset to conform to the mind of Christ. Through study, prayer and rest, they mature in wisdom and knowledge. Desiring to be well-rounded, there are recreational opportunities as well: clay shooting, croquet, kayaking, watching Euro Cup games and cheering on their teams. A hiking trip is planned for Sawtooth National Forest in Idaho.
Feeding the spirit requires surrendering to God's will. The brotherhood among them is based upon respect, honor and trust in the Lord. A disciplined life takes sacrifice, one that Gustinelli knows intimately. He committed to the spiritual exercises of St. Ignatius Loyola in the form of a "long retreat" – the 30-day silent kind.
"I spent 30 years of life in noise," he said. "I think I can go 30 days in silence to God!"
At 36, he is entering his last year of studies. "I have a devotion to Mary," he said. "She consoles us because of her devotion to the Sacred Heart of Jesus. He invites us to know this mother. A mother's love is the strongest love in the natural order."
For more information, contact Father Daniel Daza-Jaller, diocesan director of vocations and seminarians, at ddaza@diocesepb.org or call 561-775-9555.