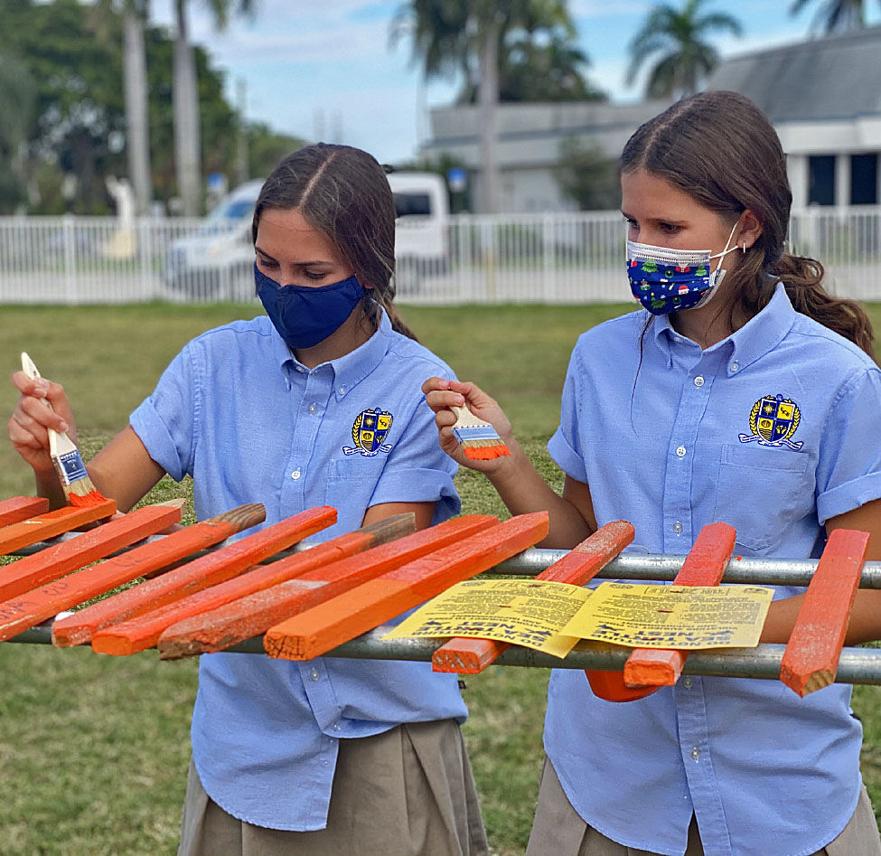 BOYNTON BEACH | On Dec. 4, St. Vincent Ferrer School students volunteered with Sea Turtle Adventures in Fort Lauderdale to paint stakes that will mark off protected sea turtle nests. 
The refurbished stakes are inserted around the nesting site to create a barrier that will protect the sea turtle's nest from disturbances, thus ensuring the survival of a species that has been in existence for more than 100 million. 
"Each year, we need individuals to re-paint the 2,000 stakes so that we can use them for many years before needing to purchase new stakes," said Jackie Kingston, president and founder of Sea Turtle Adventures.
This volunteer project was apart of the school's larger objective in encouraging students to live their mission statement of "hearts to God, minds to learning, talents to service and stewards of the earth." The school also inspires students to live out the values of their patron saint, St. Vincent Ferrer; caritas (love), équité (justice), sabiduria (wisdom) and valor (courage). 
Milka Santos, school advancement director, explained that the student body is divided into four houses, with each house representing one of St. Vincent Ferrer's core values. The houses carry out service projects and have friendly competitions in academics and sports as a way to earn points. At the end of the school year, the house with the most points earns the house cup. 
Julie D'Addio, the school's media specialist and coordinator for the House of Équité, said, "This year, the House of Équité worked with Sea Turtle Adventures to put their talents to service by painting the stakes and being stewards of the earth, all while learning about one of God's creatures, the sea turtle."
St. Vincent Ferrer has been named Green School of Excellence for six consecutive years and continues to serve the environment through its student-led projects. To learn more about St. Vincent Ferrer School, visit svfschool.org or call 561-278-3868. Follow the school on Facebook, Instagram and Twitter @SVFVikings.