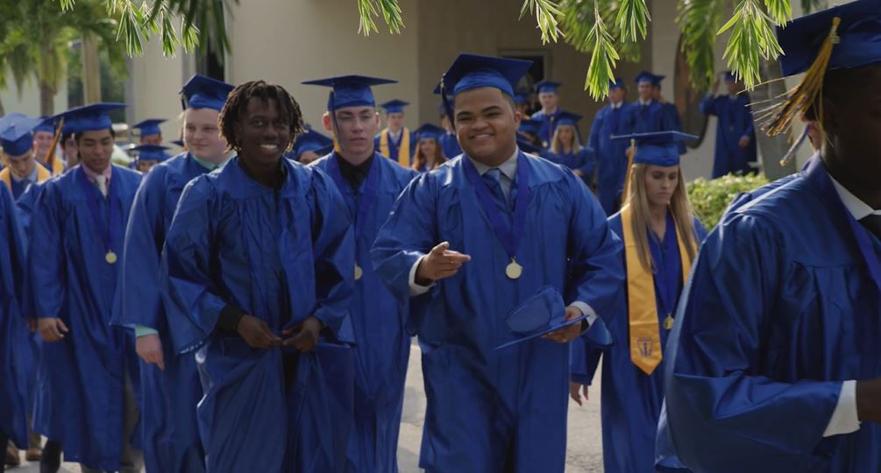 Catholic school scholarships still available for 2020-2021 school year
As Catholic Schools Week approaches Jan. 31 – Feb. 6, 2021, Bishop Gerald M. Barbarito wishes to remind the faithful of the Diocese of Palm Beach that scholarships to attend Catholic school offered by Step Up for Students are still available for the 2020-2021 school year. These scholarships are offered by the State of Florida through Step Up for Students, which is a nonprofit scholarship funding organization that helps administer scholarships to Florida schoolchildren.
These scholarships include the Florida Tax Credit Scholarship Program and the Family Empowerment Scholarship for lower-income families, and the Gardiner Scholarship for children with certain special needs. To learn more about these scholarship opportunities, click on the image here for a special video message from Bishop Barbarito regarding Step Up for Students.
Catholic Charities food program seeks volunteers
Give back to the local community by preparing and distributing food bags through the Catholic Charities monthly food distribution program.
Volunteers are needed for second Tuesdays, 11:30 a.m. to 2 p.m. at the St. Francis Center located at 100 W. 20th Street, Riviera Beach. Call 561-360-3329 or email acoffin@ccdpb.org to reserve a volunteer spot for the next distribution day, Jan. 12, 2021.
Facial coverings and social distancing are required, and all CDC protocols will be followed.
Roe v. Wade Anniversary public rosary
Unite for national prayer for the protection of unborn children Jan. 22, 2021, from 11 a.m. to noon, at the Cathedral of St. Ignatius Loyola in Palm Beach Gardens. Bishop Gerald M. Barbarito will lead those present in prayer outside of the cathedral. This event was formerly held at the Palm Beach County Courthouse but, due to COVID-19, it has been relocated to the cathedral. Social distancing and masks required. For more information, contact the Catholic Charities Respect Life Office at 561-360-3330 or dherbst@ccdpb.org.
Live virtual retreat for middle and high school youth
The Diocese of Palm Beach welcomes all middle and high school youth to attend Encounter, a live virtual retreat featuring Paul J. Kim and music by Jesus Youth, Jan. 30, 2021 at 9:45 a.m. to 12:15 p.m. Registration is $15 per person. Contact your parish youth minister or director of religious education for registration information.
Catholic Days at the Capitol to be held virtually
To ensure the health and safety of participants in light of the COVID-19 pandemic, the 2021 Catholic Days at the Capitol will be a virtual event Feb. 2-3, 2021. Previous attendees, as well as those who have not been able to join Catholics in Tallahassee for this annual event, are urged to take this opportunity to participate virtually.
Online activities will begin the afternoon of Feb. 2, with a welcome and legislative briefing on public policy priorities. Virtual activities continue Feb. 3, with a rosary led by the bishops of Florida and a Defensor Vitae award presentation to a legislator. These online activities will be recorded and available to view by registered participants later in the day or evening if desired. Virtual group meetings with legislators will be scheduled for participants to attend.
The Red Mass of the Holy Spirit will be celebrated on the evening of Feb. 3, by Bishop William Wack, CSC of the Diocese of Pensacola-Tallahassee at the Co-Cathedral of St. Thomas More, with limited seating capacity. The Red Mass will also be livestreamed for registered participants and all others who wish to attend virtually.
For a full schedule of events, visit 2021ParticipantSchedule.pdf. Registration deadline is Jan. 22, 2021. Register at flaccb.org.