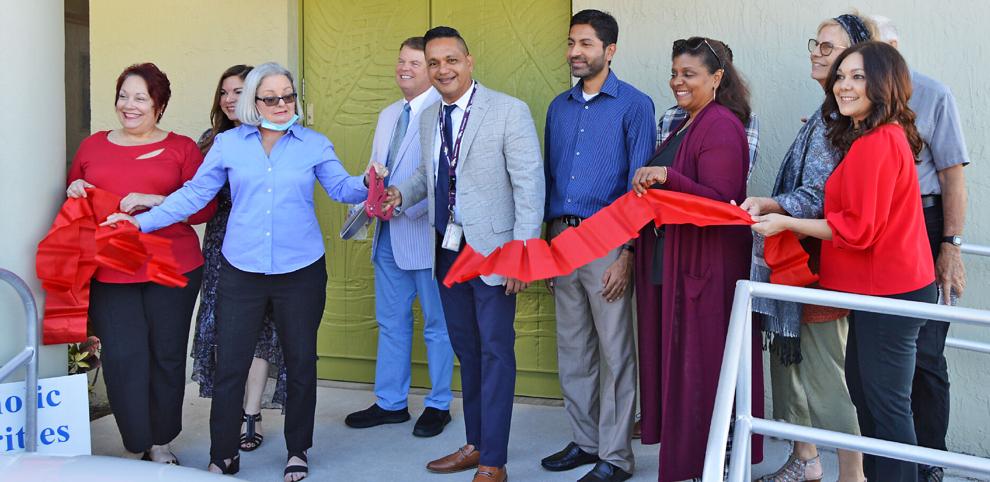 STUART  |  Catholic Charities of the Diocese of Palm Beach cut the ribbon Dec. 7, 2021, on a new location at 3232 S.E. Dixie Highway.
"Our move of the Stuart office to a more central and technologically advanced location will make our services more accessible to clients on the Treasure Coast," said Frankie Chevere, chief executive officer of Catholic Charities. 
"In addition to our counseling, respite and immigration legal services housed in this office and a couple of more programs to come soon, referrals can be made from this office to our other programs in different locations in the diocese," he said.
Kris Rivera, operations director for Catholic Charities, said he has high hopes for the site with its increased visibility and easy access for clients seeking their range of services.
"With that being said, Parish Social Ministry is going to be providing services as well. And in addition to that, we also are going to be bringing Birthline/Lifeline to this location. So, my goal is basically to duplicate the services that we have in our main hub in Riviera Beach," he said.
Rivera said the building, which used to house a real estate office, will accommodate 10 staff members.
Father Noel McGrath, pastor of St. Joseph Parish in Stuart, presided at a blessing service, with Catholic Charities staff members and others in attendance.
"May we be conscious that if we do our work well, whatever it may be, and offer it to God, we purify ourselves, and through the labor of our hands and minds, we build up God's creation," he said. "Our work enables us to practice charity and to help the less fortunate, so that, joined to Christ the redeemer, we grow in his love."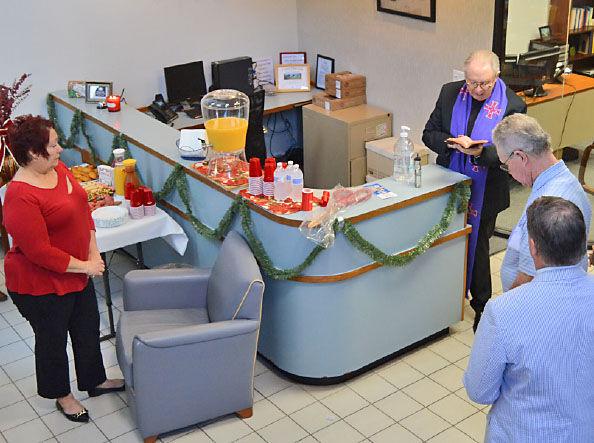 Father McGrath blessed the doorway, "so that it may always be an entrance of God's love and mercy, compassion and care, reaching out to all who enter."
The Catholic Charities offices had been housed at St. Joseph, so it was fitting that Father McGrath performed the ceremony at the new location, which is about two miles away. 
In his remarks after the blessing, Rivera thanked Father McGrath for being there and for accommodating Catholic Charities for so many years at the previous site.
"I look forward to many years to come to serve here in the community, and I hope we can build partnerships in the community and we can all grow together," Rivera said.
When the owners of the building learned what Catholic Charities was going to use it for, he said they gave him a fair deal. "It was a blessing to find this office," Rivera added. 
Catholic Charities is coordinating services with House of Hope, a local nonprofit that helps those in need in Martin County, which has a site across the street, to make sure they don't duplicate services. 
"I'm looking forward to the growth. Everybody's real excited," Rivera said. "At the location where we were before, it was great. There was a lot of space and everything, but here we're more exposed to the community. That I'm looking forward to big time."
To learn more about the work of Catholic Charities in the five-county Diocese of Palm Beach, visit www.ccdpb.orgor follow the agency on social media.