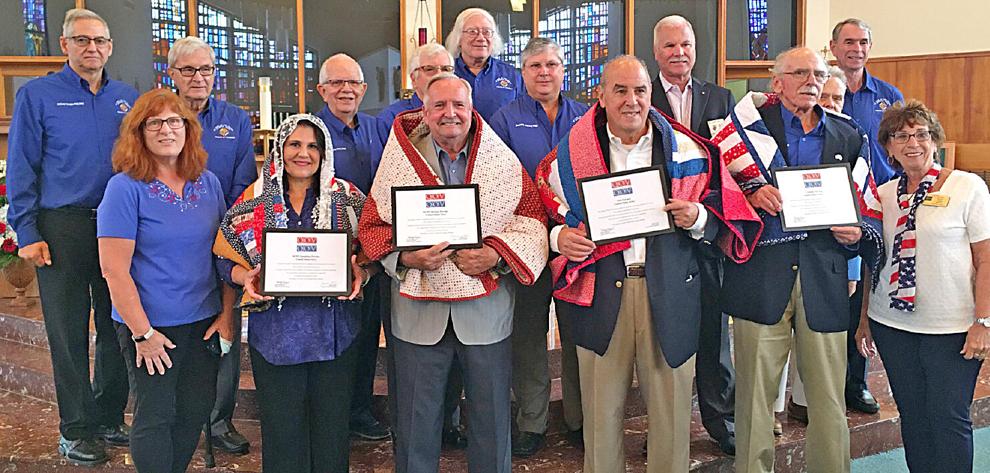 NORTH PALM BEACH  |  Knights of Columbus Council 12322 and St. Paul of the Cross Parish held an annual recognition of military veterans Nov. 14, 2021. Father Tom Lafreniere, pastor, celebrated Mass and presided over a ceremony.
For the fourth year, Quilts of Valor were awarded to four local veterans for their service. For the first time, a husband-and-wife team was honored: Josephine Perrine, Navy senior chief, retired, and Mike Perrine, Navy master chief, retired. Nick Ferrara, former Army captain, and Carmine Parrazzo, former Air Force sergeant, were also recognized for their military careers.
As each honoree was called up, a few musical notes of the recipient's service anthem were played. A summary of their career was read before a Knight draped a quilt over the honoree's shoulders.
The Quilts of Valor Foundation provides the quilts. The national organization of 10,000 volunteer quilters has produced more than 250,000 quilts since the program's start. The quilts for this presentation were created by the Emmanuel Quilters, a ministry of Emmanuel Lutheran Church in Palm City. 
After the Mass, the parish youth group offer a breakfast for the veterans.
 The event highlighted the role that service members play in protecting the nation and instilling patriotism in the community.
For information of Knights of Columbus Council 12322, visit paulcross.org/knights-of-columbus.