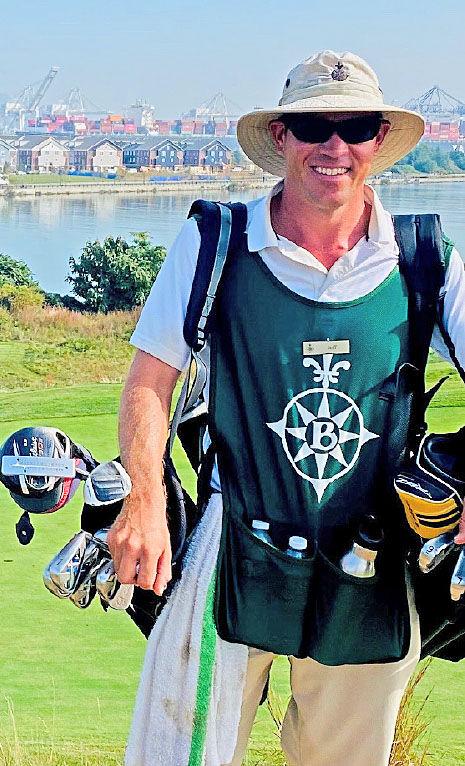 JUPITER  |  Since graduating from college, Jeff Kotansky has made a pretty good living as a golf caddy in Florida in the cooler months and in New Jersey/New York in the warm months. For 15 years, he has been blessed with strength and mobility. 
Last year, Kotansky joined the Knights of Columbus Council 13139 at St. Peter Parish in Jupiter with his father, Ken Kotansky, who is now the council's grand Knight. Being aware of the Knights' many and varied charitable projects, Jeff wondered if he could pitch in somehow.
Seeing a photograph of a child smiling after receiving a new wheelchair, Jeff decided to start a campaign to help families in need who can't afford a wheelchair. The idea for "Jeff's 500 Miles for Kids' Wheelchairs" was born. 
Partnering with the American Wheelchair Mission, which delivers free wheelchairs and mobility aids to physically disabled children, teens and adults throughout the world, Jeff started raising money while logging his mileage as a caddy in New Jersey.
"Last year, I think Jeff walked 1,500 miles as a caddy," Ken said. He joked with his 38-year-old son that 1,500 miles is equivalent to walking from New York to Cuba. The golf course in New Jersey has lots of hills, Ken said, and sometimes Jeff carries two golf bags for two or three rounds of golf each day.  
Beginning around Labor Day, they figured Jeff's 500 Miles would last about six weeks, with him working every day. He averaged a bit more than 11.5 miles per day, Ken said.
With the support of St. Peter's pastor, Father Donald Finney, the Knights organized a Wheelchair Sunday fundraiser at the parish Sept. 25-26. Following a short presentation at all the Masses, money was collected from parishioners as they exited the church. 
There were already two collections at the Masses, so Ken wasn't sure how successful the fundraiser would be. He was pleased that $6,700 was collected. The most money was donated following the Spanish-language Mass, he said. 
Ken said American Wheelchair Mission buys chairs in bulk, costing about $150 each. 
"When you think about it, it's really quite amazing what you do for somebody," he said. "As the American Wheelchair Mission says, it's not just the recipient. There are 10 people around that recipient whose lives are changed as well because of what the wheelchair does for the whole family.
"We all don't realize the gift of walking that we have that many people don't have. The fact that it's even unaffordable to people who can't walk, it's mind-boggling," Ken said.
As part of the campaign, Jeff wrote a daily blog that was posted on the Jupiter Knights of Columbus website (www.kofcjupiter.org) so supporters and potential donors could follow along with Jeff's physical challenge. People also could use the website to donate, with the money going directly to AWM.
After finishing the 500 miles on Oct. 17, with more than $20,000 raised, Jeff's final blog post expressed his gratitude to all who supported his efforts.
"The comments I've received throughout this experience have been incredible. It's awesome to see everyone come together for a great cause," he said. 
Now 38 years old, Jeff said he's looking forward to settling full time in Florida.
For more about the work of American Wheelchair Mission, visit https://amwheelchair.org/. For more information on St. Peter Parish, go to www.stpeterjupiter.com.