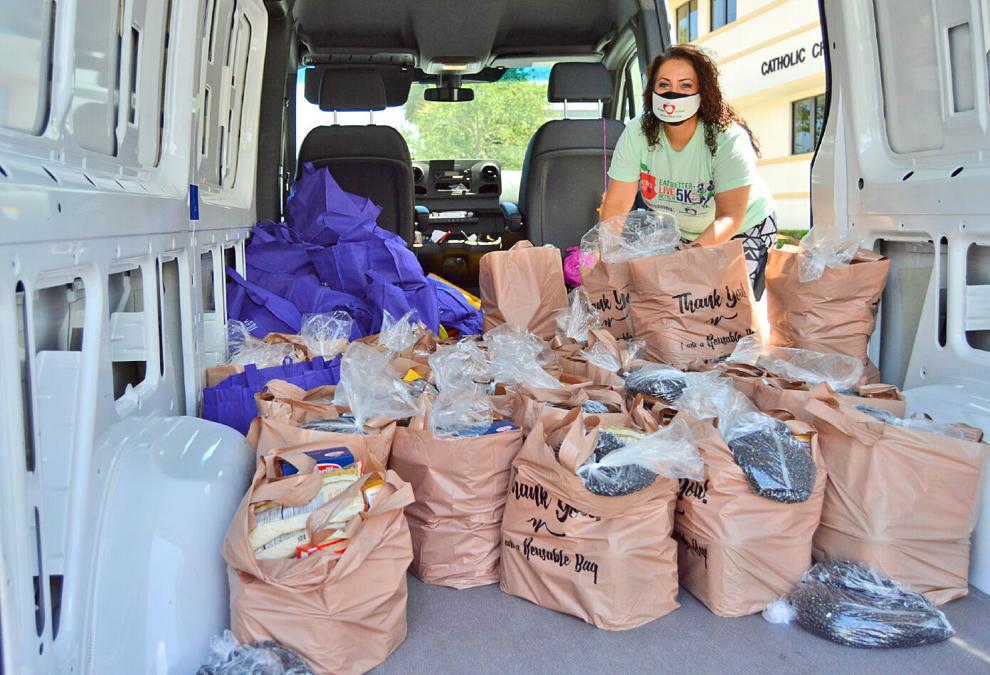 RIVIERA BEACH  |  Catholic Charities of the Diocese of Palm Beach has been a constant source of crisis relief for the diocese's five-county area during the COVID-19 pandemic. Like its surrounding neighborhood of Riviera Beach, the organization is always evolving and striving to meet the community where it is. 
Catholic Charities of the Diocese of Palm Beach's monthly food giveaway, which occurs on second Tuesdays at the St. Francis Center in Riviera Beach, was an initial response to the early stages of the COVID-19 pandemic in 2020. The food giveaway typically distributes dry goods, canned goods and other non-perishables to anyone in need of food assistance. 
Although appreciated and a great comfort to those in need, it can be difficult to create well-balanced meals with these food items. That's why Sara Haas, volunteer services and outreach coordinator for Catholic Charities of the Diocese of Palm Beach, set out to partner with local nonprofit, Eat Better Live Better, as a way to include fresh produce in the food giveaway's offerings. 
"Included in the groceries given out today are carrots, cucumbers, bananas, potatoes and onions," Haas said. "The way we've packaged the food is so that there is a little bit of everything included and it can last for a week or so of meals." 
Eat Better Live Better, based in Delray Beach, is focused on improving child health by providing the skills and tools children need to create and maintain a lifelong habit of healthy eating. A variety of offline and online nutrition education delivery models and training programs are offered in collaboration with academic, community and health centers across the United States. Debra Tendrich, founder, was onsite at the St. Francis Center to deliver a van full of fresh groceries. 
"The produce we deliver are not leftovers rescued from grocery stores, which can only be good for one or two days," Tendrich said. "Our food is delivered fresh the same day so that families can benefit from it for longer. The goal is to make healthy food accessible so that it becomes familiar to children at a young age. This makes them more likely to eat it and maintain a healthy lifestyle."
With this new partnership, approximately 150 families were served during the food giveaway, May 11. Volunteers also handed out nutrition guides to each household as a way to maximize the nutritional value of the fruits and vegetables provided and to inform community members on how to maintain a healthy lifestyle. 
Frankie Chevere, CEO and executive director of Catholic Charities of the Diocese of Palm Beach, said, "The produce compliments the typical offering of dry goods, which has allowed us to expand the reach and purpose of the food giveaways. Through donations, we are also acquiring two new refrigerators to keep perishables fresh during the food giveaways." 
Angel Coffin, an Americorps Vista volunteer services assistant with Catholic Charities of the Diocese of Palm Beach, shared that her goal was to "focus on capacity building" and "establish a sustainable way for the community to learn about nutritional eating." 
Among those who benefited from the food giveaway this month were elderly community members or individuals collecting groceries on behalf of their aging neighbors. Laurvetta, a longtime resident of Riviera Beach, drove her elderly neighbor to the St. Francis Center to collect fresh produce. 
"This is a real treat," Laurvetta said. "Fresh food is hard to come by in charitable donations. My neighbor needs to keep her strength up so she doesn't get sick and this will help her." 
Moses Petracco, a representative from Morse Life's Palm Beach branch of Programs of All-Inclusive Care for the Elderly (PACE), volunteered to distribute food with Catholic Charities of the Diocese of Palm Beach. He also took this as an opportunity to check in with the elderly in the surrounding area, providing healthcare information on the Medicaid program. 
"After partnering with Sara (Haas) on another project, I realized that Catholic Charities connects with elderly clients very frequently. I thought that, by joining forces at the food giveaways and representing PACE of Palm Beach, we could better serve the community together." 
Families with young children are also a large part of the people served through the food giveaway. Darlene, a mother to five children, shared that the pandemic has been difficult to navigate since being laid off from her job in a small local business. This was her first time visiting the St. Francis Center and she was "grateful that she learned of the giveaway by word of mouth" and that "her neighbors are looking out for her." Darlene appreciated the bags of toiletries and donated clothes that Catholic Charities of the Diocese of Palm Beach also collects. 
Mark Gonzalez, a food giveaway volunteer, reflected, "It's humbling to see how grateful people are to receive these donations. You can see that they are really in need and they appreciate the little things we take for granted."
For more information on the pandemic relief services provided by Catholic Charities of the Diocese of Palm Beach, visit ccdpb.org or call 561-345-2000. To learn about program donation opportunities, call 561-775-9560. Follow the organization on Facebook and Instagram @catholiccharitiespb.