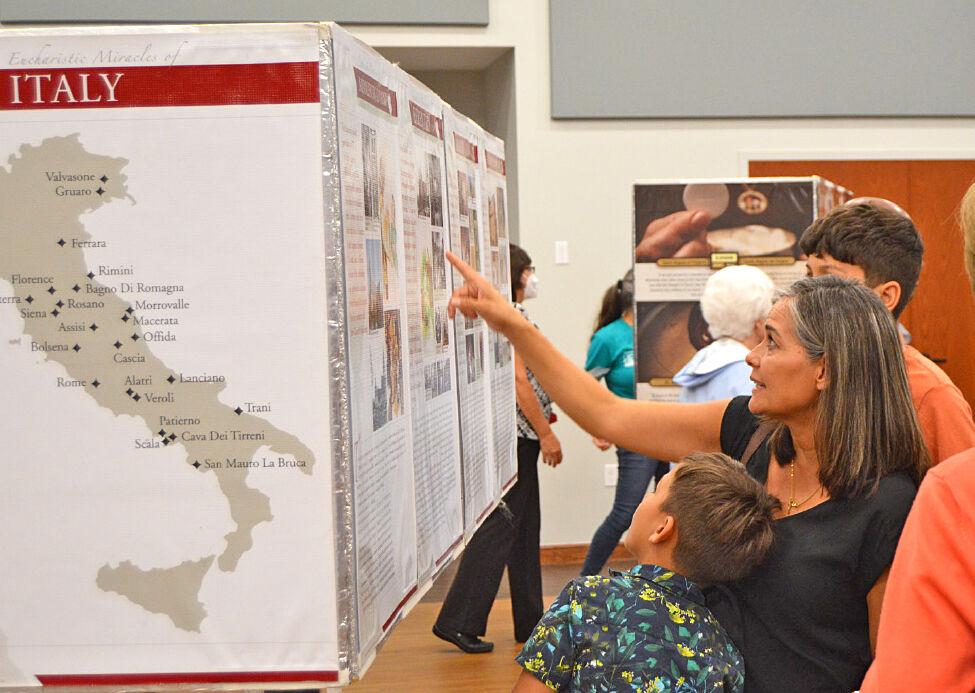 PALM BEACH GARDENS  |  Young people from throughout the Diocese of Palm Beach were drawn to the Cathedral of St. Ignatius Loyola Feb. 19, for the opening night of the "Eucharistic Miracles of the World" exhibit.
At least 200 people attended the special youth night presentation about Blessed Carlo Acutis, the Italian teen who created a website showcasing the miracles. He was beatified in 2020 after dying from leukemia in 2006 at age 15.
Erin Gleeson, a faith formation catechist at St. Peter Parish in Jupiter who has done extensive research into Blessed Carlo's story, delivered a presentation about him that focused on his extraordinary earthly life and the healings attributed to his intercession.
She explained the first healing tied to Blessed Carlo was of a 4-year-old Brazilian boy who was born with extra tissue covering his small intestine. Since eating made him sick, he was barely surviving, Gleeson said. His family was told that he would die by age 5.
Physicians who examined the boy after the 2013 miracle found no signs of anything wrong with him. An investigation into the healing concluded that there was no other reason for his recovery besides a miracle, she said. That healing was the first of two miracles required for Blessed Carlo to become a saint.   
"Just like he was always helpful to anyone in need during his earthly life, Carlo is actively helping even more freely from heaven today, and many more miracles are currently being investigated," Gleeson said.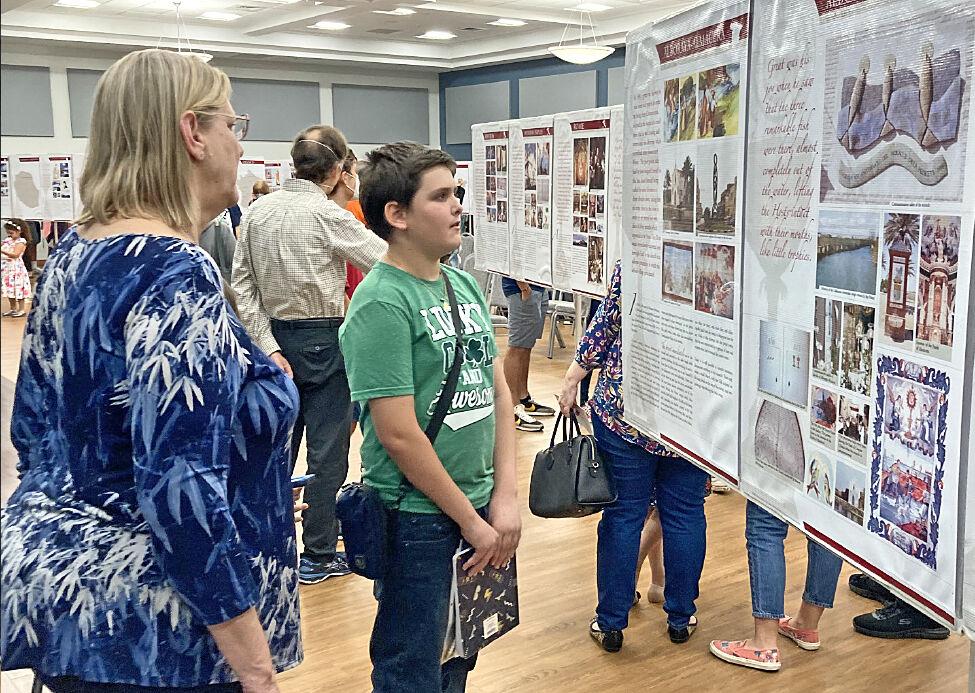 "Looking at Carlo's life can feel like we're a bit far off or way behind," Gleeson said. "The reality is that we need to put down unnecessary distractions and avoid what does not get us into heaven, and look forward to living the life God has uniquely made for each one of us, knowing God wants us to be in heaven with him and Carlo."
Thanks to cooperative efforts by Deacon Greg Quinn, director of the Prison Ministry program of Catholic Charities and the Florida Department of Juvenile Justice, Gleeson's talk was livestreamed to youths at the Palm Beach Regional Juvenile Detention Center in West Palm Beach.
After the presentation in the cathedral, those attending were invited to walk next door to the parish hall to view the Eucharistic exhibit, which features more than 100 panels from Blessed Carlo's website detailing reported miracles. Some of those miracles include the consecrated host being found to contain human tissue.
The display is arranged by the country where the phenomenon occurred. Many families viewed the panels together, sharing insights as they went along.
Carrie Socha attended the exhibition with her children, including son Kolbe, who is planning to receive first Communion on Mother's Day.
"I didn't learn about the miracles of the Eucharist until I was an adult and it was really impactful to me," Carrie said. "I felt like, before he receives his first Communion, if he could see some of these miracles, how amazing and how much more weight is that Eucharist going to be to him, to have seen how it's been preserved and how it's turned into flesh. It's amazing."
Dorothy Harper, president of the Central Deanery of the Diocesan Council of Catholic Women, who worked with the Florida Center for Peace in Miami, Father Gavin Badway, cathedral rector, and many others to bring the exhibit to the cathedral, was pleased with the turnout.
"We're so excited to see so many young people and their families here. That was the whole thrust of this, to bring Carlo Acutis to families," she said.
The exhibit will be open for viewing until Sunday, Feb. 27. The remaining schedule is Friday, Feb. 25, from 9 a.m.-4 p.m. and 6-8 p.m.; Saturday, Feb. 26, 9 a.m.-6 p.m.; and Sunday, Feb. 27, 9 a.m.-1 p.m.