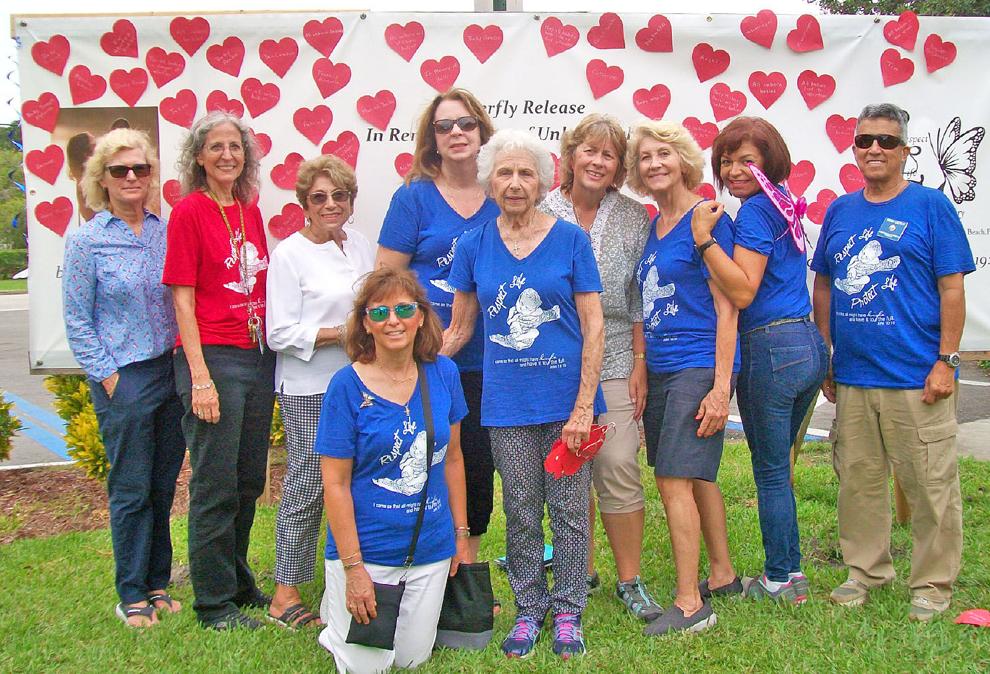 VERO BEACH  |  The church calendar designates every October as Respect Life Month. This is a time when renewal can become the focus as people move toward Thanksgiving. This is also the time of year when hearts can turn to faith, family and remembrance.
The fourth annual Butterfly Release Memorial at St. Helen Parish in Vero Beach was held Oct. 24 to honor children who died in miscarriage, stillbirth or abortion, or were denied life through an accident, illness or other means.
This year memorialized in a special way the event's originator, Holli Skraptis, who passed away Oct. 15 from brain cancer. Sponsored by the parish Respect Life ministry, those who knew her said Skraptis' only concern to the end was for others.
Her friends say the hallmark of Skraptis' life was her passion to serve. A hard sell because it was such a novel idea, the Butterfly Release Memorial soon took off as if it, too, had wings. Over time, her energy attracted a cadre of volunteers who helped develop the event.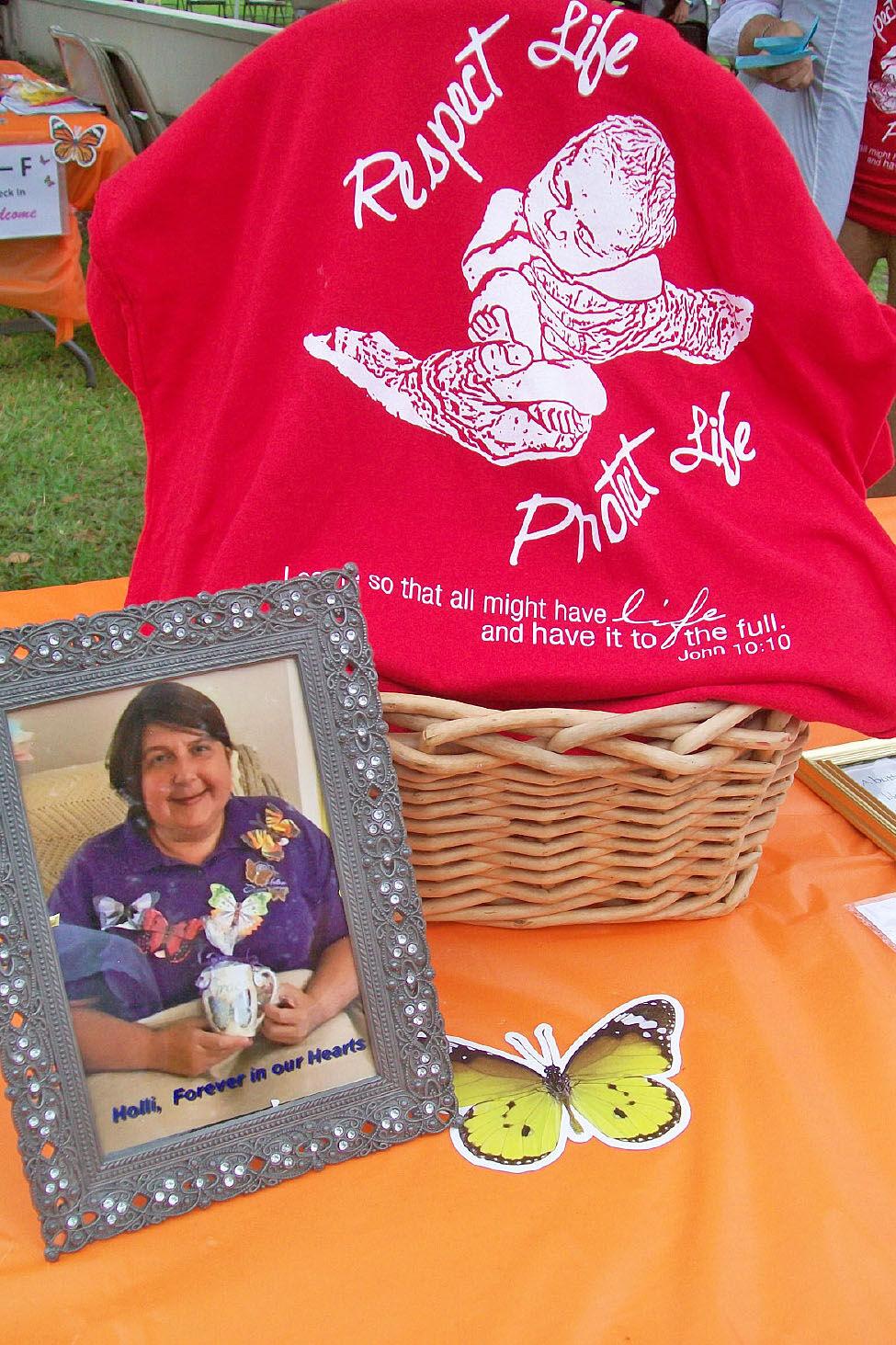 "Holli was very enthusiastic. It was a new concept and was not clear how it would be received," said Marie Feretti, a friend of Skraptis' and member of the Respect Life ministry. 
Lilly Tobar was asked to organize this year's release. Giving tribute to Skraptis via email, she wrote that Skraptis had a selfless dedication to babies and worked tirelessly to heal the wounds of those who suffered loss. Tobar wrote that "Holli continued to work tirelessly, even after she became sick with cancer. She was instrumental in starting the new Women's Care Center in Fort Pierce."
Tobar added that Skraptis was humble, refusing accolades because, to her, it was a group effort, and she often directed credit to others. Tobar noted that, after Skraptis died, it was a priority that the event continue, adding, "We miss her tremendously, but we know she is with us in spirit."   
Alongside Tobar, serving as co-chair was Susan Baldwin, a transplant to Florida from New Jersey. She remembers Skraptis as a colleague and friend. 
"Holli was originally from the Bethlehem/Scranton, Pa., area," Baldwin said. "I made more connections with recent arrivals because it's a challenge to meet new people when you're coming from another state." She said Skraptis reached out and they became close friends.
Skraptis moved to Florida with her children to be near her parents in Vero Beach as she was going through a painful divorce. One day, she watched as some white butterflies fluttered by, and viewed it as a sign that God was by her side.
Billed mostly as a memorial to recognize babies lost by miscarriage, stillbirth or abortion, participants in the butterfly release are welcome to grieve and be open to healing. The committee's hope is that the release represents transformation from past hurt to a loving peace from God through reconciliation.
"My third child died after only one hour from the womb," Marie Feretti said. "I had two children at home — an infant and a toddler  — and writing my child's name on the form was therapeutic."
Being a longtime life advocate, she said, "The overall purpose is to honor the babies (and children) who are in heaven."
Last fall, Skraptis told Feretti she was suffering from headaches. "She went to the ER and was diagnosed with a brain tumor," Feretti said. "They allowed her to go home due to the Thanksgiving holiday and to enjoy her birthday with family." 
As treatment ensued in the spring, Skraptis underwent a series of radiation treatments, followed by a hiatus. After a CAT scan, doctors were disappointed that the tumor had not shrunk as expected; it actually appeared to grow. Surgery followed that was considered successful, with follow-up radiation treatments and oral chemotherapy. 
There was hope, and Skraptis was cheerful. She was uplifted by prayer from parishioners, friends and loved ones. Doctors prescribed additional chemotherapy and assessed her progress, Feretti said. Over the course of the past year, Skraptis was more energetic and upbeat. 
Feretti suggested Skraptis not take on the responsibility of organizing the butterfly memorial, but rest and allow others to bear the brunt of the work. In August, planning began again, but by October, Skraptis was in hospice care.  
Part of this year's increased attendance was partially due to Skraptis' death. Parishioners who knew her needed an avenue to share their grief. Others shared a similar motivation for being there. 
David Clements and Victoria Acker, husband and wife, lost a son, Kevin William Breen, 10 years ago at the age of 20 to an automobile accident. "He was born on All Saints' Day (Nov. 1), which is very appropriate," said Acker, who is an extraordinary minister of Communion at St. Helen. "He would be 30 years old."
Butterflies are supplied by an online professional breeding company that ships the insects for special occasions like weddings and memorials. The live butterflies are timed to arrive as close as possible to the release date.
In order to pay for the painted lady butterflies, a donation was requested from those who wish to memorialize a loved one. Plants were sold at the event that attract butterflies and make beautiful additions to any garden.
For information on St. Helen's parish ministries, visit www.sthelenvero.org or call 772-567-5129.