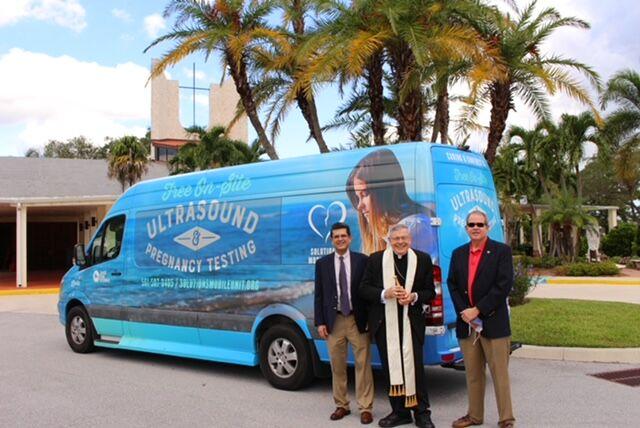 PALM BEACH GARDENS  |  What began as a casual conversation between Richard Kelly, God's Resources president, and Terry Murphy, Catholic Charities board vice president, regarding mobile pregnancy units, quickly gained momentum into a new opportunity.  
Mobile pregnancy vans have been used by God's Resources for more than five years. Valued at more than $150,000, they were being phased out by the agency due to Kelly's retirement.
God's Resources wanted two Mercedes Sprinter mobile ultrasound vans to be donated to a worthy and trusted pro-life organization, one that shared their mission. Catholic Charities more than fit the bill.
"Many hearts will be changed, and lives will be saved, and we will have an even greater impact on building a culture of life in our area," Kelly said.
Catholic Charities needs funding to maintain the ultrasound-equipped vans, update its technology and train personnel to operate them. A donor who wished to remain anonymous donated $50,000. Bishop Gerald M. Barbarito matched the donation as he envisioned how the acquisition would grow the Respect Life Ministry, Birthline/Lifeline Pregnancy Care Centers and the newly formed Women's Pregnancy Solutions program.
"We are grateful to our anonymous donor for spearheading the funding initiative needed to begin operating the Women's Pregnancy Solutions mobile units and to Bishop Barbarito for matching that donation," said Frankie Chévere, executive director-CEO of Catholic Charities of the Diocese of Palm Beach.
 The mobile units work to reach abortion-minded women who might think abortion is their only choice. Supporters of the mobile pregnancy units hope the vans will get noticed and the word will get out. Counselors and staff will advise these expectant mothers that they have several options other than terminating a pregnancy, in hopes of educating and empowering women to choose life.
The vans complement the positive, life-affirming support already available at Birthline/Lifeline in Boynton Beach and West Palm Beach. Rural areas of Palm Beach, Martin, Okeechobee, St. Lucie and Indian River counties are underserved as far as pregnancy care goes and Catholic Charities hopes the mobile units can change that. "The addition of two donated sprinter vans outfitted to provide free pregnancy support services is a great blessing because it demonstrates the commitment that Catholic Charities has to protecting the most vulnerable, the unborn and their mothers," said Katherine Bowers, Program Director of Catholic Charities Birthline/Lifeline.
"The flexibility of the mobile units will allow for a broader reach to provide the initial support of a pregnancy test and ultrasound to women who suspect they may be pregnant and unsure of what to do next. It is a wonderful way to begin to build a connection with more communities in our diocese. It is our hope that many hearts will be changed, and lives will be saved and that we will have an even greater impact on building a Culture of Life in our area."  
Marietta Muina McNulty, Catholic Charities board of directors president, said the vans will protect the lives of the unborn.
"It's a new day for Catholic Charities. The mobile ultrasound vans expansion is made possible by the generosity of Bishop Barbarito, God's Resources and extremely generous donors," she added.
To donate to Catholic Charities, contact Frankie Chevere at 561-775-9560 or visit https://www.ccdpb.org/get-involved/donate.html.