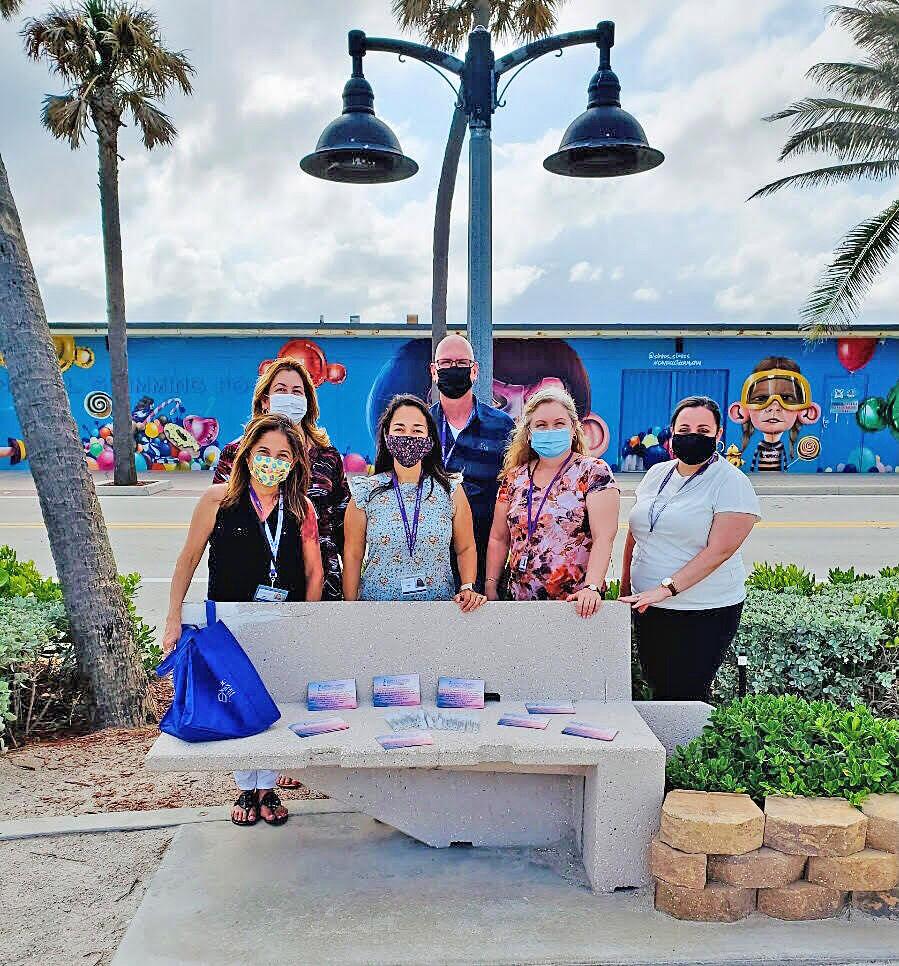 WEST PALM BEACH  |  With success stories like the ones Ivonne Vadi tells, it's no wonder that Catholic Charities of the Diocese of Palm Beach recently achieved national accreditation.
The Council on Accreditation, an independent accreditor of community-based behavioral health care and social service organizations in the United States and Canada, recently expedited the accreditation after receiving no ratings for the local Catholic Charities agency that were out of compliance.
To achieve the accreditation, Catholic Charities provided written evidence of compliance with 118 standards. Then a group of three volunteer peer reviewers confirmed adherence to the standards during a week-long series of file reviews and interviews with board members, leadership, staff and clients.  
Vadi, a case manager with Catholic Charities' Bakhita Empowerment Program, helps victims of human trafficking put their lives back together after being rescued. She tells of one survivor who was found the day that the woman had planned to commit suicide.
"When we rescued her and started case management, she immediately felt a sense of relief and hope even though she knew she had this huge journey in front of her to recover from substance abuse, which, if you can imagine, is a life-long journey," Vadi said.
Many victims of human trafficking, she said, get addicted to substances by traffickers in order to make them easy to manipulate. And guilt feelings related to their addiction and the kind of work they're doing often makes the victims blame themselves for their situation.   
After going through a 12-step recovery program, the woman was placed in a sober home for recovering addicts. Eventually, she decided to start a business, so Catholic Charities provided her a moped from which she operated the business.
"She did great. She went on to exchange the moped for a car," Vadi said. "Today she has her own business. She's been sober for a year and a half, maybe a little more, and she's thriving.
"She was really, really skinny when we first met, and she's gained weight. She's healthy now. She's very happy, and she's independent financially," Vadi added.    
Carol Rodriguez, program development and quality director for Catholic Charities, said the Bakhita Empowerment Program strives to assist human trafficking survivors to become self-sufficient.
The program is named for St. Josephine Bakhita, who was kidnapped as a child in southern Sudan and sold into slavery in the late 19th century. She is the patron saint of victims of human trafficking.
Catholic Charities staff members normally meet victims at their point of rescue by law enforcement. Trafficking victims are either sex workers or another type of laborer, male and female, adults and children, Rodriguez said.
Most people don't realize that human trafficking is occurring in local communities. Last year, Catholic Charities of the Diocese of Palm Beach assisted 136 victims, she said, and Florida is No. 3 in the nation for the problem.
"People that are sex workers are trafficked, but it's really a fine line the difference between a sex worker and somebody else that's trafficked," Rodriguez said. "A lot of them don't realize that they're trafficked. They believe that their trafficker is their boyfriend or is taking care of them. They get totally brainwashed and taken advantage of."
People are usually surprised to learn that many victims of human trafficking are Americans, she said, and not foreign nationals.
"They're American kids who get caught up in the life, and somebody takes advantage of that," Rodriguez said.
Sandra Perez, director of the Bakhita and refugee resettlement programs, said that in 2011 Catholic Charities began an effort to assist foreign-born victims of human trafficking. In 2016, when the agency received a grant to expand the program to all people who are trafficked, it was projected that they would serve 20 victims in the first year. The agency actually identified 20 victims in the first month, she said.
At the time of rescue, Rodriguez said, they usually have no money or possessions. One of their biggest immediate needs is safe housing.
"We usually put them in short-term housing or a hotel for the night until we can find more appropriate long-term placements," she said. Another first step is to get them substance abuse treatment.  
"We may help them to build employability skills so they can find a job, and then eventually be ready to rent an apartment on their own and live on their own," Rodriguez said.
Vadi said Catholic Charities expects case management to last four to six months. But Perez said they have had some clients for more than two years.
"It depends on their needs and their capacity to get self-sufficient," she said.
Vadi added that "it's proof of how they can have a second chance at life. It's why programs like this exist, if people are willing to help."
The Bakhita program's wrap-around case management is just one way that Catholic Charities makes a life-saving difference.  
"I think that our staff, our case managers and victim advocates are the voice of these vulnerable people that we serve here, and the mission of Catholic Charities serves the vulnerable population," Perez said.
It is that dedication to Catholic Charities' mission of caring for people in need through all stages of life that was examined and applauded by the Counsel on Accreditation.
Marietta Muiña McNulty, Catholic Charities board president, said that "the expedited COA accreditation is the direct result of the tireless dedication and compassion of all the employees and volunteers of Catholic Charities of the Diocese of Palm Beach. They have done an outstanding job with the support and guidance of Bishop Barbarito and our board. God bless them all."
Frankie Chévere, CEO/Executive Director of Catholic Charities, agreed with her assessment of the staff and volunteers.
"COA's president described the accomplishment of Catholic Charities receiving an expedited accreditation as amazing, which underscores the outstanding team effort of our employees and volunteers to make Catholic Charities a stellar organization in the service of charity," Chévere said.
Vulnerable populations served by Catholic Charities include people who are hungry, facing financial crisis, at-risk pregnant women/families, immigrants/refugees, survivors of human trafficking, caregivers, incapacitated elderly, and those facing mental health issues. To learn more, visit www.ccdpb.org.