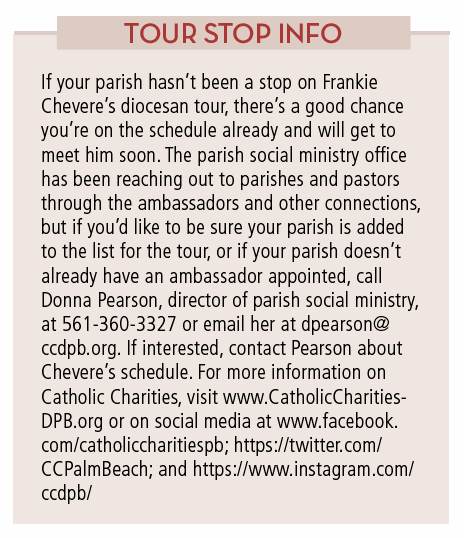 PALM BEACH GARDENS  |  Frankie Chevere, CEO of Catholic Charities of the Diocese of Palm Beach, has embarked on tour of visiting parishes in the Diocese of Palm Beach.
Chevere is providing insight into the many tremendous programs provided by Catholic Charities of the Diocese of Palm Beach. Chevere explained the mission of Catholic Charities, which is to serve and advocate on behalf of those persons who do not have a voice or power to help themselves.
In addition to learning more about the 11 programs and services provided by Catholic Charities, parishioners will also have a chance to be introduced to the parish ambassadors —parishioners from each parish who are appointed by their parish priest and Catholic Charities and are trained to become knowledgeable of all Catholic Charities programs. The ambassadors, who are just a phone call or email away, can help refer clients for services, keep the parish community informed about programs and events, and recruit volunteers.
"Ambassadors speak on behalf of Catholic Charities at their parishes and assist pastors in meeting the economic, material, and emotional-therapeutic needs within their communities," according to Courtney Tellier, associate development director at Catholic Charities, adding two-thirds of diocesan parishes already have an appointed ambassador, so if readers discover their parish doesn't have an ambassador, it might be a perfect volunteer opportunity.
Chevere embarked on this diocese-wide parish tour in early January. His June tour date included speaking at six Masses at the Cathedral of St. Ignatius of Loyola in Palm Beach Gardens, where more than 1,100 parishioners had an opportunity to learn things about the breadth of services provided by Catholic Charities that they may not have known or understood previously, such as disaster recovery, immigration legal services, refugee resettlement, elder affairs, Birthline/Lifeline pregnancy care center and prison ministry. Chevere introduced and spotlighted St. Ignatius of Loyola's own Deanna Herbst-Hoosac, who is acting as the ambassador for the parish and spoke about Catholic Charities' main programs and offered opportunities for volunteers to help those individuals in our diocese who are most vulnerable.
"Our Catholic Charities' mission is rooted in the fundamental belief that every person has the right to be treated with dignity and that every human life is sacred. Integral to our mission and vision are Catholic Charities' core values of faith, respect and service," Chevere said. "The time, care, dignity and professionalism that we offer each individual client and each other defines us as an exceptional agency."
On hand for each of the six Masses was Donna Pearson, director of parish social ministry at Catholic Charities. While she understands the daunting and exhaustive task of introducing Catholic Charities and helping to raise awareness of the organization's many and varied programs, she felt invigorated and inspired by the enthusiastic response of the parishioners she and Chevere have met so far.
"It's warming to see how many people in our community are willing to help the less fortunate," she said. "The positive responses we receive from the parishioners are heartwarming.  They also request information on becoming volunteers for one of our many programs."
Chevere mirrored the same feeling of excitement about helping to share the organization with the people of the Diocese of Palm Beach. At each parish, the response so far has been overwhelmingly positive, and Chevere is delighted by the number of individuals who have offered to share their hearts and volunteer to help.
"In the Bible, we are often reminded that it is better and more blessed to give than receive and having a chance to share with the people of the Diocese of Palm Beach just how many ways Catholic Charities is able to assist the vulnerable among us has been incredibly inspirational for me," he said. "One thing that has surprised me is how engaged and attentive parishioners have been when we share the news about the diverse programs and services provided through Catholic Charities of the Diocese of Palm Beach. Nearly everywhere we've been, someone will come up to us after the Mass and exclaim, 'I had no idea Catholic Charities did all that!' It feels so fulfilling to be able to inform parishioners of all the good work being done through Catholic Charities programs and services."