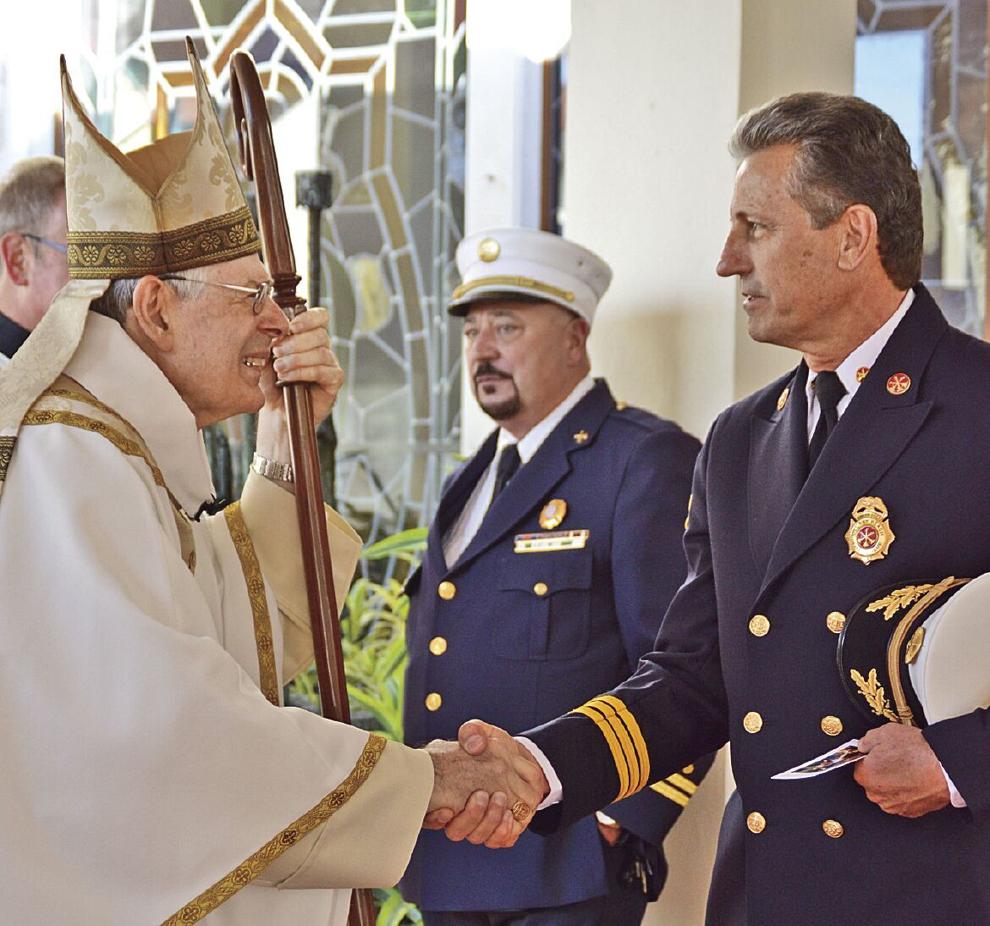 PALM BEACH GARDENS | On the feast of the Archangels — Sept. 29 — Sts. Michael, Gabriel and Raphael are remembered for fighting against evil, protecting humanity from the devil and providing tender medical care to others. 
On that feast day, the Diocese of Palm Beach will celebrate first responders for those very same reasons. Bishop Gerald Barbarito will celebrate the annual Blue Mass Sept. 29, 2021, to show gratitude and honor law enforcement officers who protect and serve. 
Law enforcement form all faiths will gather at the Cathedral of St. Ignatius Loyola, 9999 North Military Trail in Palm Beach Gardens, at attend the 15th annual Mass. The Blue Mass is designed to honor law enforcement — police and sheriff, firefighters, correctional officers, 911 operators, EMTs, and medical personnel. The Mass is also open to the public as a show of gratitude for those who serve. Because of the pandemic, last year's Blue Mass could not be held, making this year's event even more special. 
The pandemic created an increased workload on first responders. Recent years has also put extra stress on law enforcement personnel. A June 24, 2021, report by NPR stated, "The historic calls for police accountability, reform and attempts at racial reckoning have left police departments nationwide struggling to keep the officers they have and attract new ones to the force." The report added that according to Police Executive Research Forum, a nonprofit think tank, there has been a 45% increase in the retirement rate and a nearly 20% increase in resignations in 2020-21 compared to the previous year.
Captain Steven Thibodeau of the Palm Beach Sheriff's Office admitted being a law enforcement officer can sometimes feel like a thankless job. 
"There seems to be more confusion now than in years past as to the role of (law enforcement)," Thibodeau said. "It's never been our role to be the bad guy, but sometimes bad decisions by one or two get ingrained in the community's mindset, and (law enforcement) are often the target of that. We serve and protect and respond to every tragedy that comes over the radio."
"We don't ask if it meets our personal belief criteria," he continued. "We run towards the danger and serve everyone equally." 
Thibodeau said he and other colleagues are frequently by people offering prayers and gratitude for the work they do. Those unsolicited expressions of appreciation help Thibodeau to continue to work with integrity and honor. 
"I think you see the humanity and spirituality of (officers) and their compassion regularly. Often, the bad guy dictates how much I can and cannot do, and you have to take control, go back to your training, and command the scene – even if it means not doing it sweetly," Thibodeau said. "Most of the people in this field are here to help others. Those who have spiritual values tend to go much further. We are all human and are not above raw emotions that affect us when we deal with small children, grandparents, or anyone who is hurting." 
He described how faith and spirituality go a long way in law enforcement. It's one reason why the Blue Mass is so energizing and inspiring for professionals who serve the public.
"We have the compassion in our hearts but at every moment of a crisis, we also know we are the difference between that person making it or not," he said. "When people tell me they are praying for us it does help. It's nice to know we are appreciated and that people value the role of law enforcement officers. That's what I get from the Blue Mass as well. The bishop and parishioners thank us and share their gratitude, and it recharges our batteries and allows us to go out with a better attitude."
The Knights of Columbus Honor Guard will be on hand to display the colors at the Mass, and law enforcement officers will be serving as gift bearers and readers. 
"Our role is to take in the message, feel the guidance of the Holy Spirit, and get something out of the Mass," Thibodeau said. "I've been approached by many deputies who haven't been in church for a long time who share that they have been moved by the annual Blue Mass. It is powerful. It does move people. We appreciate the support of the Diocese, clergy, parishioners, and Bishop. It goes a long way, and we all appreciate it."
"The deputies and officers find peace at the Blue Mass," Thibodeau added. "It's a chance to thank God for what we have and those who came before us, but we all pray that we can be here and live to fight another day to serve with respect and dignity and come home to the ones we love."