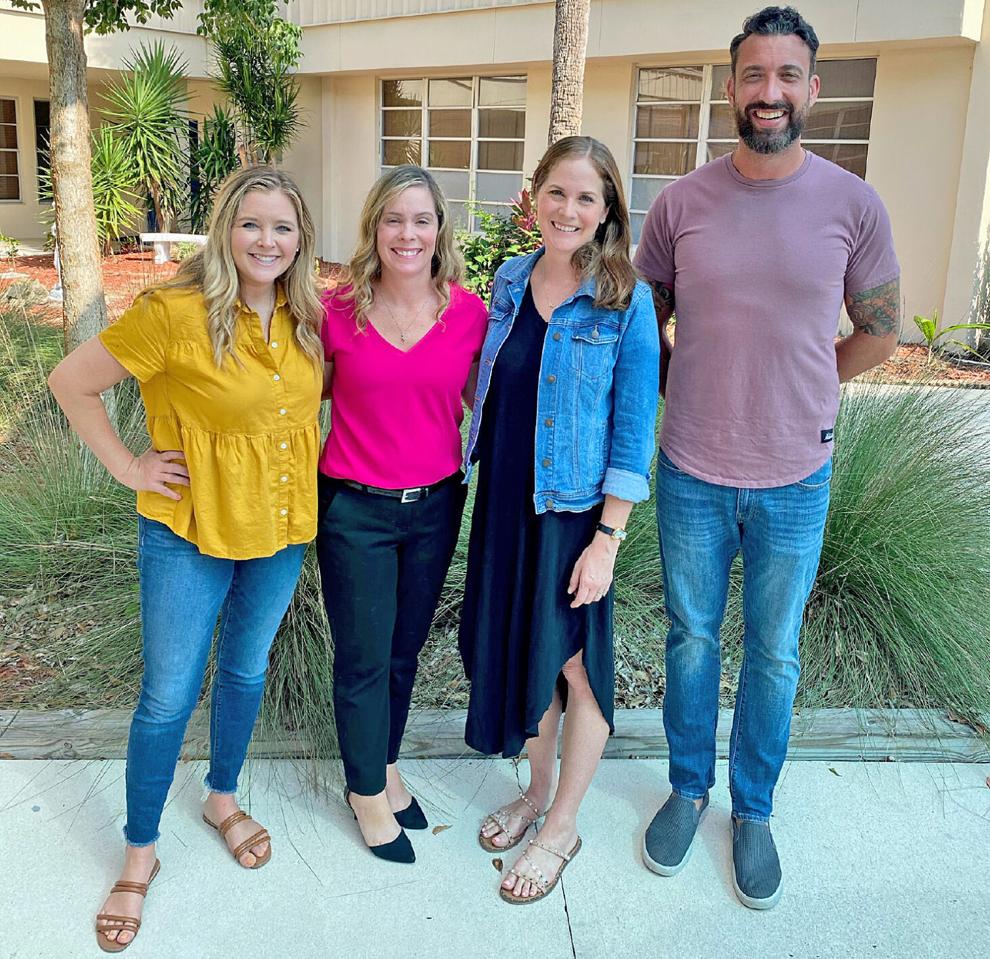 WEST PALM BEACH  |  Whether it's through fundraisers, gatherings, meetings, beach cleanups, newsletters or other means to connect, alumni of Diocese of Palm Beach Catholic schools show how they feel strongly about leaving a legacy of support and encouragement for students who follow them. 
According to John Clarke, assistant superintendent of schools for the Diocese of Palm Beach, alumni associations and its members demonstrate their love for their schools and the education they received by supporting and encouraging students of their alma maters. That translates to a better education for the approximately 6,000 students who currently attend the 20 Catholic schools throughout the diocese. Clarke said many diocesan schools are blessed by active alumni association groups with enthusiastic and supportive alumni membership. 
"Alumni help with fundraising, development, teaching and advising students on careers," Clarke said. "Both Cardinal Newman and St. John Paul II Academy recently celebrated milestone anniversaries, with Cardinal Newman celebrating 60 years and St. John Paul II Academy at 40. Hope Rural School also celebrated its 40th anniversary, and schools like Sacred Heart and St. Ann have very active alumni bases." 
Diocesan alumni associations host activities to help alumni stay connected and socialize with friends they made early-on in the formative years. These gatherings also help by raising much-needed funding for programs and services, providing internships for students to allow them an opportunity to learn more about potential career options, and helping to spread the good word about the lifelong value and benefits of a Catholic school education. 
The active enthusiasm for their alma maters may well be a byproduct of Catholic school education and its focus on the whole person, thanks to the emotional, spiritual and civic components of a Catholic education. In an article written for Thomas B. Fordham Institute's Flypaper, Dr. Kathleen Porter McGee wrote, "Catholic school success is not simply the product of rigorous curriculum, structure, and order. It's also the result of a school culture animated by the belief that every child is made in the image and likeness of God and focused on drawing out of every pupil their own God-given potential." 
"Catholic schools' academic results are not actually the main goal; rather, they're byproducts of schools that focus on forming young people not just with the skills that will make them financially successful, but also with the habits of virtue and values that will make them choose to do good and contribute to their communities," she continued. "Research has also shown that Catholic school graduates are more likely to be civically engaged, to vote, to volunteer, and to give to charitable causes than their public-school peers." 
Clark said Catholic schools' faith component is crucial. He listed some noteworthy graduates of Catholic schools, including Archbishop Thomas Wenski of Miami, who is an alumnus of Sacred Heart School in Lake Worth. Cardinal Newman High School's website shares good news about its graduates, too: "Among our 12,000 graduates have been war heroes, police chiefs, physicians, musicians, authors, researchers, politicians, lawyers, professional athletes, teachers, entrepreneurs, priests, and community leaders. Each Newman graduate is empowered with the ability to rise to every challenge and overcome every obstacle."
"Oftentimes, the graduate was first introduced to his or her faith at the school, and research shows that Catholic school graduates are more active in their faith lives in adulthood," Clarke said. "The solid, faith-filled education they receive stands the test of time." 
The 40th anniversary dinner auction hosted in March to benefit St. John Paul II Academy is an example of a successful fundraising event by an alumni association. Christian Brother Daniel Aubin, president of St. John Paul II Academy, said the loyal connection and desire to pay it forward simply by saying, "We do this by providing an environment rich in faith, strong in morals and discipline, and totally committed to excellence in academic achievement and the total development of the student. 
Mary Martens, director of development at Cardinal Newman High School, said the West Palm Beach high school has a "long tradition of generous financial support" from alumni. 
"(We are) extremely grateful for the continued commitment of so many wonderful donors," she said. "Gifts from alumni, parents, faculty, staff, boards, businesses, and friends are instrumental in helping Cardinal Newman continue its mission of providing a quality, affordable education to our students. This generosity creates opportunities for students to reach their full potential and pursue their dreams."
Hope Rural School in Indiantown created an Alumni Ambassador program for any Hope Rural alumnus interested in serving as "ambassadors" to their graduating classes. The volunteer ambassador represents his or her class, shares news and information, assists with planning reunion events, and keeps the school informed as to the milestones of fellow classmates. Ambassadors meet quarterly and work directly with Dominican Sister Elizabeth Dunn, director of Hope Rural School.