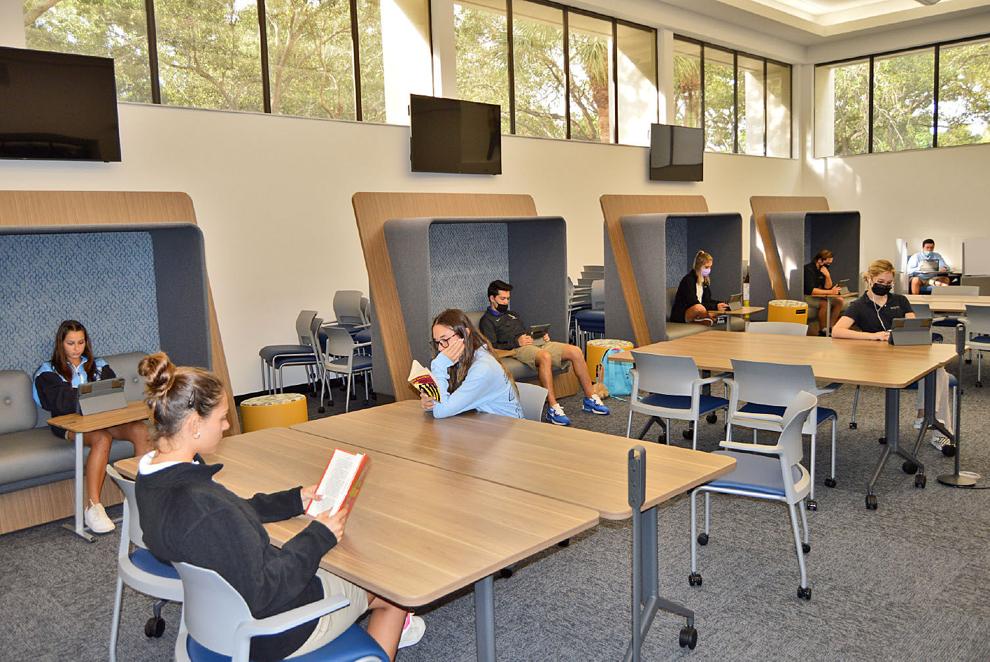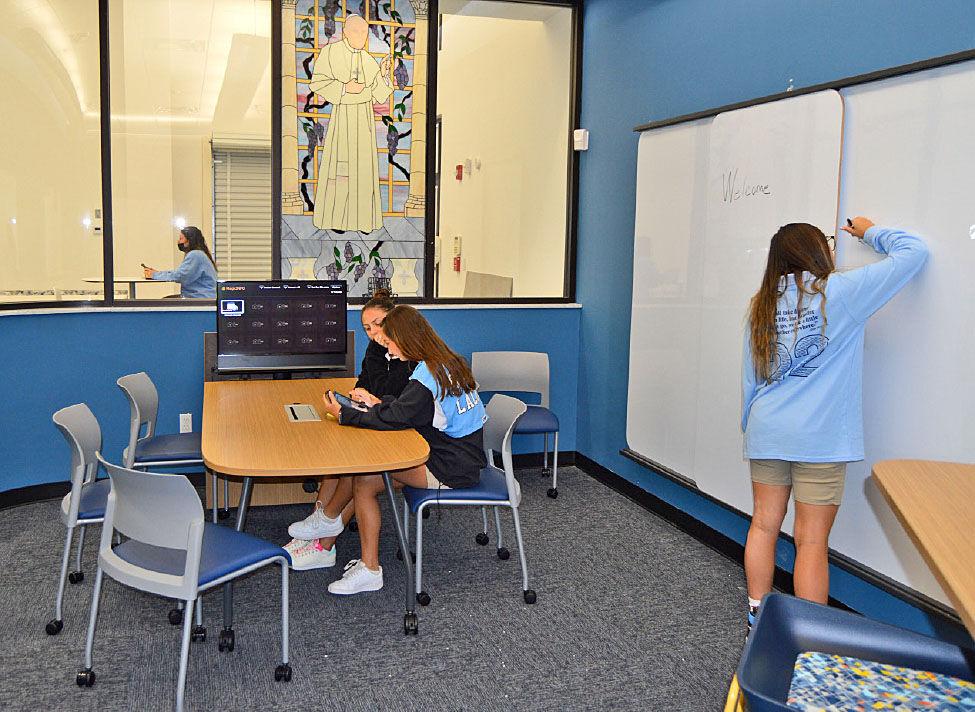 BOCA RATON  |  School libraries have changed. They used to be a vital part of campus – a depository for knowledge with reference materials and books of all types.
Now, with the advent of the internet and prevalence of mobile computing – where all information is literally as your fingertips – libraries are not serving their original purpose. Many schools are rethinking their use of space and asking the question: Do we need a traditional library anymore?
St. John Paul II Academy, 4001 N. Military Trail, has come up with its answer: a learning commons area that gives students and faculty a flexible meeting space with technical upgrades like video projectors and charging stations.
Shea Ciarletta, director of institutional advancement, said the idea was sparked about six years ago when students were noticed after school in the dining hall, sitting on the floor recharging their iPads and doing homework. He and other school leaders thought there had to be a better, more comfortable place for that to happen.
St. John Paul II is part of the Lasallian network of schools that follow the teachings of St. John Baptist de La Salle, with ties to the Brothers of the Christian Schools. Some other Lasallian schools had an idea of creating a learning commons, which would work well with St. John Paul II's campus.
"It was something that needed to be updated," Ciarletta said. "It's almost complete. We have a couple more things with the AV, a little bit with the tech and TVs that's finishing up in the next couple of weeks. Hopefully fully operational and open by next semester, after New Year's."
The learning commons includes a large room that can accommodate up to 100 people, with a smaller "collaboration room" on the side. "Right now, colleges are coming in and using it during lunchtime with separate sections so students can go and meet the college representatives," he said.
Students in the senior Leadership in Ministry class recently demonstrated and talked about the many uses of the learning commons.
"It's a great space for independent learning," said Janey Kate Knowles. "It's a great space for students to find silence and solitude when they want to learn, when they want to study. It's also a great place for students to participate in the miscellaneous selection of clubs and organizations that we provide here."
Aidan Watson added: "I think it's a major improvement from what it was before because it was just a library and not many people would show up."
Ed Bernot, who is in his sixth year as principal at St. John Paul II and 26th in Catholic education, said he is excited to open the learning commons to students and faculty. Ciarletta explained since last year was the school's 40th anniversary, they're shifting toward repairing and upgrading certain areas of campus.
The school opened in 1980, with the first graduating class in 1983, he said. Ciarletta is a 2014 graduate of the high school, which was first affiliated with the Carmelites and Adrian Dominicans, and now the De LaSalle Christian Brothers.
The current enrollment is 473 students, Bernot said, which is up about 50 from last year. The growth may be tied to population increases in the area, he said, "but I believe that the job that our entire team has done here – our faculty, our staff, we have an amazing admissions department. We've seen it coming for a couple of years, that within the community our reputation, academically and beyond, has gotten stronger, and so now I think the challenge is to keep that momentum going forward."
Like the other Catholic high schools in the Diocese of Palm Beach, one of the main focuses is on college preparation, as almost all students move on to some type of higher education, Bernot said.
The school partners with a program that aims to prepare students to be successful in taking the necessary tests for college.
Last year, four St. John Paul II students were identified as National Merit Commended Scholars and two semifinalists. "It showed us that the program is working, and we believed that it was, but it's good to have that tangible evidence," Bernot said.
This year, he said, four students have been named as Commended Scholars.
"One of the things we really pride ourselves on here is contributing to the holistic development of young people," Bernot said. One perhaps unique aspect of the school is that more than 85 percent of students are involved in at least one sport.
"We look at that as an extension of our classroom," he said. "And our coaching staff is an extension of our faculty."
Besides sports, a popular program for seniors is the Kairos retreat at Our Lady of Florida Passionist retreat center in North Palm Beach, which Ciarletta directs. About 80 percent of seniors participate in this transformative multiday retreat, Bernot said.
"It's a remarkable experience to watch students over the course of four days know themselves better, and in some cases begin a relationship with Christ or, in some cases, further develop one that was started as a child. It's really an amazing program," he said.
Ciarletta said many alumni have remarked to him that the Kairos retreat stands out as a milestone experience. Decades afterward, they are still wearing the Kairos cross they received on the retreat, he said.
As a college prep school, with lots of students involved in sports and other extracurricular activities, it's the faith component that has to be No. 1, Bernot said.
"That's our responsibility collectively as a faculty," he said. "As principal, in cooperation with our president, Brother Dan Aubin, we want to make sure that our students have the best opportunity no matter where they start their faith journey, that they can grow in that faith journey."
Bernot credits Brother Dan with making great strides toward fiscal stability in the nine years that he has been school president, which wasn't always the norm.
"He's done an amazing job of turning that tide so that now we can start to think about building for the future, literally and figuratively," Bernot said.
To contact St. John Paul II Academy about enrollment or becoming a financial partner, visit https://www.sjpii.net/ or call 561-314-2100. To learn more about the Diocese of Palm Beach's Catholic schools, visit www.DiocesePBSchools.org, or @DoPBCatholicSchools on Facebook, Instagram and Twitter pages.