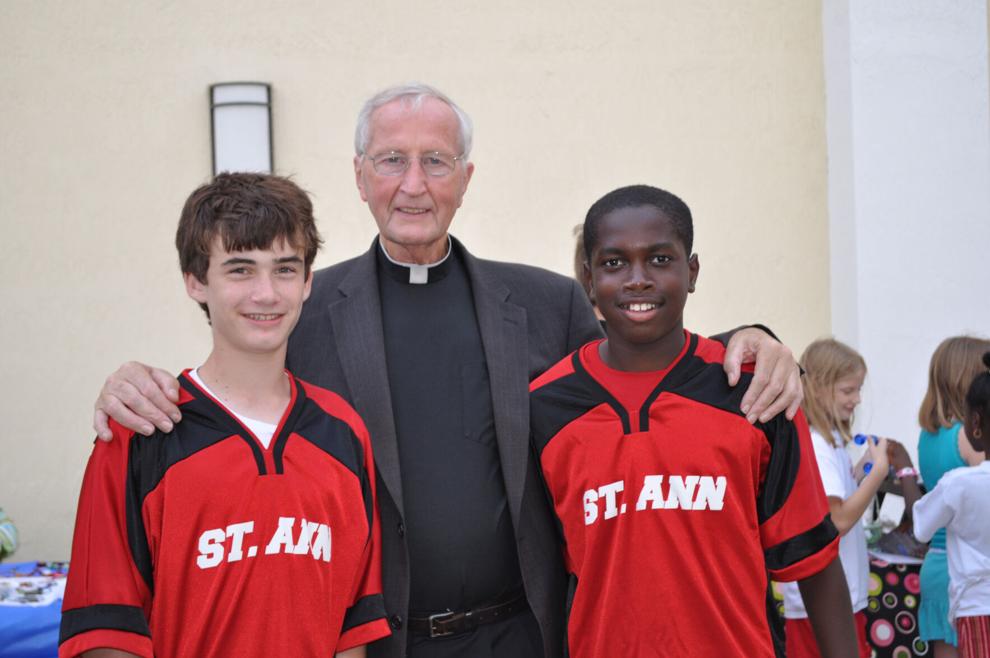 WEST PALM BEACH | The Diocese of Palm Beach has lost not only a humble servant of God with the death of Father Seamus Murtagh; it has lost a rock that helped form the diocese's spiritual foundation.
Father Murtagh, who spent his entire pastoral life in South Florida, died Feb. 16, 2021, in West Palm Beach. He was 85. Many parishioners remember him as pastor at one of two West Palm Beach parishes —Holy Name of Jesus Parish from 1983 to 2000, and then St. Ann Parish from 2001 to 2011. He was known for his dedication, leadership and for being a longtime advocate for Catholic education for children of all economic backgrounds.
Father Murtagh was the eighth of thirteen children. His four surviving siblings and 35 nieces and nephews remember him as someone who enjoyed playing cards with his family, and especially enjoyed winning. He was an avid walker and an accomplished Scrabble player. He enjoyed trips with friends and family, and he traveled to Ireland every year. He was fond of saying he led a blessed life, however, many count themselves blessed to have been a part of his life.
"He is all about sincerity," said a parishioner at Father Murtagh's 50th anniversary celebration in 2016. "He is genuine."
Born in Corlis, Castlerea, County Roscommon, Ireland, he discerned his vocation in his 20s while he worked in clothing and grocery stores. In 2016, he spoke to the Florida Catholic about his journey to the priesthood on the occasion of his 50th anniversary.
He recalled how the priesthood entered his mind off and on and so did a voice saying "yes" and then another saying "no."
But after meeting a novice Marist brother, the young Murtagh noticed how the brother was filled with the Holy Spirit and held a great deal of enthusiasm.
"He was on cloud nine and very happy," Father Murtagh had recalled. "I decided that if he was that way, I should look into it."
So, he attended seminary at Mungret College and St. Patrick's College in Carlow. Then, in 1966, he was ordained in the Archdiocese of Miami. He had served parishes in Broward and Palm Beach counties before Archbishop Coleman Carroll moved him to Rome for further studies. Father Murtagh received a doctorate in sacred theology from the Pontifical Gregorian University. On his return to the archdiocese, he served as a faculty member at St. Vincent de Paul Regional Seminary in Boynton Beach from 1971 until 1983.
On a diocesan level, he served the Diocese of Palm Beach in many roles, including chancellor, vicar general, diocesan administrator and — at a time of great grief and strife for the diocese — apostolic administrator. When the Diocese of Palm Beach was established in 1984, Father Murtagh was tapped as chancellor and Moderator of the Curia. His role included working toward the building of the chancery and the managing of financial affairs of the new diocese.
In a 2014 article of the Florida Catholic on the occasion of the diocese's 30th anniversary, Father Murtagh reminisced about his role as chancellor and said one of the highlights of his tenure was working with the diocese's first bishop, the late Bishop Thomas Daily, whom he regarded as extremely hardworking, very encouraging and "one of the finest human beings I know."
When Bishop Daily became shepherd for the Brooklyn Diocese, the 12-member College of Consultors selected Father Murtagh to be diocesan administrator until a successor was named in 1990.
The priest continued his role as chancellor while pastor of Holy Name of Jesus Parish but, was asked to step up again in 2002 as the apostolic administrator.
Although he retired in 2011, he remained a fixture in the local Catholic Church, in presence and example. He served at St. Ann Place Homeless Outreach Center, which he co-founded, by making sandwiches for the hungry. He visited Lourdes Noreen McKeen Residence to spend time with seniors there. On Sundays, he traveled to Holy Cross Parish in Indiantown, where he helped with English Masses.
Along with numerous parishioners that he served with humility, love and sincerity, Father Murtagh is survived by his four siblings, Noel Murtagh, Kathleen (Pat Joe) Hunt, Annie Schultz and Agnes (Ron) Healy, 35 nieces and nephews, and extended family. 
A wake and visitation will be held Monday, Feb. 22, from 3 to 6 p.m., at the Cathedral of St. Ignatius Loyola in Palm Beach Gardens. A funeral Mass will be celebrated Tuesday, Feb. 23, at noon at the cathedral. The Mass will be livestreamed and can be accessed at www.cathedralpb.com. Click on the link for "Live Mass."
A burial at Our Lady Queen of Peace Cemetery in Royal Palm Beach is scheduled to follow the funeral Mass.
In lieu of flowers, the family is asking for donations to:
• St. Ann Place Homeless Outreach Center, 2107 N. Dixie Hwy, West Palm Beach, FL 33407. Visit https://www.stannplace.org/donate-online
• Holy Ground Shelter for Homeless, 200 W. 20th St., Riviera Beach, FL 33404. Visit https://holygroundpbc.org/donate/
• Perform an act of kindness in Father Murtagh's name for someone less fortunate.