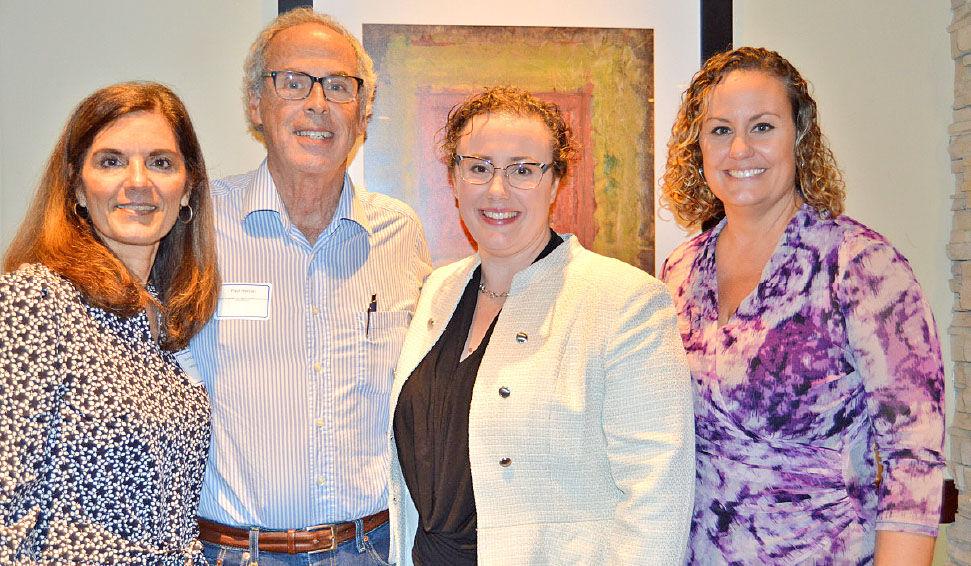 PALM BEACH GARDENS | Heather Grall Barwick, who has offered compassion and healing to women as a leader of 40 Days for Life in Fort Pierce since 2019, was recognized Oct. 26, with the 2021 Respect Life Award from Catholic Charities of the Diocese of Palm Beach.
Deanna Herbst-Hoosac, Respect Life program administrator for Catholic Charities, introduced Barwick as the award winner during the October Luncheon 4 Life at the Seasons 52 restaurant, 11611 Ellison Wilson Road in Palm Beach Gardens.
The occasion was a family affair for Barwick, as her sister, state Rep. Erin Grall, R-Vero Beach, was the day's guest speaker. Their mom and dad, Marge and Bernie Grall, and Barwick's husband, Jay, also were in attendance.
Barwick was born and raised in Vero Beach, the third oldest of eight children. She is a graduate of St. Helen School in Vero and John Carroll High School in Fort Pierce.
Barwick expressed her gratitude for being chosen for the award, which was a surprise to her. Her family and friends did a good job keeping it a secret, she told the Florida Catholic.
After undergoing an abortion 21 years ago, Barwick knows the feelings of confusion, pain and guilt that follow the decision to abort. It was only about two years ago that she got the courage to speak openly about her experience, and now she has found her voice.
"God has led me to the place where I am able to be honest about my past and to speak freely about the tremendous pain of abortion, and now that I have that freedom, I don't want to stop talking about it," she said.
It was a blessing to find 40 Days for Life, a peaceful and prayerful pro-life campaign held twice a year outside abortion facilities, Barwick said.
"From my first time praying on the sidewalk, I knew that God had a plan for me," she recalled. "I knew I had to be there to let the women entering the clinic know they were not alone. I was able to let them know that I had been in their shoes, and this was not something they wanted to do."
Barwick said she has met some incredible people while doing the work of 40 Days for Life. They aren't abortion protesters; they are hope, she said.
It is humbling to win the Respect Life Award, Barwick said, but it encourages her to continue fighting to find ways to help post-abortive women. "Most importantly, I continue on this path for my baby in heaven, Thomas Isaiah."
For information, contact the Catholic Charities Respect Life Office at 561-360-3330, visit the Catholic Charities website at www.ccdpb.org or follow on social media. For more on the 40 Days for Life campaign, go to www.40daysforlife.com.