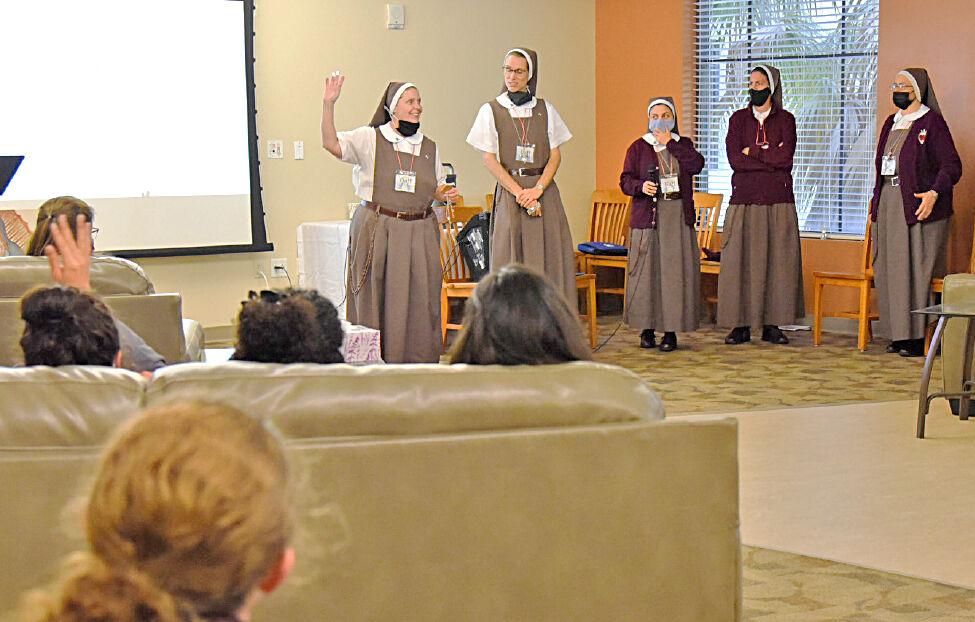 ORLANDO  |  Julia Oswald admitted she was "terrified" to participate in a Fiat retreat. 
"I didn't know what the Lord was going to put on my heart and that scared me," explained Oswald, a student at the University of South Florida in Tampa, and one of 16 women attending the annual retreat. Fiat is hosted annually by the Diocese of Orlando Vocations Office for women discerning a call to religious life. 
Oswald said she felt a "huge sense of relief" when she walked in the door at the University of Central Florida Catholic Campus Ministry Center and greeted the Servants of the Pierced Hearts of Jesus and Mary. She had traveled from Christ the King Parish in south Tampa, and has been "hanging out with the sisters" and fellow discerner Abby Spalding, a member of Annunciation Parish in Altamonte Springs, for two years. She was "getting immersed in the Catholic culture," and "toying with this idea of discernment for a while" so she accepted the Lord's invitation. 
She was "super convicted" by a talk presented by Sister Gianna Grace Perino, assistant vocation director, that focused on the different dispositions for missionary life. Oswald found guidance in her desire to become a missionary for FOCUS — a Catholic collegiate outreach whose mission is to share the hope and joy of the Gospel with college and university students. 
"Seeing all those (options) laid out was very helpful," Oswald said. 
Emily Hernandez, from St. James Cathedral in Orlando, has discerned a call for some time. As youth minister at the cathedral she works closely with Bishop Moore Catholic High School. Sister Kristi Bergman and Sister Perino invited her to the Fiat retreat. The most helpful topic for Hernandez was Sister Bergman's talk on practical tips for discernment. She offered realistic questions to ask yourself. "Asking Jesus, is this the right time for me to be doing this?" 
"It's like asking, Jesus, is this your will, but you're looking at it from a different angle," Hernandez explained. "Is this what you're calling me to right now?"
Just as she was open to check out the retreat, Hernandez said she is open to what the Lord desires of her. She first discerned when she worked with LifeTeen a few years ago and thought perhaps the Lord was asking her to discern again. She was happy the talks were not focused on any particular religious order so much as general discernment of a vocation. 
"Before, that was a wall for me in discerning. How do you know you're discerning right?" she wondered. The practical topics and delivery "exceeded" her expectations.
The day was filled with talks, mediation, prayer, time for reflection and one-on-one conversations with the sisters. Sister Maria Acosta called it a "beautiful experience" and because of better turnout, retreats may continue to be only one day in the future. 
"They're here because they are feeling something and they don't know," Sister Acosta said. She noted all are at different stages and the retreat allows them to inquire, learn, and discern. "It's been very enriching for them and for us."