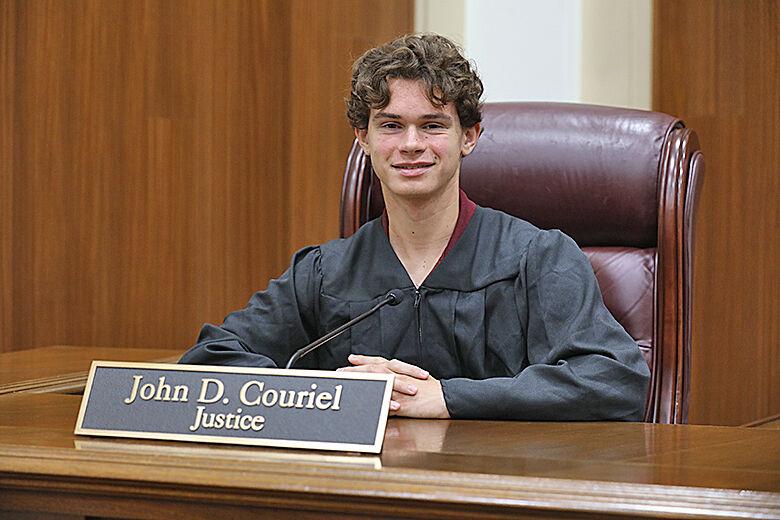 OCALA  |  Meet Drew P., the high school senior from Trinity Catholic High who just returned from Tallahassee after participating in a mock government with other academic front-runners from across the state. He was selected for his active leadership roles at school and on the Florida High School Athletic Association Student-Athletic Advisory Committee, his volunteer work in the community, his character and scholarship. Drew plays basketball, cross country and is a track and field runner. He is also student body president at Trinity.
The Florida Boys State Supreme Court is run by the American Legion Department. Drew joins the ranks of a long list of leaders who attended as young men: Neil Armstrong, former President Bill Clinton, Justice Samuel Alito, former Governor Lawton Chiles and basketball legend Michael Jordan.
Prior to arrival, students are randomly assigned to one of two parties: Nationalists and Federalists. When they arrived at Florida State University, they were assigned to cities and counties and elections were held for various positions. 
"The first mock Florida Supreme Court case likely impacted me the most because it really showed me the gravity of what these justices are tasked with doing." Drew explained, "We had to deal with a theoretical death penalty appeal case from a Circuit Court for a school shooter with mental illness. As the other justices and I were discussing the different aggravating and mitigating factors, I couldn't help but think about how difficult making that decision would be outside of this simulation. This would be especially burdensome knowing that your decision has to be based on your interpretation of state law and past precedent, removing yourself and personal politics from the decision."
Throughout the week-long program, the 352 students heard from various military leaders and elected officials including Governor Ron DeSantis. 
"Being a part of the Florida Boys State Supreme Court was a way to live out my faith because, though I could not make decisions based on my religious beliefs, the thought processes I learned in my lifelong Catholic education certainly guided me in the right direction," Drew said. "Although the Florida Boys State Supreme Court was not a mock political position, since justices are supposed to be nonpartisan, I could see myself potentially running for office. I still have a very long way to go before I consider that idea seriously, but American Legion's Boys State was certainly a good inside look at what goes into the process."