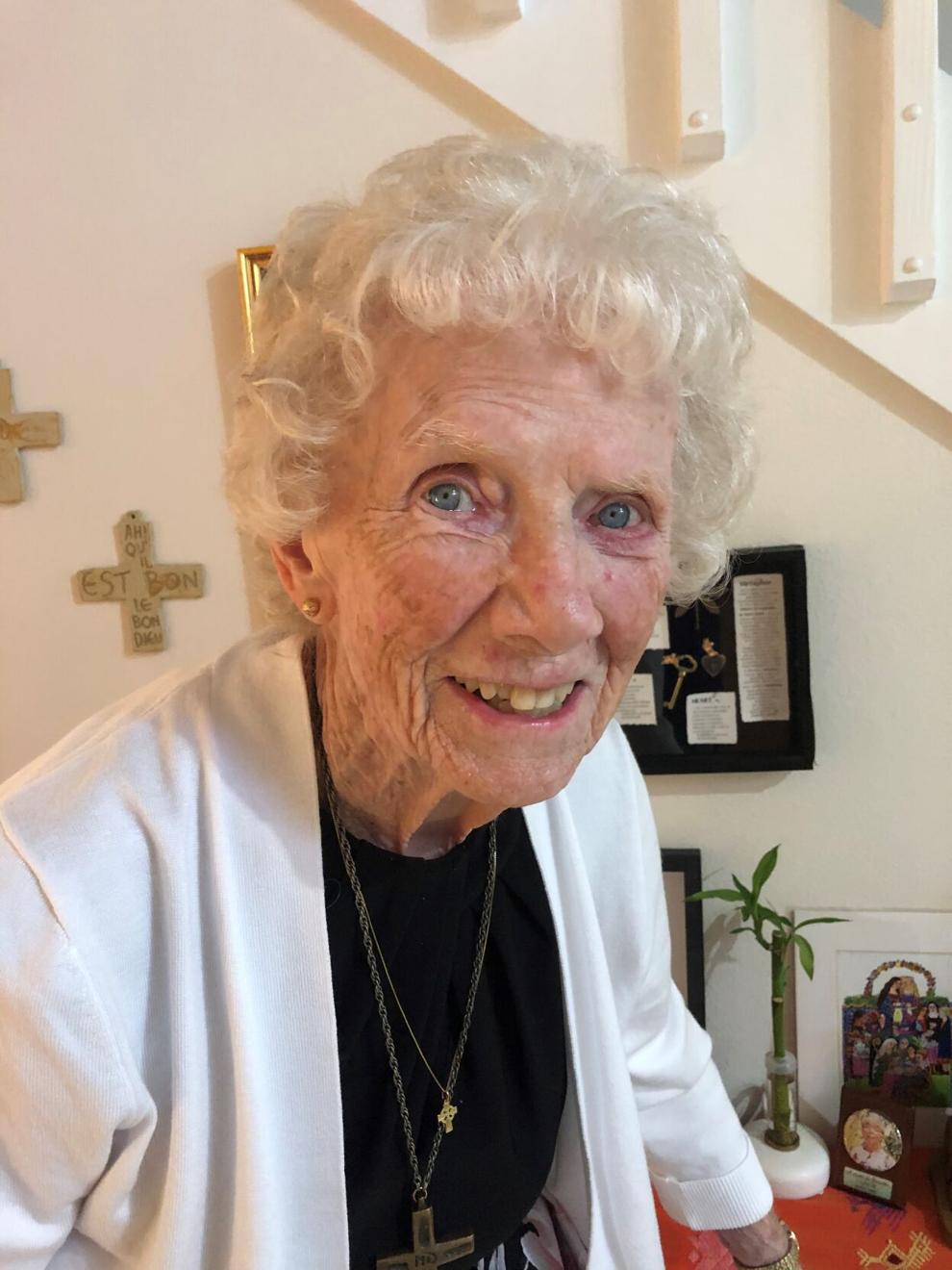 APOPKA  |  Surrounded by loved ones in song and prayer, Sister Teresa McElwee, a Sister of Notre Dame de Namur whose ministry was dedicated to peace and justice for all, died peacefully Jan. 7. She was 91.
Born Oct. 22, 1929, in Chester, Pennsylvania, she was one of five daughters to parents John and Helena McElwee. The call to ministry ran deep in her Irish family roots. "Both of my parents are from Ireland, and they instilled in us service to the Church," she had recalled. "At a retreat shortly before high school graduation, I asked God to give me direction. By the end of the 4 o'clock Benediction, I had my answer."
She entered the Sisters of Notre Dame de Namur in August 1947. After spending her early years teaching elementary and secondary schools and college in the Baltimore, Washington, D.C., North Carolina, and Philadelphia areas, she moved to Florida in 1973. There, she accepted the challenge of establishing Justice and Peace Commissions for the Diocese of Orlando in various parishes.
In 1977, she became the director of the newly formed non-profit Justice and Peace Office and continued to serve in that position until her retirement in the late 1990s. Throughout those years, she continued working collaboratively with fellow Sisters Ann Kendrick, Gail Grimes and Cathy Gorman, the four Sisters, affectionately known as the "Apopka nuns," on social justice, equality and solutions for the poor.
Along with others, she developed two different non-profit organizations, Homes in Partnership, Inc. and the Community Trust Federal Credit Union. Filled with enthusiasm for God's working poor and her social justice ministry, Sister McElwee founded the Apopka Family Learning Center in 2001. "We felt a need to reach out to children and families. The new center would provide opportunities for children and parents to connect with one another," she said.
Sister McElwee was a founding member of the Sisters Council and remained active from the time she arrived in the diocese, and through her presidency. She loved to read, write poetry, and travel.
In 2008, she received the Papal Pro Ecclesia et Pontifice honor in recognition of her personal commitment and outstanding service within the ecclesial community. "I've never doubted God's love, His strong arm guiding me," she said at the time of receiving the honor. She also received numerous other awards, such as the Humanitarian Award from the National Conference of Community and Justice, Central Floridian of the Year in 2008 from the Orlando Sentinel, and an Honorary Degree from Rollins College in 2008.
Funeral arrangements will be forthcoming. In memory of Sister McElwee, please pray for God's justice upon the earth; offer an act of kindness for one of the meek and lowly; and/or make a financial contribution to the Hope Community Center, 1016 N. Park Ave., Apopka, FL 32712 and notate in memory of Sr. Teresa McElwee, SNDdeN.