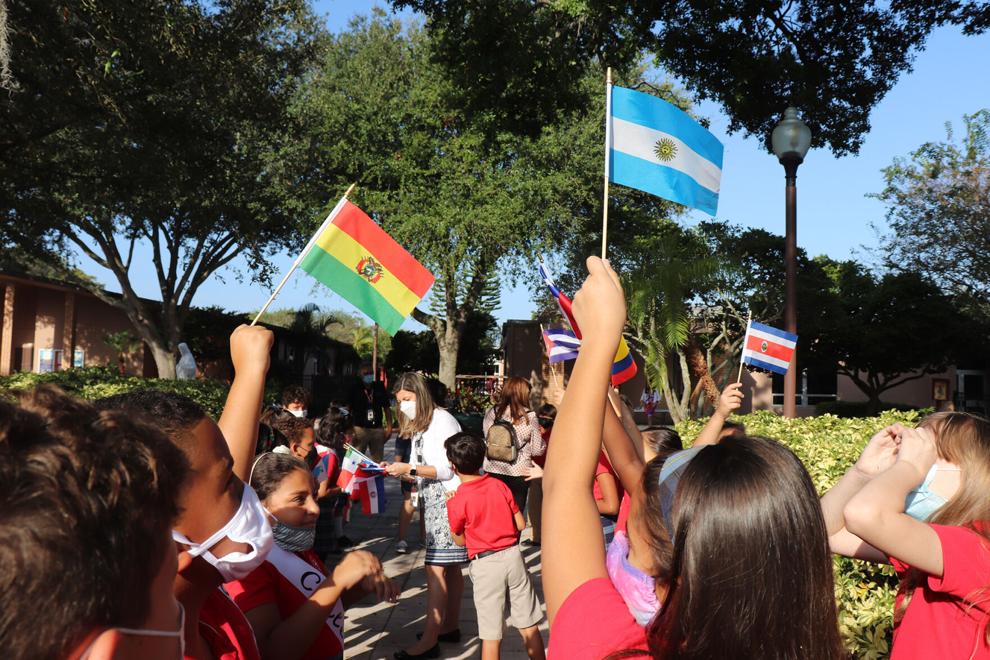 Orlando  |  Sept. 15 to Oct. 15 is National Hispanic Heritage Month, and schools throughout the Diocese of Orlando are recognizing the contributions the Hispanic community brings to the Church.
This month is especially significant to St. John Vianney Catholic School, as students are immersed in the Hispanic culture as part of a two-way immersion program that provides classroom instruction using a dual-language model. St. John Vianney is the only dual-language school in the diocese, in which 50% of classroom instruction is taught in English and 50% in Spanish.
The program began in fall 2017 with prek-4, and each year another grade level is added, as the original class progresses through the grade levels. With the first class is now in third grade, Cathy Marshall, principal, anticipates the entire school will be bilingual by the 2026-2027 academic year.  
On Oct. 8, the school community participated in the annual Heritage Day Mass celebrated by Father Carlos Cabán. Thirteen of the 42 nations represented in the student body are Hispanic countries.
To celebrate, third graders wore sashes bearing the names and flags of various Hispanic nations represented in the school. Students led the procession and served as readers during the celebration.  
On behalf of the school community, Father Cabán and Marshall thanked Henry Fortier, superintendent of schools, for his vision and commitment to a bilingual school in the diocese.
"We are all equal in God's eyes. All these countries are so different, but we are all the same family, God's family," Fortier said. "So when you look at each other and think of this year's theme, 'Made in the Image of God,' and you think about how you cook your food, the music you listen to, the language you speak, the color of your eyes and hair, all that is an expression of how diverse God is because everyone is made in his image."