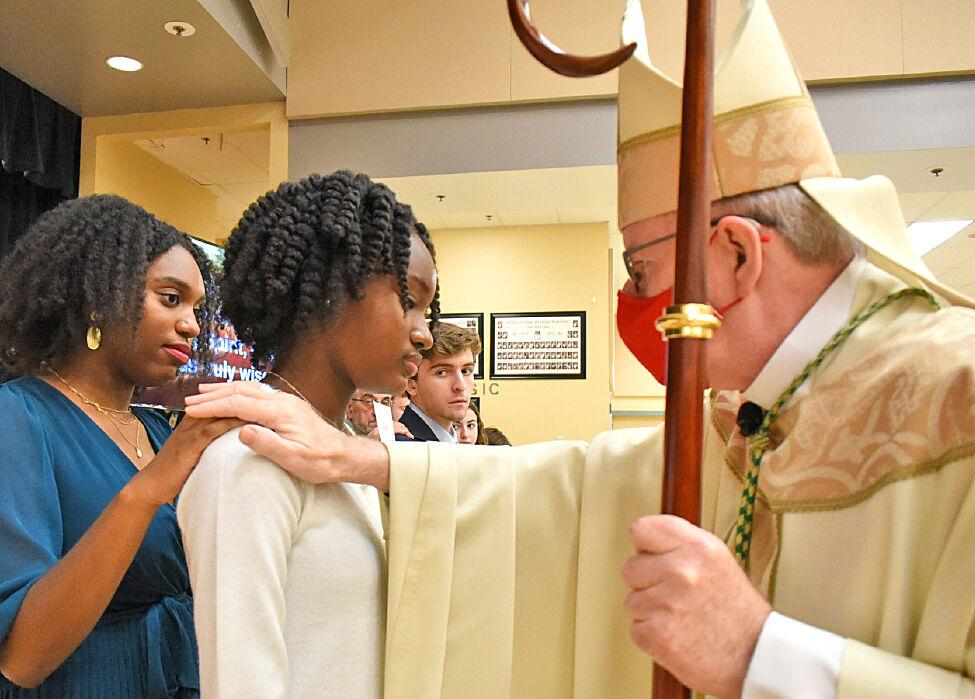 LAKE NONA  |  Eight parishioners of St. Frances Xavier Cabrini Parish in Lake Nona made history as the first to receive the Sacrament of Confirmation, Nov. 21, 2021, in the new parish established two years ago. Bishop John Noonan conferred the Sacrament on the Solemnity of Christ the King.
Although Father Charles Viviano, pastor, had celebrated First Communions in May and previous Confirmations were celebrated in parishes around the diocese, he was excited to have the bishop celebrating Confirmations in their own parish that gathers at Narcoossee Elementary School. He noted his gratitude for the Confirmandi in taking this step so seriously and "for their understanding that preparation for anything is ongoing and lifelong."
"It was a highly anticipated moment for our parish and a major step forward in our development as the newest church in the Diocese of Orlando — ministering to Lake Nona and the surrounding area," Father Viviano said. "To have Bishop Noonan visit us with the honor of bestowing this very important — third Sacrament of Initiation on our young people was a pivotal moment. They are now fully initiated as Roman Catholics." 
The school cafeteria was transformed to a house of worship as it is each week. 
"With God's blessings and through the intercession of our patroness, St. Cabrini, we tripled the amount of students to 150 families in just one and a half months. How blessed is that?" Father Viviano. said. "Now we look forward with true faith and hope to the many more blessings that await us as we continue to grow.. ... The Holy Spirit is alive and well."
Bishop Noonan said the occasion was a moment to look at this solemnity in another light. "It's our moment to come before the Lord," he said. Pointing to the readings of the Mass, he prompted listeners to "understand the role Jesus plays in our life."
Because Confirmation is an enkindling of the Holy Spirit, spurring Catholics to express their faith through action with the help of the gifts of the Spirit, he urged the young people to be not afraid. 
"Jesus is saying to you today, as He told the disciples, I am going to prepare a place for you. Don't be afraid. I'm going to send the Holy Spirit into your life and He's going to give you a new life. And your new life is going to come with gifts… wisdom, understanding, knowledge, counsel, courage, piety, fear of the Lord. That is the wisdom God wants us to have — to know, to love, and to serve Him."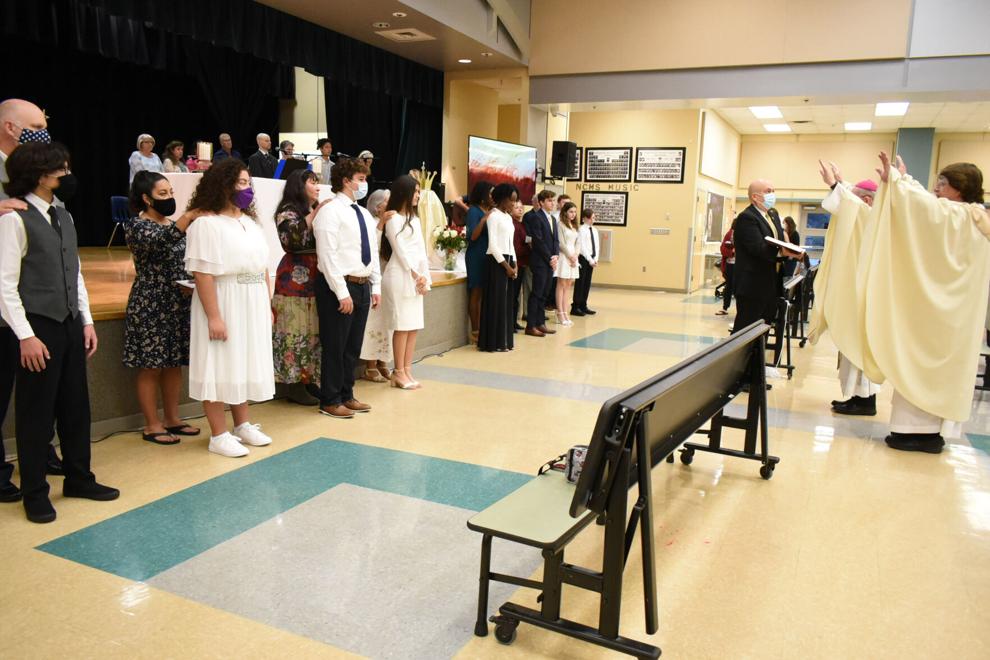 Bishop Noonan told the confirmandi the power of Holy Spirit helps the faithful understand themselves — "to be at peace with ourselves and to know ourselves," he added. 
He said this is important so that people can know and love one another. "The gift of understanding is a powerful gift that helps us and heals us of fear and anxiety."
"Surrender daily to God acknowledging we cannot do it alone," he continued. "What I want you to remember the rest of your life is we can do all things, but only with Jesus Christ. Let the Lord help you and let the Lord be with you always to lead and guide you." 
Eighth-grader Brennan B. is already in ministry as an altar server. He had to pause his service to the community during COVID-19, but now that ministries are active again, he looks forward to assisting in the liturgy. "It feels good to know that all of the learning comes to this moment," he said. 
Andreas R., who inspires to be an altar server, hopes to live out his faith "by remembering God and Jesus and remembering that I am a Catholic."