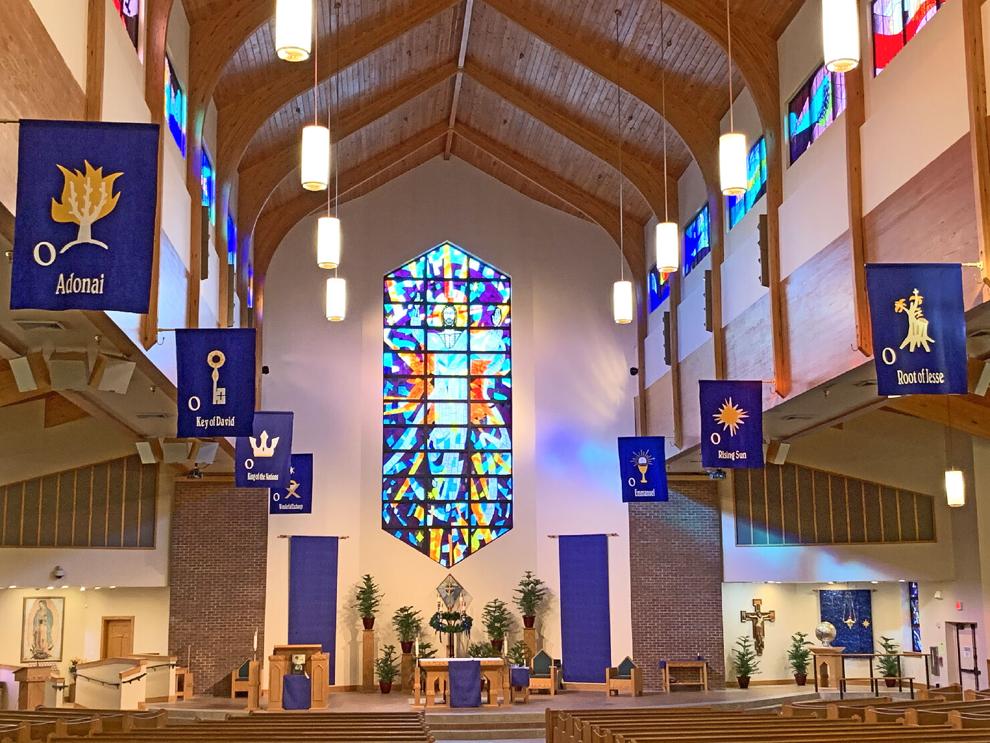 MOUNT DORA  |  Parishioners at St. Patrick Parish in Mount Dora have been planning to make O Antiphon banners for the Advent season for a decade. This year, the five-foot banners became a reality, just in time for Advent.
Michael O'Malley, St. Patrick's director of music and liturgy, tries "to coordinate various elements of the liturgy to create a focus for each of the liturgical seasons. "He said, "We were excited to incorporate (the banners) as part of our Advent environment this year."
Each Sunday throughout the season the congregation sings Marty Haugen's song "Gift of God," which includes verses based on each of the antiphons. "They are a bridge of sorts, connecting the Old Testament Scriptures to the coming of the Messiah. For centuries, they have expressed the great longing for the coming of Christ. Amid all the uncertainties and divisions of 2020, these beautiful words of our faith can unite us in hope and expectation this Advent," O'Malley said.
According to the Catholic Household Blessings and Prayers book, the Church has been singing the "O" Antiphons since at least the eighth century. The antiphons accompany the Magnificat canticle of the Liturgy of the Hours Evening Prayer from Dec. 17-23. 
The book states, "They are a magnificent theology that uses ancient biblical imagery drawn from the messianic hopes of the Old Testament to proclaim the coming Christ as the fulfillment, not only of Old Testament hopes, but present ones as well. Their repeated use of the imperative 'Come!' embodies the longing of all for the Divine Messiah."
O'Malley credited parishioner Bernie Welch, and his late wife, Marie, as the driving force behind the creation of the banners. Marie was an artist and created some of the stained-glass windows in the church. It was Bernie's idea to design banners based on the Advent "O" Antiphons.  
Parishioners Rena Woodley, Shirley Jones, Carol Ann Sliman, Ellen Bedgood, Sharon Torres, Terrie Sammond created the eight banners inspired by artwork of the Benedictine Sisters of Turvey Abbey who designed a set of banners based on the seven "O" Antiphons. The sisters also created an eighth banner with the text "O Wonderful Exchange", which comes from the Greek Liturgy, and was, until Vatican II, also part of the Roman Liturgy of Jan. 1. 
"The whole mystery of Christmas is summed up here, God's plan for the human race, the pattern of all Christian life," the sisters said.