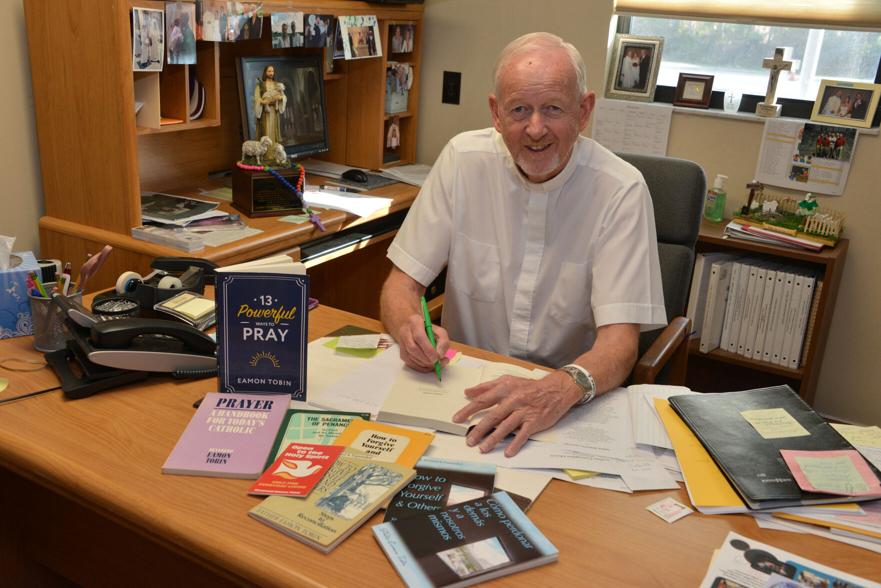 Longtime pastor, prolific writer dies after almost 50 years of priestly life
MELBOURNE  |  Father Eamon J. Tobin, pastor of Ascension Parish in Melbourne, died Jan. 1, 2021. He was 73.
Born May 21, 1947, in Dublin to Edward and Johanna Tobin, he was one of five children. He was raised and attended school in Killahy, Tullaroan, County Kilkenny. He attended St. Kiernan's College Seminary, Kilkenny, and was ordained for the Diocese of Orlando June 11, 1972.
Father Tobin's first assignment was associate pastor at St. James in Orlando (1973-1975), followed by St. Teresa Parish, Titusville (1975-1980). He also served at St. Joseph in Winter Haven (1980-1983); St. Mary Magdalen in Altamonte Springs (1983-1986); as pastor of Our Saviour in Cocoa Beach (1986-2001); and finally as pastor of Ascension Parish (2001-2021.)
Appointed Diocesan Coordinator for the Charismatic Renewal movement by Bishop Thomas Grady in 1975, Father Tobin served in this role until 1987.
Instrumental in encouraging the spiritual growth and prayer life of Catholics throughout the diocese, he presented numerous programs and retreats over the years on these topics.
Father Tobin remained active and engaged in the welfare of parishioners of all ages throughout his priesthood, and to the people of God everywhere. He maintained outreach programs to the poor, sick, bereaved, and was active in inviting non-practicing Catholics back to Mass. He was dedicated to respecting the life of the unborn.
Father Tobin was a prolific writer and authored books, articles and commentaries on topics close to his heart: prayer, forgiveness, the Sacraments, the Catechism of the Catholic Church, Sunday Mass readings, the rosary, death, fear and guilt.
In celebrating his 25th jubilee year of priestly life in 1997, Father Tobin said the priesthood, "has been a wonderful opportunity to touch people's lives. The parish priest is privileged to be a positive, sacred presence when a child or adult is Baptized, receives First Communion, Reconciliation and Confirmation, is sick, dying or celebrating Matrimony or special anniversaries. Other times, and especially on Sundays, we have a unique opportunity to share God's word and wisdom with thousands of people. I am very grateful to have been called to such a noble profession."

Priest who previously served in diocese dies
KEY WEST  |  Father Luiz Bastos, who served the Diocese of Orlando in the mid-1990s, died Jan. 4, 2021. He was 64.
Born July 25, 1956, in Rio de Janeiro, he was raised in the Jewish faith and was a rabbinical student in Brazil before converting to Catholicism. He arrived in Florida in 1992 to attend seminary and was ordained for the Diocese of Orlando May 27, 1995. He served at St. Peter Parish in Deland and Holy Redeemer Parish in Kissimmee.
In 1998 Father Bastos left to serve at St. Rita and St. Helen parishes in the Diocese of Palm Beach to be closer to family. Father Bastos died in Key West, Jan. 4, 2021.
The Funeral Mass will be celebrated on Jan. 9, 2021, at 10:30 a.m. in Mary, Mother of God Chapel at San Pedro Spiritual Development Center in Winter Park, followed by burial in Priests of the Lord Cemetery.