DELAND  |  Emma Irizarry used to play Barbie wedding with her sister, Hannah, when they were little girls.
"It was one of those grand affairs where you take out all of your dolls," she recalled. "That's what I'd always envisioned. Having my whole family there and everyone who loved me."
Her husband, Andrew, imagined a smaller affair and had a short checklist: "I wanted a traditional Catholic wedding. I wanted it to be in a church. I wanted to wear a tux. I wanted my family to be there."
Some might say their wedding Jan. 2, 2021, did not fulfill those dreams. They would disagree.
Engaged over the Christmas holiday in 2019, the couple set a Jan. 2, 2021, date. A month after their engagement, they went to their parish, St. Peter in DeLand, and began planning. Next was the guest list. Coming from large families, they settled on 250 family and friends. All progressed well until the pandemic hit. Lockdown put the wedding in question. The couple prayed about it and decided, no matter what, they would go forth with their date.
By July, they realized COVID-19 would not be over soon. They paired down their guest list to roughly 50, family only, after prayerfully considering what would be safe. "It was more important for us to start our lives together than have the big party," Emma said.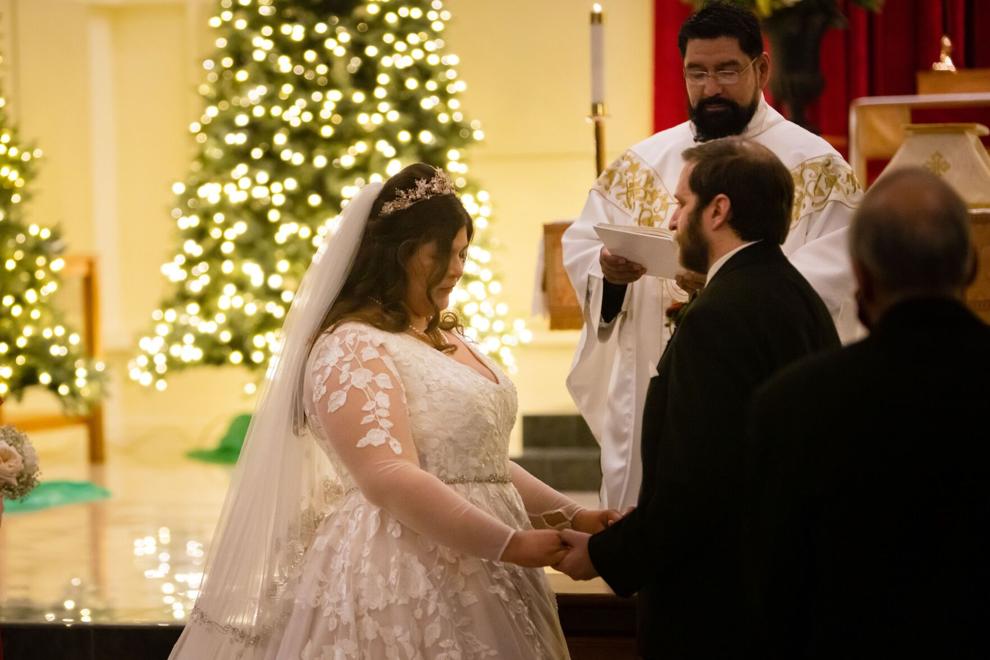 As the pandemic droned on, the two had to make hard choices. "Every time we were faced with a decision we prayed about it for a couple of days to reflect where the Lord was guiding us," Emma recalled. When things started looking bad, Andrew assured Emma, "If it just ends up being us and the priest (and the two witnesses), I'm okay with that. The wedding is about the Sacrament of Marriage, about us and having God there with us."
Lynda Monckton, director of Family Ministry at the Diocese of Orlando, agreed. "The Sacrament of Marriage is the one sacrament that the couple confers on one another. The priest or deacon is the representative of the Church." She tells couples, "You've spent hours planning for the day. You need to spend time thinking and planning for the ever after."
Over the next several months, the couple revisited their options. Again, they took it to prayer. "For me it was real easy. If I'm even praying about this, it's because we're prioritizing people's safety above anything else," Andrew said. He acknowledged there was pressure from family over the discussion of what was safe and what wasn't. "Everyone had a different level of comfort," Emma said. "Eventually we decided to take the safest route possible, inviting the people who are part of our everyday contact," Andrew noted. That meant parents, siblings who live nearby, and two friends each.
Now having a good livestream experience became a priority. St. Peter's in DeLand had the capability, but the set up was only for a fixed shot on the altar. They found one videographer willing to attempt enabling a more personal virtual option and went with him.
"We have friends and family all across the world. To be able to livestream our wedding meant we could welcome all those originally invited." People joined them from as far as Egypt, Brazil, and Switzerland. Emma spent time in college working at a care home for adults with disabilities in Wales. The entire facility tuned in at 10 p.m. their time to participate.
Andrew said that was a bonus because he didn't want anyone's attendance "to break the bank…It was going to be a big financial burden for many of these people to attend. I'm glad they still got to participate and not undertake that."
Both hope parishes and videographers continue to offer livestreaming, even after COVID-19 is in the past. "It's a great way to still be present."
Emma appreciated, "By offering livestream … It's opening up the sanctity of the Sacrament to so many." She noted she has Muslim friends and those of other faiths who never attended a Catholic wedding or Mass. "It's not only a way to show and share your love, it's a way to share our faith."
Father Chris Hoffmann, who assists with pre-cana (marriage preparation) retreats noted, "The Sacrament of Marriage is a covenant between a man and a woman. It is also a covenant between the couple and God. It is a solemn promise made before family and friends, yet… if a choice has to be made whether to hold the ceremony publicly or the reception, it seems more logical to have the ceremony.  That is the critical moment. You can always have a party at a later date…maybe the first anniversary."
As for advice to other couples in the same predicament, Andrew responded, "Don't wait. Recognize the secular for what it is and make sure that part doesn't come before the marriage."
"I would tell them to focus on the beauty, on the Sacrament, the love that you and your future spouse have for each other," Emma noted. "Remember the Sacrament of Marriage is the most important part of your wedding day… to start your life with that simplicity is a truly beautiful thing. Don't let the things you're losing upset or frustrate you. Focus on the beautiful things that are coming your way through this wedding and through the rest of your life."