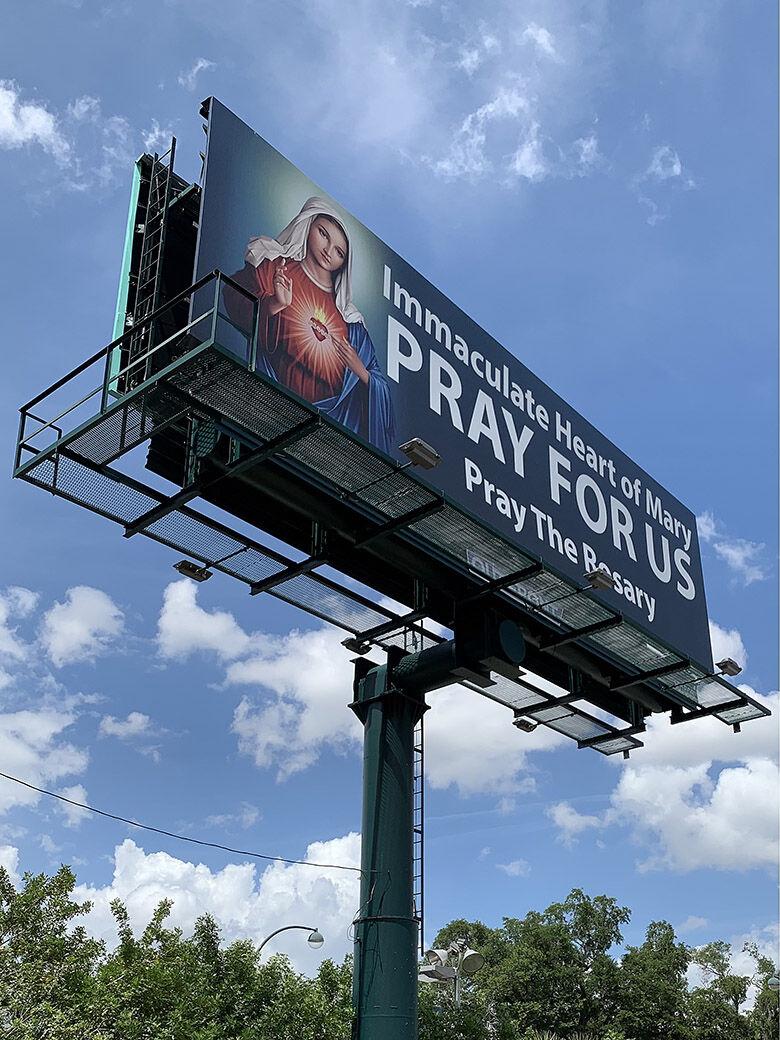 ORLANDO  |  Near Orange Blossom Trail and 42nd Street in Orlando, passersby may have noticed a group of parishioners from Holy Family gathered beneath a new 14-foot by 48-foot billboard. 
It reads: "Immaculate Heart of Mary, Pray for Us, Pray the Rosary." The billboard is part of an ongoing campaign to promote life. 
The outreach messages "offer help to women facing unplanned pregnancy" by directing them to Option Line, a pro-life counseling organization, explained Ron Flak of Holy Family's Respect Life Ministry. 
The billboard campaign, which began in 2010, also battles society's current culture of death. The group hopes it also makes many Florida tourists stop and think.
The morning of June 6, Carmelite of Mary Immaculate priest Father James Tharakan, parochial vicar at Holy Family, led the prayer service, blessed the billboard, and asked for the intercession of our Blessed Mother. This year there are nine of them throughout metro Orlando. A loyal group of spiritual warriors who pray weekly outside the Kissimmee Planned Parenthood joined the service.
In 2018, the Metro Orlando Pro-Life campaign expanded to include Google Ads. Messaging is designed to reach women of child-bearing age who search keywords online like unplanned pregnancy, contraception, or abortion. The goal is to direct these women to pro-life counseling.
The most recent campaign resulted in more than 1,200 calls to Option Line. 
"Each contact is a potential life of a baby saved," Flak said.