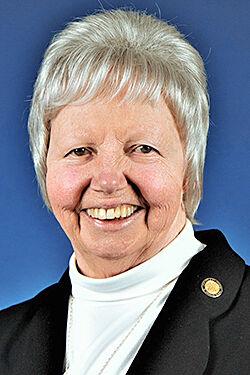 ST. AUGUSTINE  |  A funeral Mass was celebrated at the motherhouse here July 6, 2021, for Sister Joyce Marie Newton, a member of the Sisters of St. Joseph of St. Augustine who ministered in south Florida for many years.
She died July 1, 2021, at Our Lady of Lourdes Convent in St. Augustine after serving more than 64 years as a Sister of St. Joseph. She ministered throughout the state of Florida as a teacher, a parish minister and religious educator, a chaplain at Mercy Hospital in Miami, and a docent in St. Augustine.
Born in Lebanon Junction, Kentucky, on July 13, 1939, Sister Joyce, also known as Sister Rose Anthony, was a twin. Her twin sister, Sister Mary Loyce Newton, is also a Sister of St. Joseph of St. Augustine. The two were featured in an article in the St. Augustine Record when they each marked 60 years of religious profession. They also were interviewed for "A Legacy of Faith," a series on the Sisters of St. Joseph that aired on the local public station, WJCT.
Sister Joyce had attended Catholic schools in Miami after her family moved there and had been taught by the Sisters of St. Joseph in Miami.
Her funeral services were closed to the public but livestreamed on the Congregation's Facebook page. In lieu of flowers, donations may be sent to the Sisters of St. Joseph, P.O. Box 3506, St. Augustine, FL 32085.
The Sisters of St. Joseph of St. Augustine, the only congregation of Catholic apostolic women religious headquartered in northeast Florida, have served the people in Florida continuously since 1866. Their mission is to foster unity and reconciliation in service of "our Dear Neighbor." They currently serve in St. Augustine, Miami, and Jacksonville in a variety of ministries. 
---
Eternal rest grant unto her, O Lord, and let perpetual light shine upon her. May all the souls of the faithful departed, rest in peace.