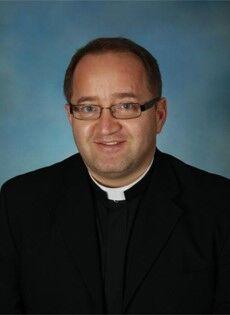 It took a while for Father Andrzej "Andrew" Pietraszko to find his special calling. Ordained a priest in 2003 for the Archdiocese of Miami, he served at parishes and as a high school chaplain before discovering his true talent: ministering to the sick.
That's what he had been doing for the past three years at Baptist Hospital when he died Aug. 27, 2021, after contracting COVID-19.
"In all his assignments I believe he was happiest in his last — as a hospital chaplain," said Archbishop Thomas Wenski, who spoke with him briefly by phone last Aug. 21.
"He was in intensive care and spoke with difficulty. I assured him of our prayers. When I tried calling him on (a few days later) his cell went to voice mail," the archbishop said.
Msgr. Kenneth Schwanger, who worked with Father Pietraszko for the past 10 years at Our Lady of Lourdes in Kendall, said he covered for the Polish-born priest at one of the parish Masses the first weekend in August.
He said Father Pietraszko had not been feeling well and suspected it might be COVID, but his initial test had been inconclusive. He was waiting for the results of another test when he became seriously ill, about a week-and-a-half ago.
Still, Msgr. Schwanger said, when he saw him Sunday morning, Aug. 22, "he looked good." He thought he might be getting better. "Sunday night his oxygen levels collapsed and (Friday) he died."
As pastor at Our Lady of Lourdes, Msgr. Schwanger had noticed and encouraged Father Pietraszko's talent for hospital ministry.
"I think that especially here these past 10 years, and going into chaplaincy fulltime, that he found his place. He did very blessed work. It was very good for the people he served and for him," Msgr. Schwanger said.
Father Pietraszko first came to Our Lady of Lourdes in 2011 as a priest "in residence." His fulltime assignment was as chaplain at nearby Archbishop Coleman Carroll High School, where he served from August 2011 to July 2013. He stayed at Lourdes as parochial vicar for the next five years, before taking on the chaplaincy at Baptist in November 2018.
Even then, Father Pietraszko continued to celebrate weekend Masses at Lourdes. He also took part in the parish's monthly healing Masses and other big events. Msgr. Schwanger called it "a beautiful thing" because the work kept the young priest connected to his parish family. 
"I thought it was great. The people at Baptist really appreciated him. He seemed to be very happy. I know our people loved that he was there and that he was still here," Msgr. Schwanger said. "He was very good at ministering to the sick."
Described by those who knew him as outgoing, people-oriented, gentle, polite and open to different cultures, Father Pietraszko was born Aug. 12, 1971, in Bransk, Poland, to Hanna and Jozef Pietraszko. He was the third of five children, with an older sister and brother and two younger sisters. 
Although he felt a calling to the priesthood early on — telling the Florida Catholic at his ordination "my dream is fulfilled" — he moved to Brussels, Belgium, and worked in the garment industry for three years before returning to Poland to enter the seminary in 1991.
He completed two years of study in philosophy and two years of theology at the major seminary in Drohiczyn and the Catholic University of Lublin, Poland, before transferring to Sts. Cyril and Methodius Seminary in Orchard Lake, Michigan, in 1996. He had become convinced, he told his seminary faculty, that "there are too many priests in Poland" and the need was greater in the U.S.
In 1999, he was accepted as a seminarian for the Archdiocese of Miami and entered St. Vincent de Paul Regional Seminary in Boynton Beach, where he continued to perfect his English and learned Spanish. In addition to his native Polish, he also was fluent in Russian.
After his ordination on May 10, 2003, he was assigned as parochial vicar at St. Bernadette in Hollywood (2003-04). Subsequent assignments included parochial vicar at St. Louis, Pinecrest (2004-05 and 2005-08); St. Katharine Drexel, Weston (2005); St. Brendan, Miami (2008-09); St. Mary Star of the Sea, Key West (2009); and in residence at St. Mary Magdalen, Sunny Isles Beach (2009-10) and St. Kieran, Miami (2010-11).
"It is sad but in these last couple of weeks, the things that have happened, there's always signs of grace," Msgr. Schwanger said. "The Lord had prepared Father Andrew through his ministry, especially to the sick… He didn't want to die but he was ready."
Father Pietraszko is survived by his family, who live in Poland and Belgium.
Archbishop Wenski celebrated the funeral Mass Sept. 1 at Our Lady of Lourdes.
---
Eternal rest grant unto him, O Lord, and let perpetual light shine upon him. May all the souls of the faithful departed, rest in peace.