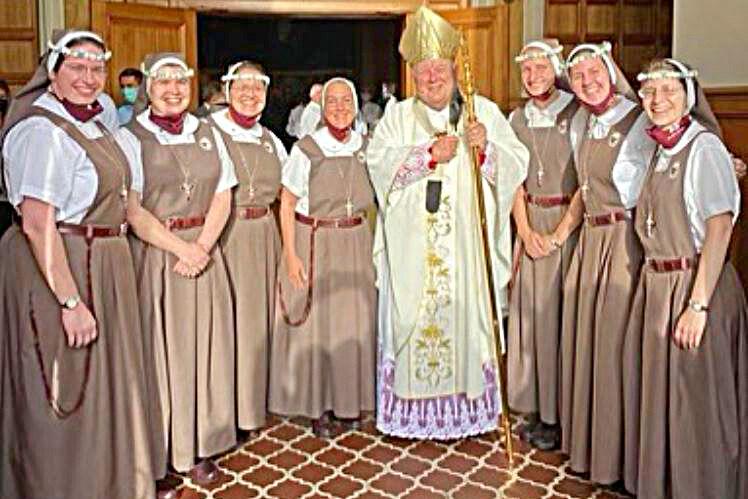 SIX MAKE PERPETUAL VOWS
Archbishop Thomas Wenski poses with Mother Adela Galindo, foundress of the Servants of the Pierced Hearts of Jesus and Mary, and the six Servants who made perpetual vows to the religious community Aug. 22, 2021 at St. Mary Cathedral. From left: Sister Bethany Marie, Sister Lucia Maria, Sister Evelyn Maria,  Mother Adela, Sister Clara Maria, Sister Kristi Marie, and Sister Mary Angela. (VIA TWITTER @THOMASWENSKI)
Archbishop Thomas Wenski has made the following appointment:
CLERGY APPOINTMENTS
Effective Sept. 1, 2021:
Father Gilberto Amórtegui Peña, Asociación Pública de Fieles de la Inmaculada Concepción, to parochial vicar, St. Boniface, Pembroke Pines.
First impressions and good stewardship
Pastors, staff and parish and ministry leaders will get two-for-one lessons while attending the 2021 Stewardship and Ambassador of First Impressions Day. They will learn how to make a good "first impression" that enhances the culture of parish life while also picking up tips on how to foster engagement and increase support for carrying out the mission of the Church.
The theme of the trilingual conference is "If you love me … feed my sheep," and it will take place Saturday, Oct. 2, from 8 a.m. to 4:30 p.m. at Belen Jesuit Preparatory School, 500 S.W. 127 Ave., Miami. The keynote speaker will be Cande De Leon, author of "Heart of the Mission" and executive director of the Office of Mission Advancement in the Diocese of Phoenix. The day will consist of 16 breakout sessions featuring special guest speakers who will offer the courses in three languages, English, Spanish and Creole. Archbishop Thomas Wenski will celebrate a Mass at 11:30 a.m. with praise and worship led by Father Pedro Corces and music provided by "The Call." 
Registration fee of $35 includes breakfast and lunch. Register online at https://adomdevelopment.org/event/include-stewardship-day-and-ambassador-of-first-impression/. For more information, contact Grace Veloz at 305-762-1064.
Foster parents needed for Afghan children
The Unaccompanied Refugee Minors Program of Catholic Charities is seeking foster parents for Afghan children who arrived in this country alone during the recent airlift from Afghanistan. The requirements to be a foster parent include: Be at least 21 years old; be able to provide adequate bedroom space and a separate bed for each foster child; have reliable transportation; be willing to participate in a 30-hour free training; be prepared for adults in your household to undergo complete background checks; be able to meet basic resources to support the household.
Catholic Charities provides 24-hour case management, monthly stipend to help with the care of the refugee minor or youth, continuing education and more. For more information, call 305-883-3383 or visit www.ccadm.org.  
Our Lady of Mercy Mass Sept. 24
Mercy Hospital invites the community to join, via livestream, the 34th annual celebration of the feast of Our Lady of Mercy, the hospital's patroness and namesake. Archbishop Thomas Wenski will be the main celebrant of the Mass, which will begin at 6:30 p.m. on Sept. 24, preceded by a rosary at 6 p.m. Due to safety precautions surrounding COVID-19, the hospital's chapel and hospital grounds will be closed to the general public, so the Mass will be livestreamed on Mercy Hospital's Facebook page: www.facebook.com/MercyHospitalMiami.
Congreso Pro Vida coming to Miami
Miami will play host to the sixth National Congreso Pro Vida beginning Friday evening, Oct. 29, and concluding Sunday morning, Oct. 31, at St. Thomas University in Miami Gardens. This marks the first time the congress is held on the East Coast. This pro-life conference will feature keynote speakers in English and Spanish, including Archbishop Joseph F. Naumann, chairman of the U.S. bishops' Committee on Pro-life Activities; Mother Adela Galindo, foundress of the Servants of the Pierced Hearts of Jesus and Mary; and Mari Pablo, Catholic speaker, campus minister and morality teacher in Miami. 
Other speakers include Jim Wahlberg of the Mark Wahlberg Youth Foundation; Dr. Grazie Christie of The Catholic Association; Mary McClusky of Project Rachel; Theresa Flores, a human trafficking survivor; Clemente Aguirre, a death row exoneree; as well as Randy McGrorty of Catholic Legal Services; bioethicist Father Alfred Cioffi of St. Thomas University; and Rebecca Brady of the archdiocesan Respect Life Office. Those wishing to attend the congress can do so in person or online. In person attendance is $99; online attendance is $25. Go to https://congresoprovida.com/ for registration links and a list of speakers and schedule.
New CEO appointed for Catholic Health Services
Ardy (Aristides) Pallin has been named the new president and chief executive officer of Catholic Health Services, effective Oct. 1, 2021. He succeeds Joe Catania, who announced his retirement in February. 
Pallin just marked his fourth anniversary as Catholic Health Services' chief operating officer. Prior to that, he served on CHS' board of directors for 10 years. His prior positions include vice president of Jackson Health System and executive vice president and chief operating officer of Leon Medical Centers.
Ralph E. Lawson, chairman of the board of CHS, announced the appointment Sept. 2. He noted that as soon as Catania announced his retirement, a CEO search committee was formed comprised of CHS Board members and assisted by WittKieffer, a renowned executive search firm.
The committee embarked on a "thoughtful and thorough nationwide quest to identify the best possible candidate for this highly visible and intensely demanding position," Lawson said.
He added that Pallin's decade on the CHS board of directors allowed him to "gain a deep working understanding of all the businesses and operations of CHS."
"I am also fully aware that over the last four years Ardy, through his strong leadership and guidance style, has garnered the admiration, respect and trust of the entire CHS team," Lawson said. "The entire CHS Board and Archbishop Thomas Wenski, the Archbishop of Miami, have great confidence in Ardy's ability to lead this great organization into the future." 
Catania's last day is Sept. 30.
"As we come together with boundless gratitude to Joe Catania for all his years of exceptional service and wish him the very best in his retirement, I invite you all to join me in congratulating Ardy on his well-earned promotion and to rally behind him in full support as he takes charge and forges ahead," Lawson said.