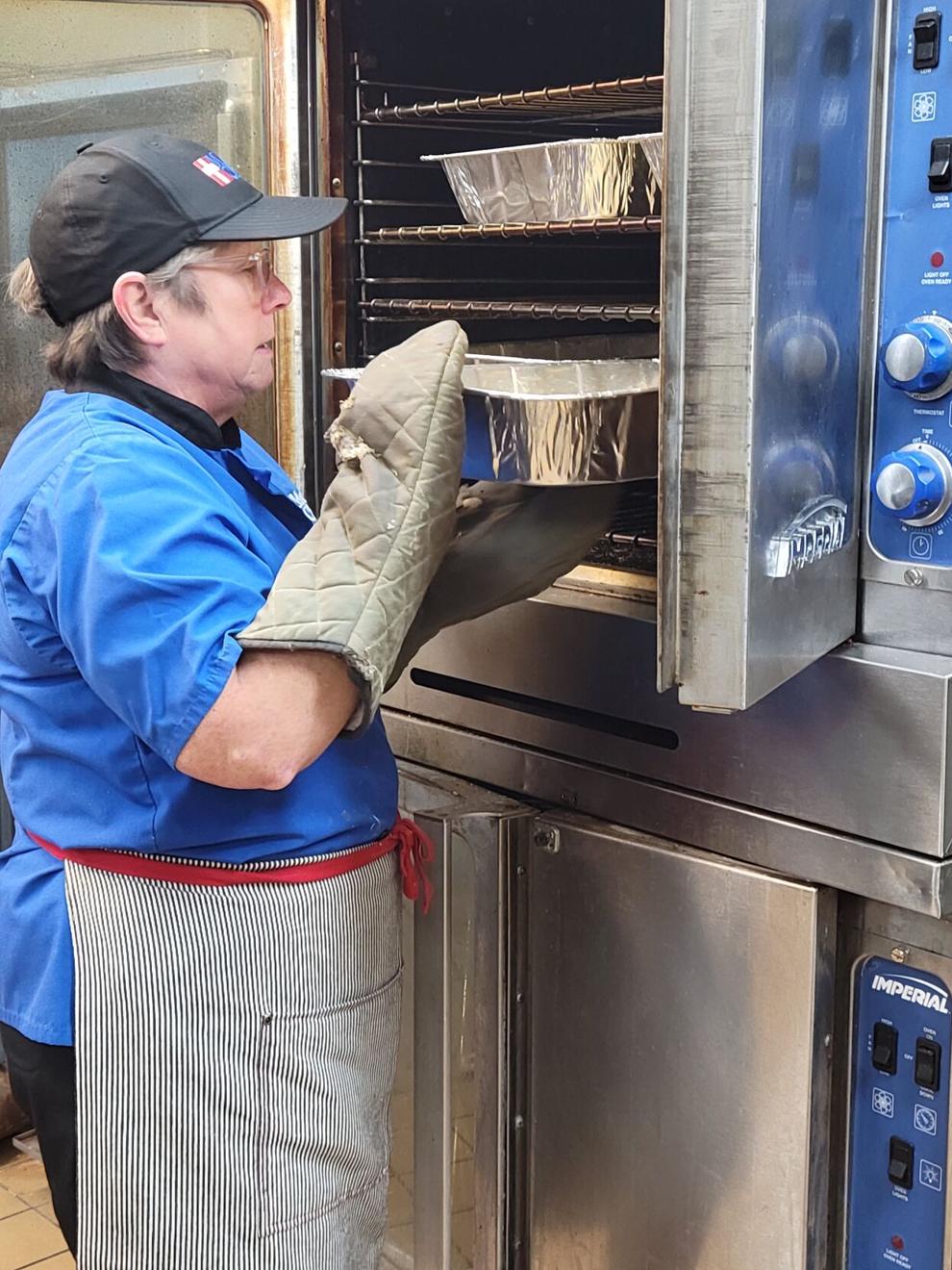 MIAMI BEACH  |  Chef Lynn Krause and a team of volunteers made apple cake, pineapple coconut yellow cake, cornbread, several pans of brownies topped with caramel and spiced pecans, and yellow cherry cake. The menu of desserts sounded like something for a major bake sale. But the sweets fulfilled a more urgent purpose: to feed first responders and frontline workers at Surfside, where the Champlain Towers South condo collapsed on June 24, 2021.
"We make a lot in a day's time. And then we cut fruits and vegetables," said Krause, who sat down with the Florida Catholic July 2 at St. Joseph Church's parish center, Minnotte Hall. All the while, she had ears on the timer for the yellow cherry cake that was in the oven with 15 minutes left of bake time.
Krause is part of Mercy Chefs, a faith-based, non-profit disaster relief organization consisting of industry-related chefs and volunteers whose mission is "Just go feed people." They were founded by Chef Gary Leblanc in 2006 as a response to the aftermath of Hurricane Katrina.
"After Katrina, I saw first-hand the incredible difference a hot meal could make, but with 35 years in the hospitality industry under my belt, I was surprised and outraged by the quality of food being served. I knew something more could be done, and I became inspired to the point of distraction by the idea of serving high-quality food in a disaster zone," wrote Leblanc, the group's CEO, on Mercy Chefs' website (mercychefs.com).
Since then, the organization has served over 15 million meals across the country, aiding with disaster relief and long-term recovery efforts, as in Surfside, and also working as community kitchens in areas enduring food insecurity. Local churches and Christian organizations become the hub for their emergency deployments and community outreaches, as was the case when the hall at St. Joseph's became one of their kitchens and preparation sites.
"It's lean and mean," said Krause, describing the kitchen as small but able to get the job done.
The team began preparing meals at Surfside June 25, when they first served breakfast. A mobile kitchen arrived June 26 from Alabama and is set up closer to the building collapse site, narrowing the gap that first responders have to travel to eat.
Krause and her volunteer team worked from 9 a.m. to 5 p.m. at St. Joseph's. Then she moved to the other site and helps with dinner. For the evening of July 2, they prepared steak and potatoes, the meat coming courtesy of Omaha Steaks Company, which donated about 1400 steaks.
"That's the first time we've had a donation like that," Krause said.
In emergency situations, people forget about eating because they are stressed, don't have the time, or simply don't have an appetite.
"It's really incredible, though, someone will say they don't want to eat, but then when they open up the box (of food) and they smell it, they're like, 'Oh wow, this smells good'," Krause said.
Considering the humidity and heat of summer in South Florida, as well as the type of work being done at Surfside by first responders, "we try to do a higher carbohydrate rate, but keep it balanced, obviously. And we do our best to get fresh fruit and vegetables," Krause explained.
During her time at Surfside with Mercy Chefs, she said, the team experienced a few challenges of their own, including running out of propane, essential to cooking.
"A couple of firemen jumped to it for us. They explained to us some of the things we need to do to preserve our tank. That was another nugget [of knowledge] we needed to have," she said.
And when traffic was blocked in the area for President Joe Biden's visit on July 1, she persisted with police to let her through. Krause told them she worked with Mercy Chefs and had to get to St. Joseph's, adding, "I'm the pastry chef, so I need to go make desserts."
The police let her through.
In her last 10 years with Mercy Chefs, Krause has traveled all over the U.S. and witnessed several recovery efforts, including New York after Hurricane Sandy in 2012.
"We were up there two or three times helping with the rebuilding of the community," she said.
At Surfside, Krause sympathized with the victims and those affected by the building collapse. "This here is a whole different level. I can't fathom the thought of having an entire family wiped out, and be a relative of that group," she said.
Mercy Chefs served their last meal at Surfside on July 15. A post on the group's Facebook page stated, "The men and women on the search and rescue teams we have encountered have shown us strength and commitment we have never experienced. We're honored that every beautiful, hand-crafted meal served was used as fuel for these heroes."